This Gluten-Free Healthy Crispy Buffalo Cauliflower is one of my favorite recipes this winter/spring. I can make it in about 20 minutes and it's crispy, satisfying, and full of flavor. It all started when I had the most outstanding "buffalo cauliflower wings" at Table 79 when on vacation in Steamboat Springs, CO. They made a tempura of cauliflower florets doused in their own buffalo sauce. As soon as we got back, I was on a mission to make my own version.
I began with a couple of different recipes, primarily using this one from Tasty. However, I found that the cauliflower wasn't very crispy, which was one of the most important elements to me. I continued back on my search and tried another recipe or two, but was equally disappointed in the overall texture. After many, many trials I found that this ratio of flour to milk was the perfect balance.
Behind the Recipe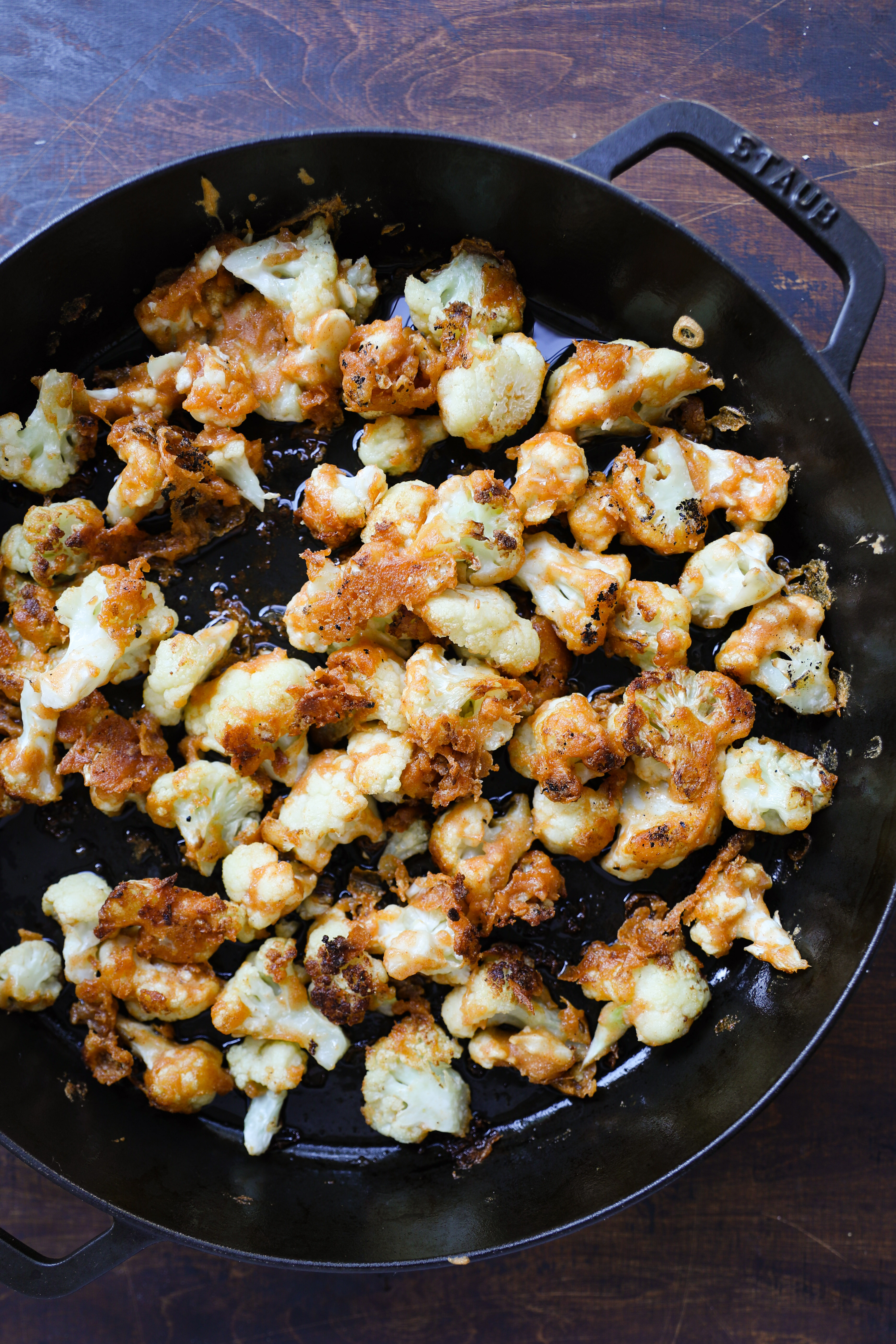 A couple of notes on this gluten-free batter:
I have only tried this with cassava flour and recommend that you use this flour too. Flours greatly change the texture and overall product and cassava is particularly unique, so subbing this for something like all purpose will probably change it a great deal. Feel free to sub- but at your own risk.
I dabbled in the idea of using a dairy-free milk, but most of the ones I've seen or used have a bit of their own taste and often err on the side of sweet, which is not something I wanted here. I think a 2% milk is the perfect milk to use here because it adds just a bit of body and flavor, without being overpowering.
For the sauce:
I use this buffalo sauce by Noble Made– they have varying degrees of heat, but I like the mild. It has just a bit of a kick without being too much for me.
Make a Meal: Healthy Crispy Buffalo Cauliflower
Of course, you could serve this in a classic "buffalo wings" style, but I've actually never done this. I've also used it as my "main protein" for other recipes. Here's a few ways I've used it.
Buffalo Cauliflower Tacos: Served with some light, refreshing, and crunchy vegetables including red cabbage, pickled radish and cilantro. Top with a lime crema and crispy siete tortillas.
Buffalo Cauilflower Caesar Salad: Served with romaine lettuce, caesar dressing (see here), and crispy salmon. Also did the same salad, but with kale and red cabbage.
Buffalo Cauliflower Naan Pizzas: Placed on top of a whole wheat naan bread with some cheese and baked in the oven for about 10 minutes at 400 degrees.
Buffalo Cauliflower Bowls: Served with quinoa, avocado, pickled red onion, cucumber, and avocado.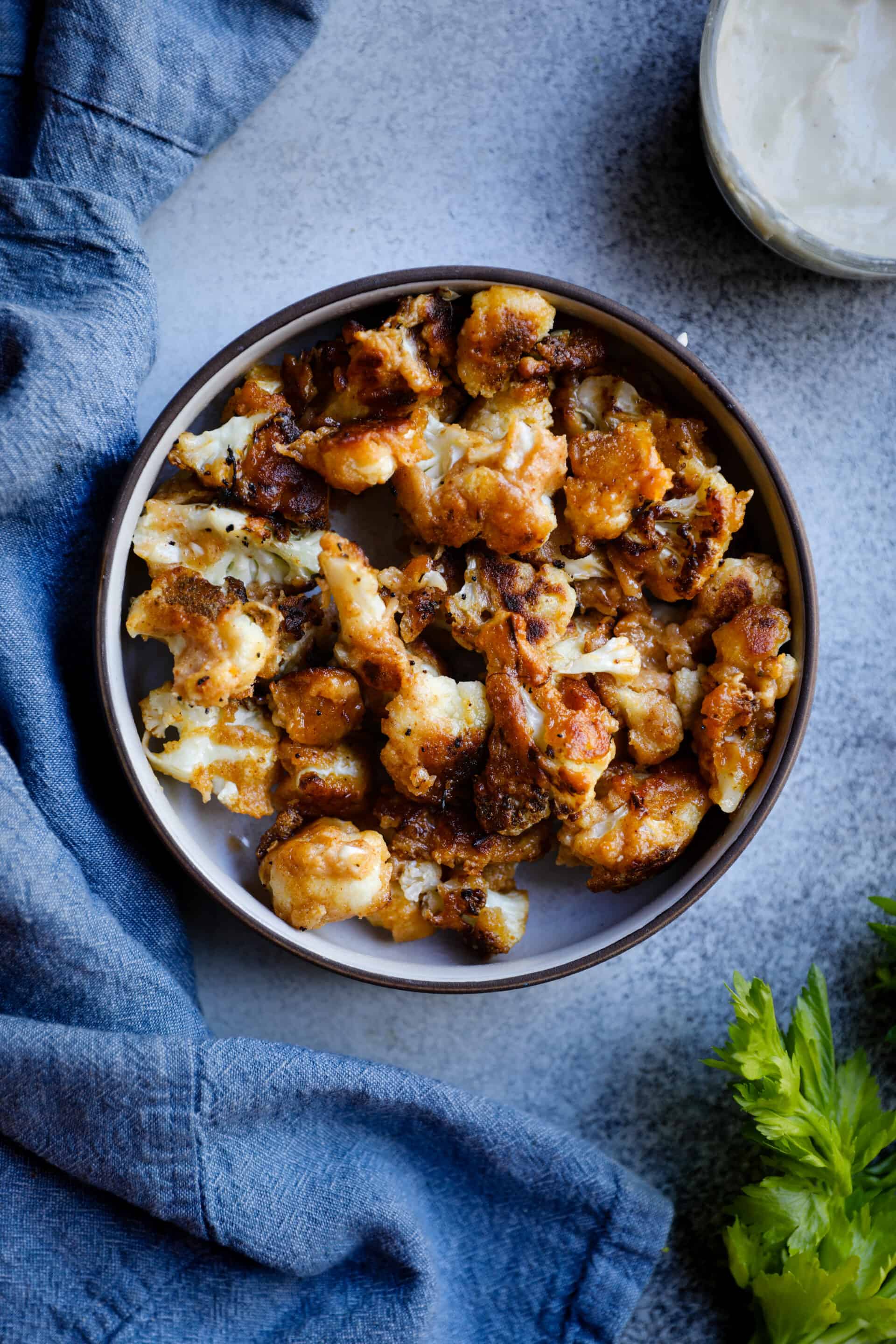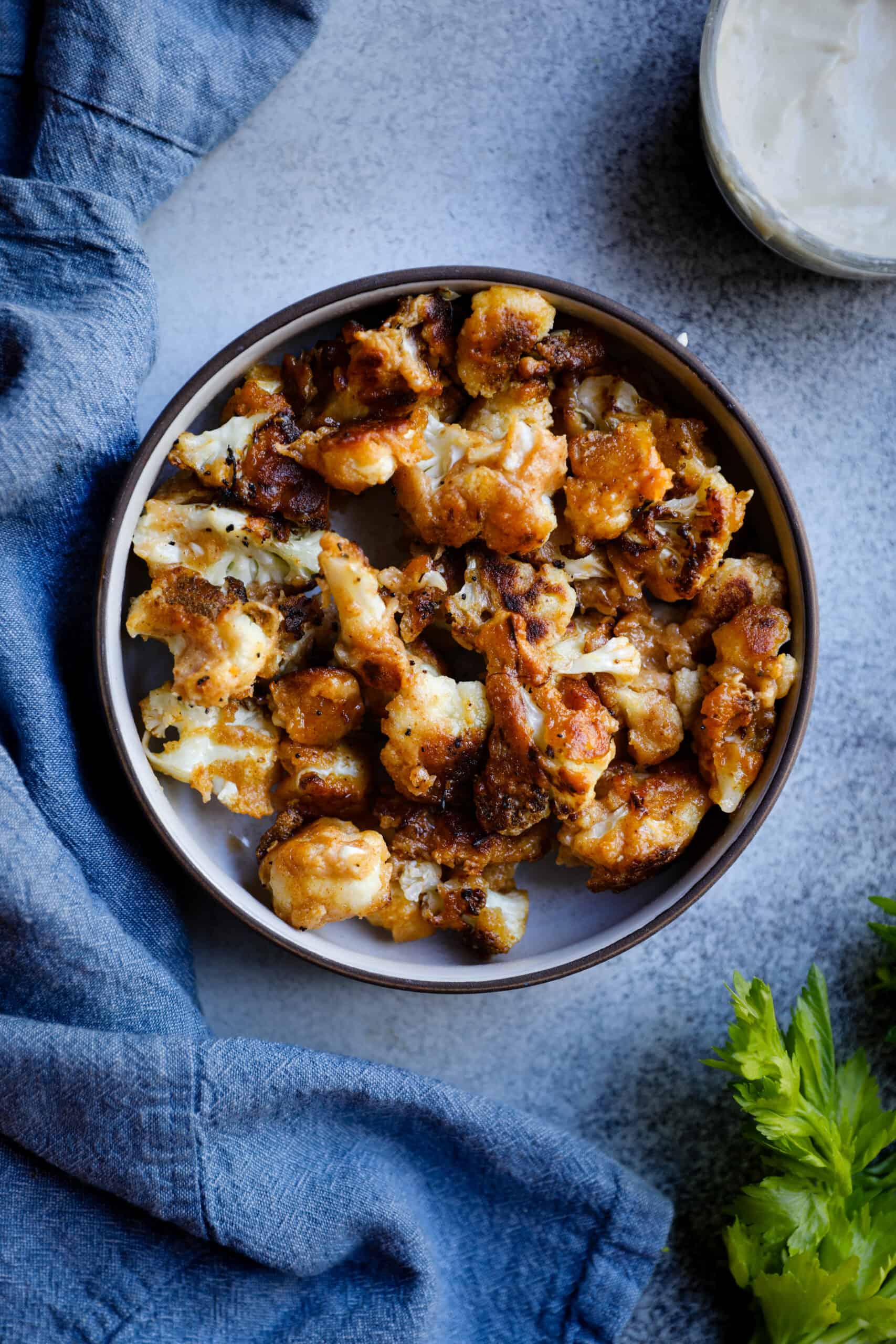 Healthy Crispy Buffalo Cauliflower
1/2

cup

cassava flour

1

teaspoon

paprika

1/2

teaspoons

garlic powder

1

teaspoon

diamond kosher salt (if using any other salt, use half the amount)

½

teaspoon

pepper

scant 1

cup (7 oz)

2% milk

1

head cauliflower

,

cut into florets

2-4

tablespoons

avocado oil

,

(canola or vegetable oil also work)

1/4

cup

buffalo sauce
Preheat oven to 400. Side note: You can get away with just pan frying the cauliflower if you cut them into very small bite-size florets.

In a large bowl (that can fit all of the cauliflower), add in cassava flour, paprika, garlic powder, salt, pepper, and milk. Whisk vigorously to combine and create a smooth batter.

Add in cauliflower florets and toss with tongs to throughly coat as best as possible.

Heat a large oven-safe skillet (I use my largest one which is about 12'') over medium to high heat. Add in oil- it should be enough to coat the entire bottom of the pan generously.

Once hot, add in cauliflower one by one- do not stack any cauliflower. Let cauliflower sit for about 3-5 minutes, until golden brown on the bottom. Flip each floret and let sit for another 3-5 minutes without touching. At this point, they should not stick to the bottom of the pan and be golden brown. If you notice they are sticking, add more oil or wait a bit longer for it to properly fry.

Place in oven for about 5-7 minutes, until cauliflower is tender and cooked through. The time will vary depending on exactly how long you fried the cauliflower and how big the florets are. The only way to truly test it out is by tasting it.

Add buffalo sauce and toss right before serving. This is best served right away so it stays crispy.