This post was first written in December 2016 and has since been updated in November 202. When I first made this Turmeric Ginger Vegetable Soup in 2016, I called it my Turmeric Ginger Detox Soup. And even wrote at that time:
" I somewhat despise the word detox. And I definitely don't support "detoxes". However, there's a time when you just want something light-ish and healthful, particularly during the holidays with so many sweets. And this does have a sense of comfort and healthfulness to it. So it seemed oddly fitting."
However, it's been a while, and I finally decided to change the title of this recipe and to include ginger in it, but it's a huge flavor in this soup. And over five years later, I decided this post needed a revamp considering my mom makes this soup at least 5-10 times a year! So I've adjusted it just slightly but most of it is the same.
Original Recipe Post: Turmeric Ginger Vegetable Soup
To be honest, this soup really surprised me. I was inspired by a blog post with a similar soup that looked simple and comforting for the winter. However, as I made it, I quickly got worried that it was TOO simple and it was going to be bland. There's a time and place for a simple soup, but particularly when the stock isn't simmering for hours, you need to up the volume a bit with some sort of spices or seasoning.
Lemon juice, soy, and turmeric add acidity and flavor to the broth, and make it a perfect soup to have as a light lunch, or a starter for dinner. I have to admit, I was surprised by how satisfying and filling this soup was. To make it a little bit more filling, add in brown rice or pasta (this is what I'd do for my family to make it more filling for my dad and brother!).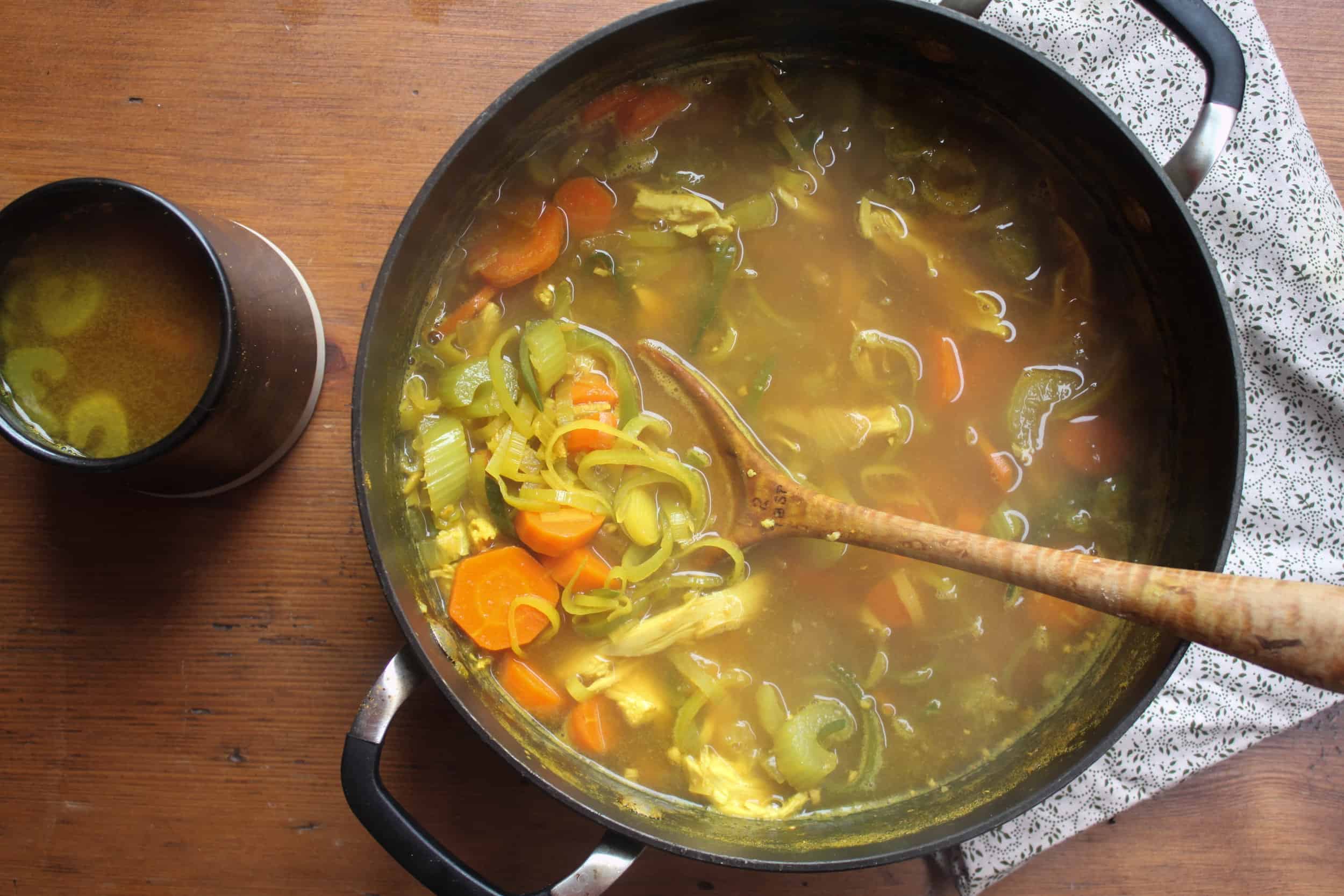 Turmeric Ginger Vegetable Soup
Inspired by Lexi's Clean Kitchen
1-2

tablespoons

olive oil

1/2

yellow onion

,

diced

2

leeks

,

chopped

4

stalks celery

,

chopped

3

carrots

,

chopped

3

cloves

garlic

,

minced

2

inch

piece ginger

,

peeled and minced

1/2

teaspoon

sea salt

,

or to taste

black pepper

,

to taste

6

cups

chicken or vegetable stock

,

I've also done this with bone broth too!

optional: 2 handfuls of shitake mushrooms

,

sliced (the more recent time I made this I added these and loved this though!)

one whole rotisserie chicken, shredded or 12 ounce firm tofu, diced

2

tablespoons

soy sauce

2

tablespoons

lemon juice

,

about the juice of 1 lemon (preferably fresh- there isn't much seasoning here, so fresh makes a difference!)

2

teaspoons

dried turmeric

,

or 1'' piece turmeric, minced
Place a large sauce pot over medium heat. Once hot, add in olive oil and onion. Saute onion and leeks until translucent and just beginning to brown about 5 minutes.

Add in garlic, ginger, and turmeric. Season with salt. Saute an additional minute.

Add in celery, carrots and continue to saute until slightly softened, about 4 minutes.

Add in stock, chicken or tofu, soy sauce, and season once more. Bring stock to a boil and then simmer for 30 minutes.

Add in lemon juice once done cooking. Taste before serving and adjust seasonings as needed- add more soy sauce for umami flavor or lemon for brightness/acidity.