I've done similar recipes to these Grilled Salmon Corn & Avocado Tacos before, but my goal for these tacos was to keep everything on the grill. No oven or stovetop needed. Both the prep and cooking time is needed. Within 10 minutes, you should be able to prep everything you need in the kitchen to get veggies/toppings ready. Grilling is equally simple and fast. You can grill up the salmon and corn within about 10ish minutes as well.
The other piece that sets these Grilled Salmon Corn & Avocado Tacos apart from my other ones? Two key toppings: fried corn and cotija cheese. Both of these add an immense amount of texture and flavor, but require NO extra effort. Avocado is another key player here- feel free to just slice or mash it. If the avocado looks perfectly green and pristine, I'll slice. If it's looking a little softer and not quite as perfect, I'll mash and add lime. Either way, it'll be delicious.
Behind the Recipe: Grilled Salmon Corn & Avocado Tacos
The Corn: Grilling corn is my favorite (and pretty much only) way I cook and eat my corn. The beauty of grilling corn is that it's super easy and foolproof. You have to work to mess it up because you can grill it from anywhere to 5 to 15 minutes and be fine. Rub a bit of oil on the husked ear of corn and then put it directly on the grill at the same time as the salmon. Check on it once or twice and roll it to have some even cooking, but even here you can't mess it up. Keep it on for a bit longer if you prefer it to be more charred.
Fried Corn: While I've always loved fried corn as a snack, using it as a topping is a genius idea I borrowed from Alison Roman in her corn salad. Corn two ways may seem a bit odd, but OMG a crunchy topping on top of these tacos can't be beat. Just lightly chop the fried corn before serving/topping so it's in smaller pieces.
Cotija: A traditional Mexican cheese that can be gotten whole or already crumbled, this adds the perfect salty and tangy flavor to contrast the smoky and creamy flavors otherwise going on. You can easily omit if you can't find it or prefer to keep this dairy free. You can also use goat cheese in a pinch.
How to Grill Salmon
The Salmon: I've converted one of my favorite salmon recipes- this Easy Sweet & Spicy Chili Rubbed Salmon– into a grill-friendly one for these Grilled Salmon Corn & Avocado Tacos. The recipe directions are exactly the same, except the cooking portion. Sometimes I may put salmon directly on the grill, like for kabobs. However, the safer bet is to create a foil boat, put the salmon in the foil, and then place that on the grill. This way it almost acts like an oven. You won't get a char, but I don't think it needs it. The salmon takes about 9-11 minutes to cook on the grill in this way.
The Key to Perfectly Grilled Salmon
A thermometer: The key to good salmon. I'll say it time and time again. It's true with these Grilled Salmon, Corn & Avocado Tacos and any other salmon recipe. Using a thermometer will immensely help you make sure you don't overcook your salmon. Overcooking is a very common error and a thermometer (which can be purchased for $13 on Amazon) solves this problem SO easily. I recommend this for both beginner and advanced cooks. It just takes the guessing game out entirely. I'll cook my salmon on the grill until it registers about 120-125 degrees, as it continues to cook off the grill once you pull it off.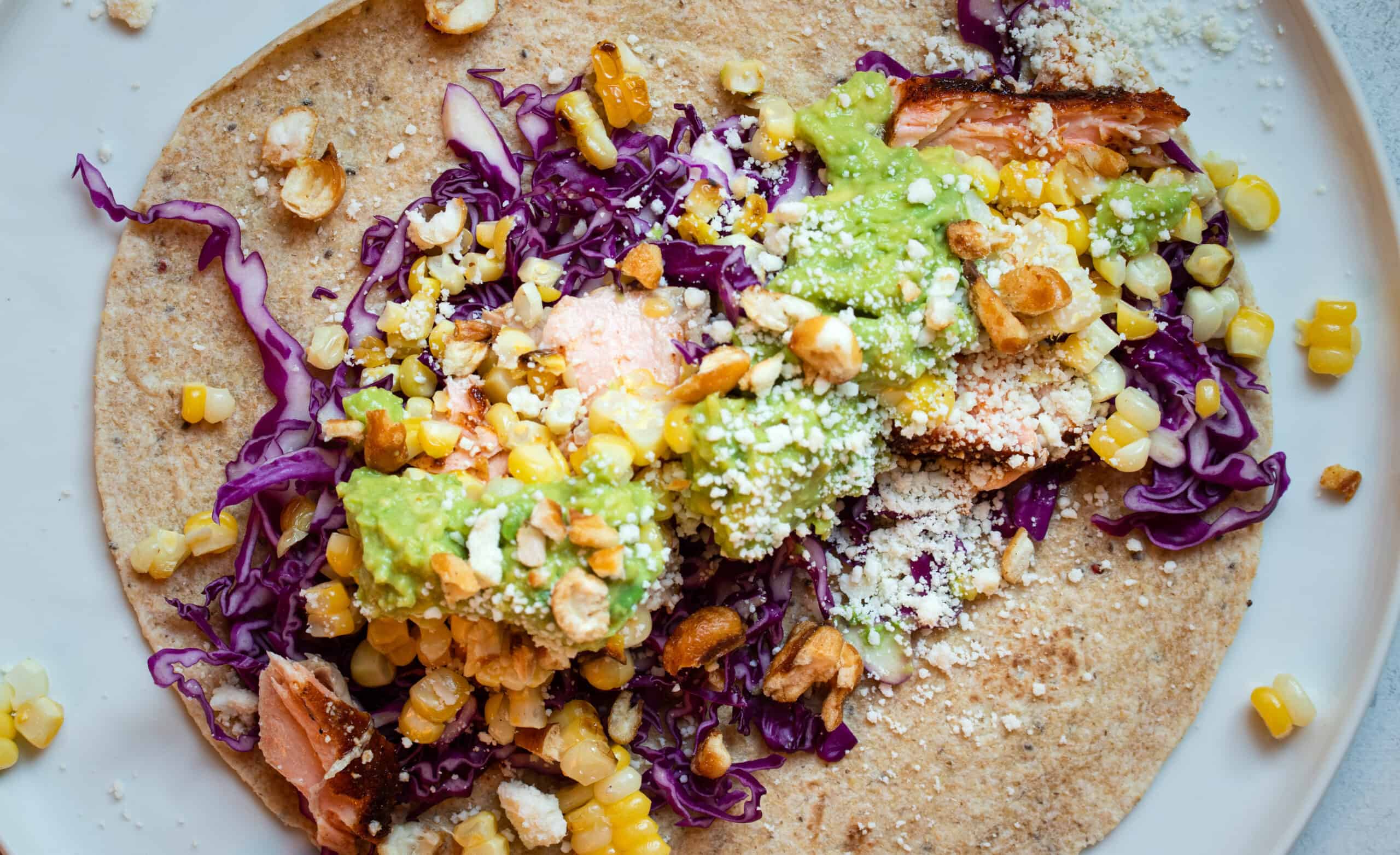 Grilled Salmon, Corn & Avocado Tacos
My goal for these tacos was to keep everything on the grill. No oven or stovetop needed. All you need is about 10 minutes for a quick prep in the kitchen to get the veggies/toppings ready and then about 10ish minutes on the grill for the salmon and corn.
Salmon: See salmon recipe below (all you need is the salmon and spices!)

2

cups

shredded red cabbage

,

(about 1/2 medium red cabbage) *I tend to add more red cabbage on my tacos than others, so 1 cup maybe enough for some.

2

ears

corn

,

, husked

1

tablespoon

olive oil

2

ripe avocados

juice of 1

lime

kosher salt

,

, to taste

1/2

cup

cotija cheese

,

, crumbled

1/2

cup

fried corn

tortillas

,

, 1-2 per person (depending on size/preference)
Prepare your veggies so everything is good to go once the salmon is done:
Shred your cabbage. I like to use a mandolin for this and use the finest setting so the cabbage is very thin.

Chop fried corn just like you would almonds or walnuts. I tend to keep the pieces on the bigger side, but chop them just a bit so they are crumbled.

Slice avocados thinly. It's up to you if you prefer to serve them sliced or mashed. If serving mashed, add in the juice of 1 lime and be sure to season with salt.
Grill the salmon and corn:
Make the spice/dry rub per instructions below in my sweet & spicy chili rubbed salmon recipe.

Preheat grill to medium/high (about 400-500 degrees).

Pat salmon dry of any excess water or liquid. Then pat on the spice mixture onto the top of the salmon. Place salmon in a large foil boat. Place foil boat directly on grill and grill salmon until the inside (at the thickest point) registers 120-125 degrees, about 9-11 minutes. Be sure the grill stays at an internal temperature of 400-500 degrees to keep cooking even and uniform.

Rub corn with just a bit of olive oil and place ear of corn directly on grill. Grill corn for the same amount of time while the salmon cooks, about 9-11 minutes. Check every few minutes to turn and get char around the corn. If you prefer your corn more charred, keep it on the grill for another 5 or so minutes.
Assembly:
Let salmon rest for about 5 minutes before cutting into or serving. Serve all ingredients buffet style and let people assemble their own tacos.