If you measure how "good" a recipe is by how quickly it's eaten, this Charred Green Bean and Almond Orzo might be one of the best recipes I've made in a while. It may seem like just a humble side, but it's a great addition to any meal. With only a handful of ingredients and no spices, I can make this with just about 10 minutes of active work and 30 minutes total (it's also great for leftovers). 
Orzo is one of my favorite "grains" to cook. Although it's technically pasta, I treat it as a grain. It just takes in butter and makes it sing, making a bit of unsalted butter go a long way. Toasted almonds pair with the butter to give another dimension of richness. Pro-tip on the almonds: Make a bigger batch than you need and toss them into other salads. Lastly, I make these charred green beans in the oven- yup, no grill required. If you're like me and can't ever get enough green beans, add in more so the green bean:orzo ratio is more like 3:1.
Behind the Recipe: Charred Green Bean and Almond Orzo
Charring Green Beans: I'm absolutely obsessed with using my broiler to get this charred effect on pretty much all of my veggies. If you're like me and love char, you should check out this similar recipe that uses summer squash.
Orzo: Yes, whole wheat orzo does exist, although I've found it to be a hit or miss if I can find it in grocery stores. I've used this one by Rice Select and really like it! You can cook this ahead of time. If you do, be sure to toss in that butter right away so it doesn't stick and immediately soaks in that flavor!
Okra: When making this in the summer, I love adding in okra! It cooks just like the green beans, so it's easy to just add and toss in. In other seasons, okra isn't as easy to find and so I'll just add in more green beans. Unfortunately, because of the cooking method, frozen okra does not work here. Also, if you're worried the okra could be slimy, trust me- it won't! Roasting essentially removes the moisture from the okra and in doing so, removes the slime.
Sliced Almonds: Feel free to toast these up to about a week in advance and store in an airtight container. One note- their toasted flavor does get less strong over time so I wouldn't do more than a weeks since it's such a key flavor here.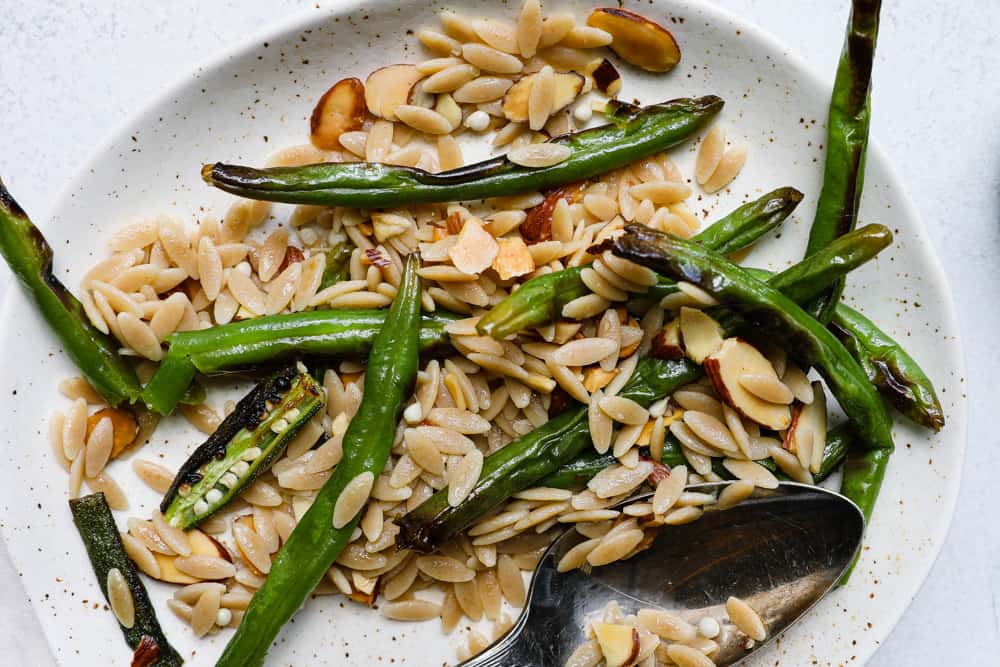 Charred Green Bean and Almond Orzo
1/2

cup

slivered almonds

1

cup

orzo (ideally whole wheat orzo if you can find it)

,

, cooked al dente and according to directions

1

tablespoon

unsalted butter

12

oz bag

green beans

,

, trimmed

optional: 6

oz

okra

,

, trimmed and sliced in half lengthwise (if you can't find, you can either omit or add in another 6 oz of green beans)

1

tablespoon

extra virgin olive oil

kosher salt

,

, to taste
Toast the Almonds: Preheat oven to 375. Place almonds on a baking sheet and bake until golden brown, about 6-7 minutes. Note: You can do this ahead of time (up to a week ahead) or in a big batch and use for other recipes.

Cook the orzo: Fill a medium sauce-pot 3/4 of the way full with water. Salt generously. Cook orzo according to package directions (on the al dente side). Usually this is about 7 minutes. Once cooked, rinse orzo and then toss in butter. Butter will probably melt if the orzo is still warm- if not, it will melt once you add in the green beans and okra.

Char the green beans and okra: Place green beans and okra on a foiled lined baking sheet. Drizzle with extra virgin olive oil and season with salt. Broil for 8-10 minutes, until slightly charred.

Combine orzo with green beans and okra. Toss gently with tongs and ensure butter has fully melted. Add in almonds and season to taste.

Store in fridge for up to four-ish days.