This Charred Napa Cabbage with Fried Ginger and Garlic is perfect for a chilly winter weeknight when you're looking for something quick, plant-forward and shockingly comforting and hearty. I was inspired to make this after going to one of our favorite restaurants in Washington, D.C.: Tail Up Goat. We had this cabbage as one of our main entrees and it was out of this world- meltingly tender and full of charred, earthy flavor. I quickly came home and tried to attempt to make my own version. Which turned about to be a bit tricker than I expected.
This is a simple recipe, but there are a lot of small details that are important to keeping it simple and cooking this cabbage perfectly. If the cabbage doesn't char enough, it loses heartiness and flavor. If it doesn't get tender enough, it's less luxurious. This method is one I developed after several iterations and attempts using different timing, pans, and methods. Here are some key details that shouldn't be overlooked.
Important Tips: Charred Napa Cabbage with Fried Ginger and Garlic
What type of pot should I use?
I use a medium to large dutch oven pot- this one to be exact. This is for several reasons:
The material: A cast iron pot ensures even heating, especially as the temperature gets very hot. In order for the cabbage to really char, you need high heat for a sustained period of time. A cast iron does the trick. A stainless steel or aluminum pot would also work, but I do not recommend non-stick, as it shouldn't be at that hot of a temperature.
The size: I try to use a size I can fit each cabbage half into at once. Generally napa cabbage heads are quite large, but I can squeeze them into a medium one if I choose the right cabbage and remove a few outer leaves. Before heating my pot, I'll place my cabbage inside the pot to make sure it fits.
The depth: This is one I really played around with and ultimately found that a pot with some depth was very helpful for containing oil splatters. It also allowed me to cover the pot so the cabbage can steam a bit and more evenly cook (instead of having a beautiful char on one side and then an almost raw cabbage in the middle).
Why should I use twine?
As the cabbage cooks and softens, it has a tendency to fall apart, making it difficult to cook and keep in one piece. Twine does the trick!
Do I need to use half of a stick of butter?
Short answer: yes. Because this recipe is so simple, the cabbage needs this extra fat to become tender and absorb flavor. You can use a high heat neutral oil like grapeseed or avocado, or do a combination of oil and butter. I personally love the flavor of brown butter and think it adds a lot to it. You do need to watch the heat a bit though to make sure the butter doesn't burn!
Interested in more cabbage recipes?
Check out these other hearty vegetarian recipes that use cabbage like my cacio e pepe cabbage orzo risotto or cabbage fritters.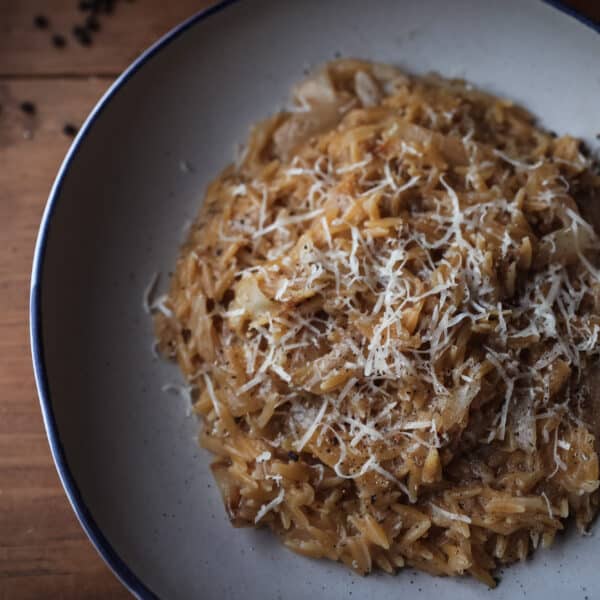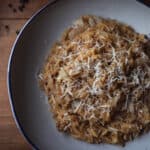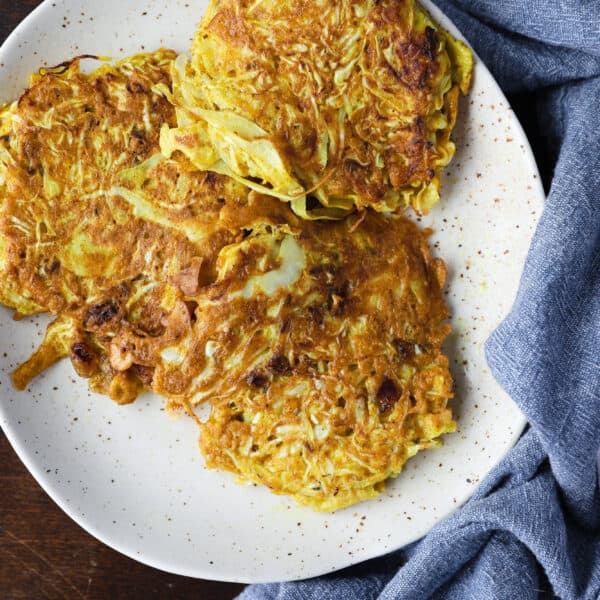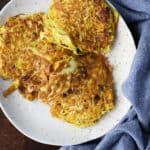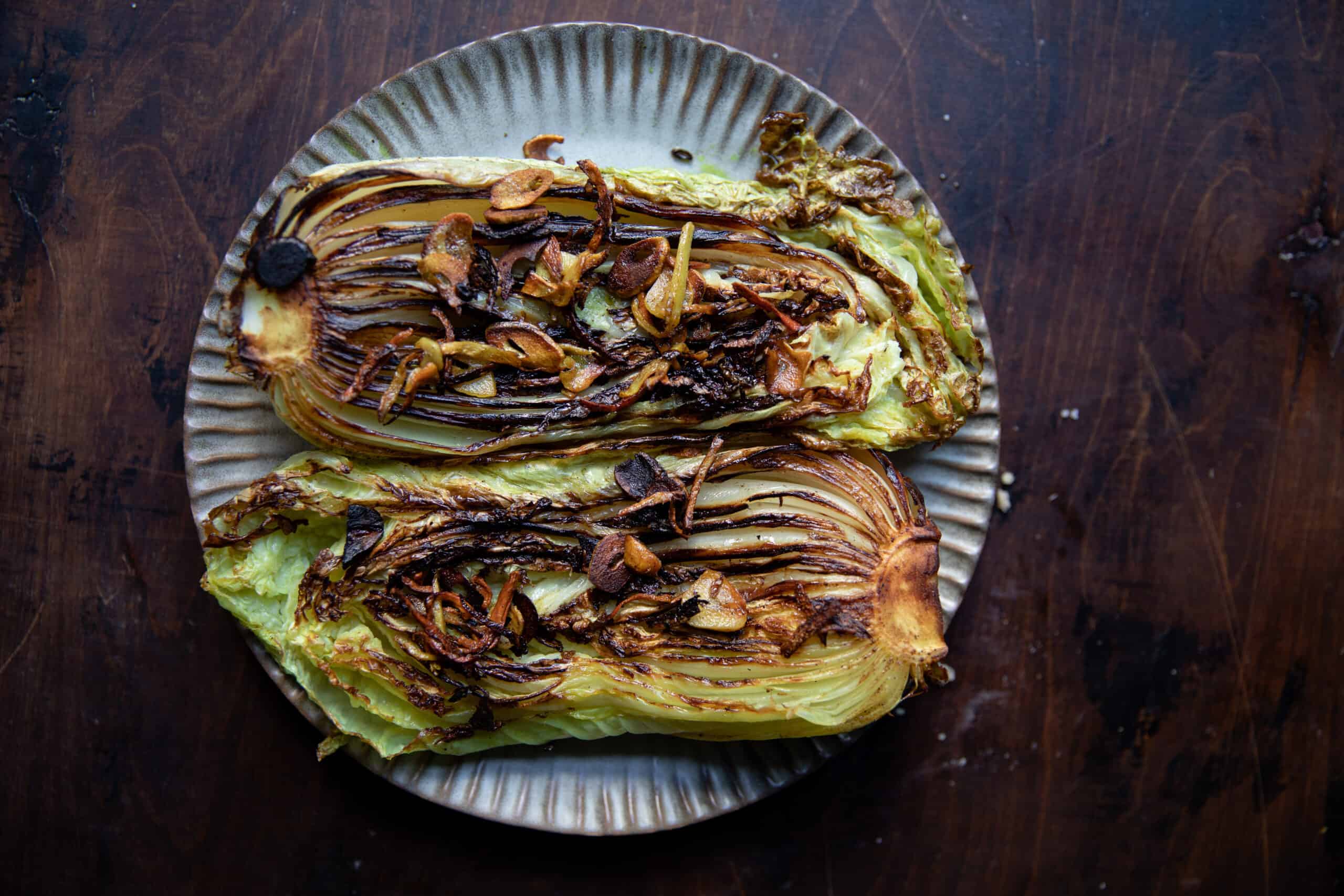 Charred Napa Cabbage with Fried Ginger and Garlic
1

napa cabbage

2

garlic cloves

,

sliced thinly

1''

piece ginger

,

cut into matchsticks

4

tablespoons

unsalted butter

salt

,

to taste (but be generous!)
Prepare the cabbage: Remove a few of the outermost leaves of the cabbage, especially if the cabbage is large or the leaves are falling off or noticeably dirtier. Cut cabbage in half lengthwise. Tie twine around each half at the top and bottom to keep together (see picture). Season the top generously with salt (like you would a steak).

Place a medium to large dutch oven over medium to high heat. Add in butter. Most butter is about halfway melted, place each head face-down (cut-side down). Keep heat at medium high to high and cover pot for 3-4 minutes, until it is tender to touch and gives a bit when you push on it.

*If cabbage is still quite hard and not tender, cover for an additional minute or two.

Let cabbage sit, without moving, until the bottom is deeply charred, about four more minutes. If you notice the bottom of the pan is noticeably charring, add a tablespoon of butter or neutral oil.

Lightly season with salt and then flip cabbage over and continue to char the other side. At this time, add in the garlic and ginger. Fry until ginger and garlic is brown, about 3-4 minutes.

Using tongs, remove cabbage heads onto serving platter. Cut off twine before serving.