These Roasted Cauliflower Steaks with Arugula Pesto is a great way to incorporate vegetables into dinner in a simple and hearty way. Serve it as a side or make a full vegetarian meal. As a side, this goes great with sauteed shrimp or pan-fried white fish (my go-to is tilapia because it's pretty thin, meaning it browns well and cooks quickly). For a full vegetarian meal, I add in a cooked grain (like farro) and a soft-boiled egg.
I highly recommend preparing this pesto ahead of time or making a larger batch so you can use it for other meals. You can make this pesto up to a week in advance and it'll still be fresh, I promise!
What are cauliflower "steaks"?
Cutting cauliflower into "steaks" is actually quite simple. But first let's clarify what a "steak" is: essentially a thick slice that includes both the florets and some of the stems. It's nothing like a steak, let's be real. But it does look a bit more substantial than a bunch of florets and you need a knife to cut through it when you eat it.
I personally like it because it switches up the texture and mouthfeel of the cauliflower. It's funny how just slicing a vegetable can do that, but it's the same with meat too. And it's beyond just aesthetics. Ultimately it will impact how the cauliflower cooks because it changes what parts caramelize and what parts steam.
How to cut the Cauliflower: Roasted Cauliflower Steaks with Arugula Pesto
And while this method sounds fancier, it's actually easier. It's my preferred method of cutting cauliflower if I'm feeling a bit lazy because it takes about a minute to do. Here are a few tips:
Use the tip of your knife to get a sharp incision into the top of the cauliflower, then use the rest of the blade.
While slicing the cauliflower (see pic 3), gently slice through and rotate the cauliflower so you are able to cut through the stem with the tip of your knife and keep it together a bit more. If you abruptly just slice the cauliflower in one swift motion, it's likely to just break into florets.
Which gets me to the next point: relax. It's just cauliflower. If a few slices break into florets, you can still roast them and they'll be delicious. This is likely to naturally happen to the ends just due to the shape of a cauliflower. If you REALLY care about the presentation of this or presenting to guests, get a second cauliflower for extra insurance and some wiggle room for error.
Depending on the cauliflower, you may need to remove some of the bottom stem of cauliflower if there is an excess. You want a bit, but not too much.
A smaller/medium cauliflower is best for this.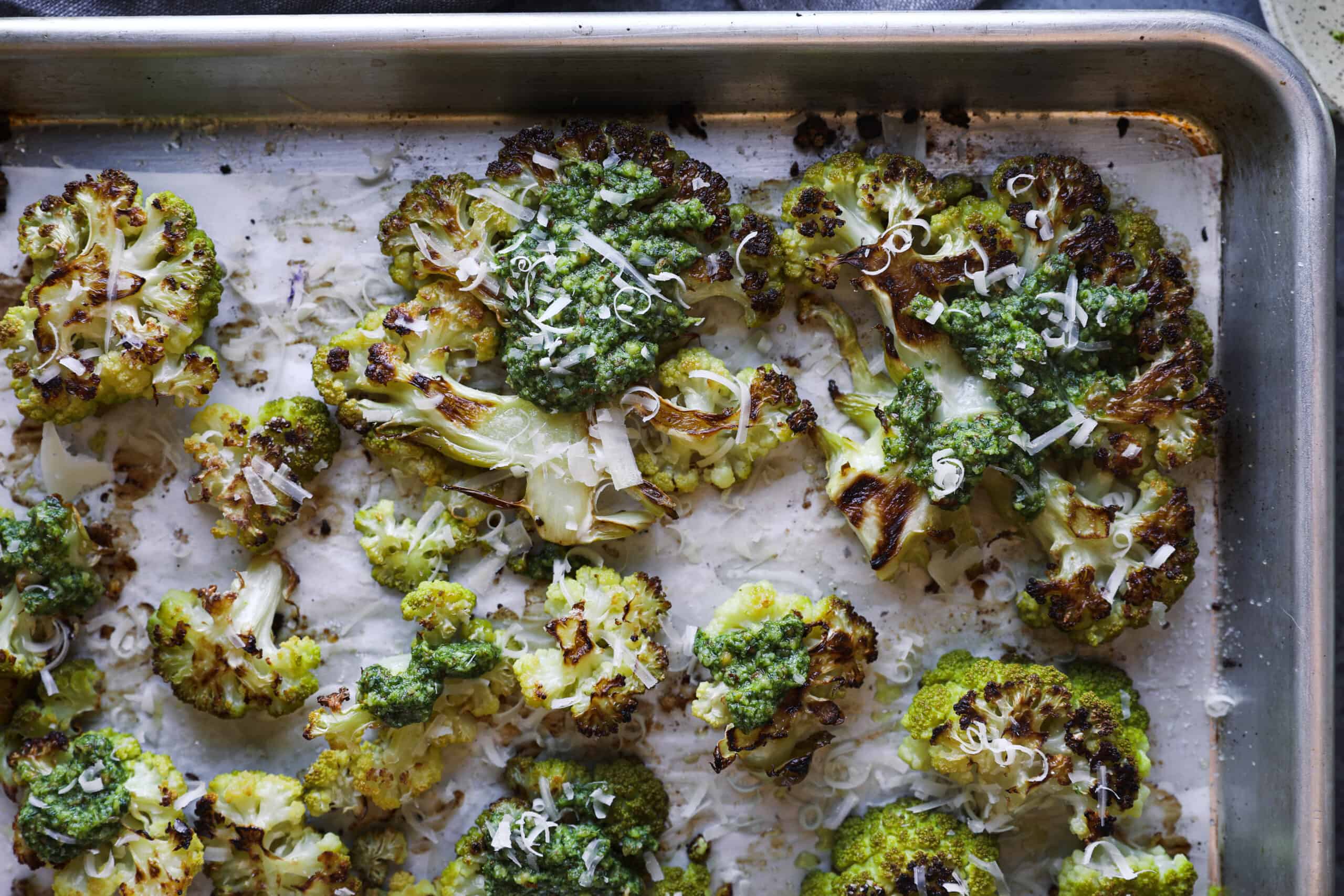 Roasted Cauliflower Steaks with Arugula Pesto
1

small to medium

head cauliflower

1

tablespoon

extra virgin olive oil

diamond kosher salt (if using any other salt, use half the amount)

arugula pesto (see below)

optional: 1/4

cup

freshly shaved parmesan
Preheat oven to 400 and line a baking sheet with parchment.

Slice the cauliflower into 1'' slices, trying your best to keep the slice whole and not have florets fall off! If they do, it's fine. See above for tips.

Place cauliflower "steaks" onto parchment paper gently. Using a brush, brush on oil and season on one side. Flip and repeat on other side. Bake until deeply caramelized and brown on one side, about 25 minutes. Flip and repeat for another 15-20 minute on the other side.

Top with pesto (see recipe below) and parmesan before serving.