Savoring every last heirloom with these Spiced Jammy Heirloom Tomatoes & Shallots. It's an easy and casual dish that packs a punch. This method of lightly sauteeing tomatoes keeps their integrity and freshness while intensifying their flavors and creating a melt-in-your-mouth texture. If you like bold and flavorful dishes, this one's for you. Whole spices and anchovies give this an umami salty pop and balance out the sweetness of the tomatoes.
The source of inspiration for this Spiced Jammy Heirloom Tomatoes & Shallots is a fusion of old favs and new methods I've come to really enjoy over the summer. The old fav: panzaenlla-style salads and anything with toasted bread (and heirloom tomatoes). The new method: cooking with anchovies to add a salty dimension to sauces (thanks to Alison Roman). The revived inspiration that I've played around with before, but not for a while: using whole spices. Ever since having a delicious home-cooked Pakistani meal that had heavy amounts of garlic, ginger, coriander, cumin, and chili. I decided to use seeds I already had on hand from other recipes: mustard seeds, cumin seeds, and coriander.
The best part about these Spiced Jammy Heirloom Tomatoes & Shallots is the mix of bold, salty, umami-ish flavors with the sweetness of the tomatoes. Sometimes I find tomatoes a bit too sweet; here they are balanced out and while the dish still has a natural sweetness, it also has a lot of other flavors going on.
Same recipe, two methods: Panzanella vs. Stewed Style
After making this several times, I found that I could play with the cooking time to create two completely different dishes. Both have the same spices and same initial steps, but differ in how long the tomatoes cook with the onions and spices. The panzanella style side keeps the tomatoes mostly uncooked. A quick toss in the spice mixture for about a minute warms them up while keeping them whole. They don't break down or release their juices. The stewed style cooks down the tomatoes more. As the cook, they release their juices and break down into a jammy mixture that mixes salty and sweet. The more they cook, the more intense this effect.
While I like both methods, I lean toward the stewed style because it's more versatile and works for leftovers. I like to toss them with a fried egg, white rice, or other roasted veggies for a kick of flavor.
Behind the Recipe: Spiced Jammy Heirloom Tomatoes & Shallots
Heirloom Tomatoes: While I highly recommend using heirloom tomatoes if you can find them, you can use regular tomatoes as well. The bonus perk of this recipe (if you do the stewed method) is they don't have to be at their prime. A slightly soft tomato will work just as well here.
Shallots: In a simple dish like this, I almost always lean to shallots rather than onions. It's easier to achieve smaller slices and they add just a bit more flavor without being sharp. If you can find shallots, sub in a vidalia onion.
Anchovies: Anchovies are only a recent obsession of mine. If you're not an anchovie fan, you can omit, but don't knock it until you try it! The anchovies melt into the shallots and spices and essentially just add a salty dimension to this (on top of more salt, of course).
Mustard seeds, cumin seeds, coriander: I really like this combination and have done it before, but I also am a fan of using whatever you have on hand. I wanted to use whole seeds and spices in here, and these were the ones I have. Feel free to play around.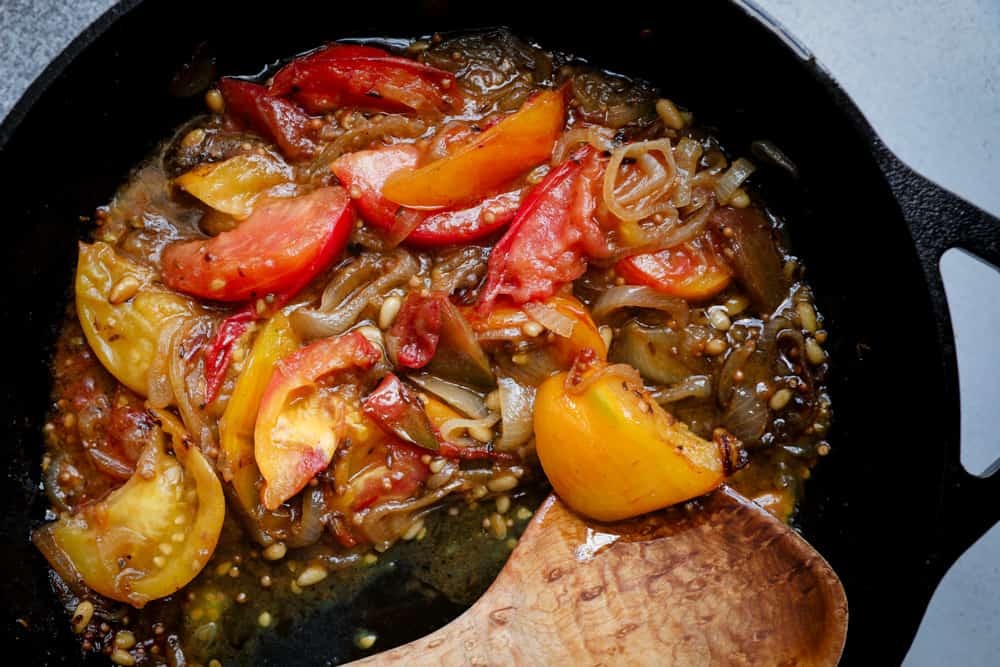 Spiced Jammy Heirloom Tomatoes & Shallots
2-3

tablespoons

extra virgin olive oil

1

shallot

,

, sliced thinly

1

teaspoon

mustard seeds

1

teaspoon

cumin seeds

1/2

teaspoon

ground coriander

5

oil-packed anchovies

1

pound

heirloom tomatoes

,

, sliced into quarters

optional: 2

slices

crusty bread

,

, torn or cut into cubes
Place a medium to lage skillet (ideally cast iron) over medium heat. Add in olive oil (enough to generously coat bottom of pan).

Once pan is hot, add in shallots, spices, and anchovies. Saute, stirring occasionally, until the shallots are browned, anchovies have fully broken down, and the whole mixture is quite fragrant, about 6ish minutes.

Panzanella Style: Add in bread and saute until lightly browned, about 4-5 minutes. Add in heirloom tomatoes right before serving, just enough to warm them and coat in the oil/mix. Serve immediately.

Stewed Style: Add in tomatoes. Saute over medium heat, stirring occasionally, until tomatoes have broken down and any excess water has evaporated, anywhere from 5-15 minutes. I've found this varies quite a bit depending on the water content of the tomatoes. Serve immediately or use for leftovers! I like to serve this with some rice and other roasted veggies.