I'm a bit obsessed with these Whole Grain Pumpkin Cider Donuts. They look like they take a lot of effort, but the batter comes together in about 10 minutes and is whole grain, low in sugar, and even has a dose of protein. After some testing with baking, I've decided that frying is the way to go. While you can bake them (they will hold their shape), I found the inside of the dough had a gummier texture and it was hard to get even baking on the inside/outside. Frying led to a much better texture and overall flavor and was more than worth doing.
Sick of pumpkin? Try the original recipe I adapted these from- my chai spiced donuts!
Behind the Recipe: Whole Grain Pumpkin Cider Donuts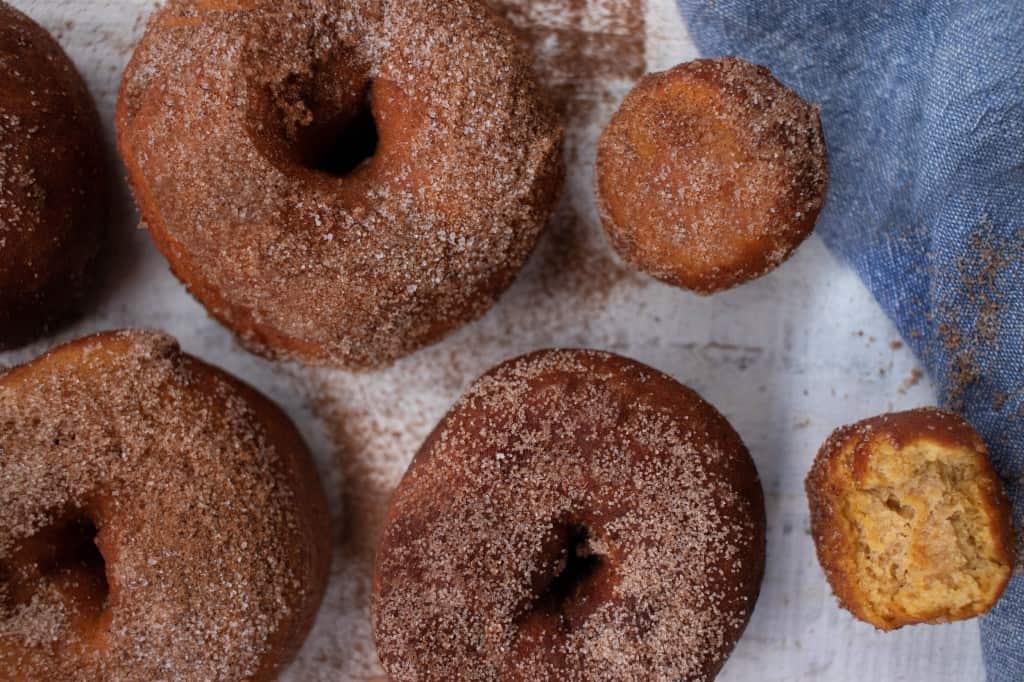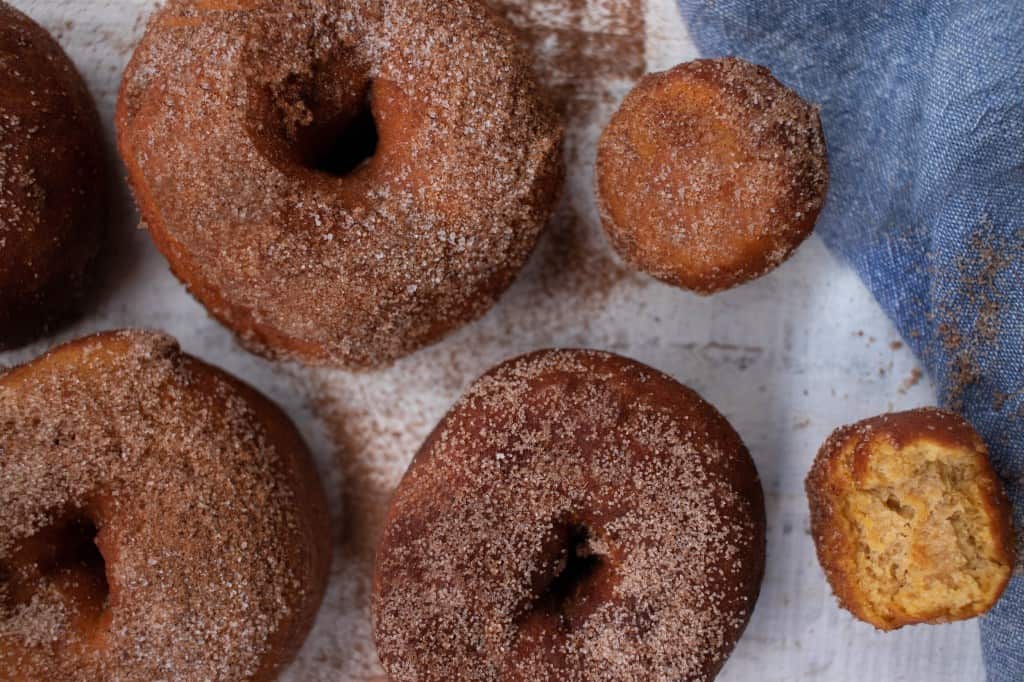 Whole Wheat Pasty Flour: The key to using whole grains in a cake without being tough or too dense. Yes, there is a difference between whole wheat flour and whole wheat pastry flour, and they are not interchangeable. However, if you only have whole wheat flour, use half all-purpose and half whole wheat flour to get a similar result. This will include whole grains while keeping it nice and light and fluffy. You can also just use all-purpose flour if you prefer.
Skyr/Greek Yogurt/Ricotta: This helps gives the donuts some lightness to the dough. While not for these purpose, it also adds just a bit of protein to these donuts.
Pumpkin: The amount of pumpkin in these is quite minimal- that's because pumpkin can really impact the texture of these. Adding more will result in a dense, gummy donut. Use your leftover pumpkin to make these pumpkin chai muffins.
Spice Mixture: Feel free to use pumpkin pie spice if you have it on hand here. If not, no worries- essentially make your own with the recipe below.
Tablespoon Scooper: One of my favorite tools in the kitchen and comes in handy here if you want to make donut holes. See here on Amazon. You can literally. make these in under 20 minutes by using this tool (P.S. It's great for cookie and scooping out nut butter too).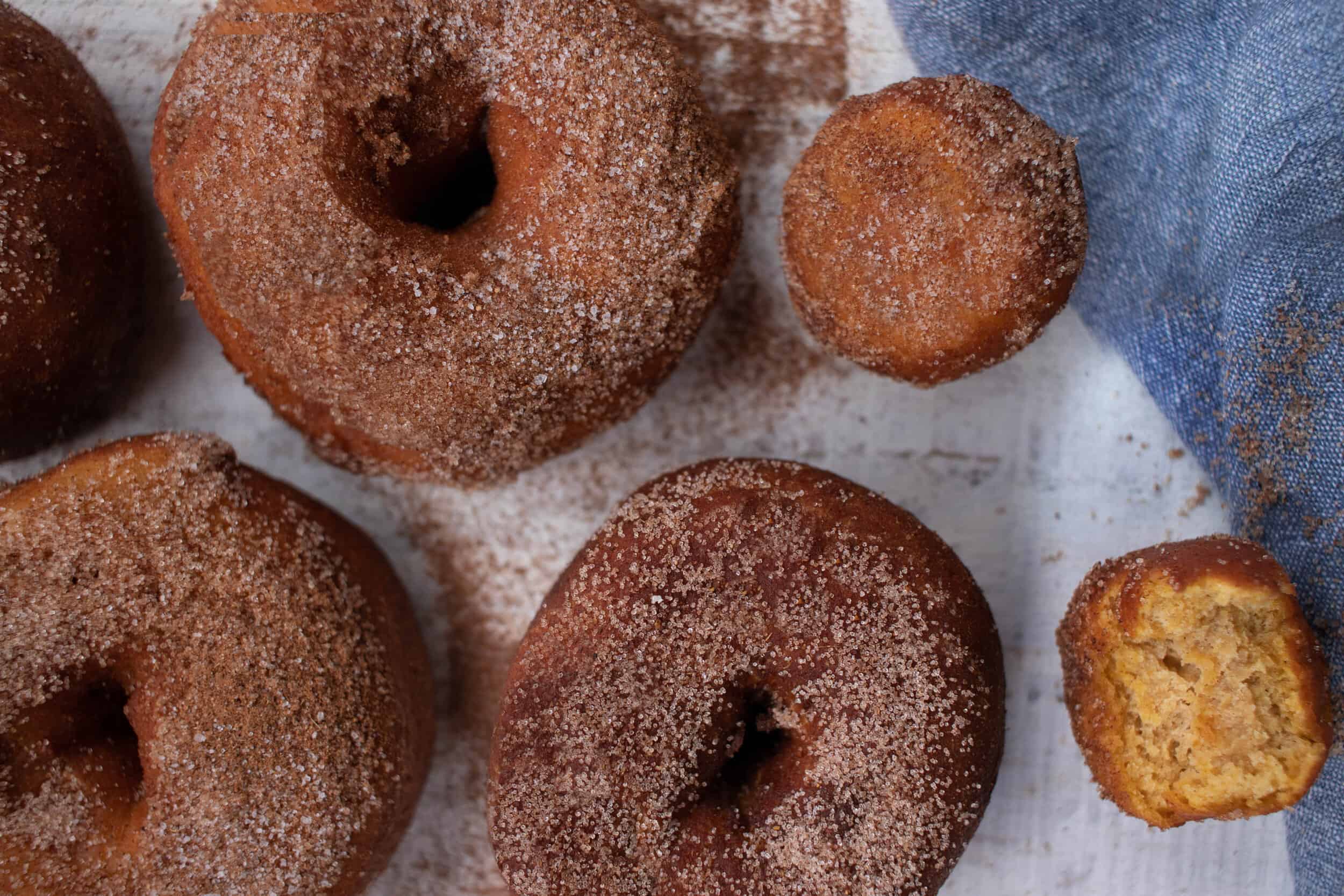 1

egg

1/2

cup (120g)

full fat skyr, ricotta, or greek yogurt

1/4

cup (50g)

pumpkin puree

1/4

cup (25g)

white sugar

1 1/2

cup (156g)

whole wheat pastry flour

1

teaspoon

vanilla extract

3/4

teaspoon

diamond kosher salt (if using any other salt, use half the amount)

1

teaspoon

baking powder
Cinnamon Spice Sugar Coating:
2

teaspoons

cinnamon

1/2

teaspoon

ginger

1/8

teaspoon

nutmeg

2

tablespoons

sugar
In a large bowl, combine egg, sugar, pumpkin puree, and vanilla in a large bowl. Whisk vigorously.

Add in baking powder, flour, and salt in medium bowl and fold into batter with a spatula until fully incorporated.

Donut Hole Option (much easier): Using a large tablespoon scooper, scoop a ball of the batter and immediately drop into oil (see below on exactly how to heat oil).

Regular Donut Option (more work): Place dough on floured surface or parchment paper. Sprinkle flour on top of dough- be generous and sprinkle more flour on top until the dough does not stick to the rolling pin or counter. Roll out until 1/2'' thick.

Using a biscuit cutter or glass, cut donuts into 4'' discs. For each disc, punch a whole in the center with your thumb and use your hands to lightly smooth out and mold the dough into a circular donut shape. Place donut on parchment paper.

Once you've cut out all the discs you possibly can, combine the leftover dough back together.

Repeat steps 4-6 until you've used all of the batter. You can also make donut holes with the dough if desired.
Frying:
In a small bowl, combine the spices and sugar for the spice coating.

Pour canola oil into a deep heavy cast iron pot until about 2 inches deep. Heat oil until 350 degrees.

Place donut in oil and fry until brown and floating, about 160s per side for the donuts and about 120s total for the donut holes. Immediately place back on paper towel once done to lightly cool.

Roll donut in spice coating and then place back on paper towel.