One of the best metrics to determine how popular a cookie is: how long the batch lasts. Solely based on this, this may be my favorite dessert yet. They never last longer than a couple of days!
There's just no resisting a buttery, flakey puff pastry. This recipe is adapted from @sarahkietfer 100 cookies (highly recommend!), but I like to make mine on the less sweet side, opting for more jam and no extra sugar. Choose whatever jam sounds good— I'll usually go for a berry based one that has no added sugar.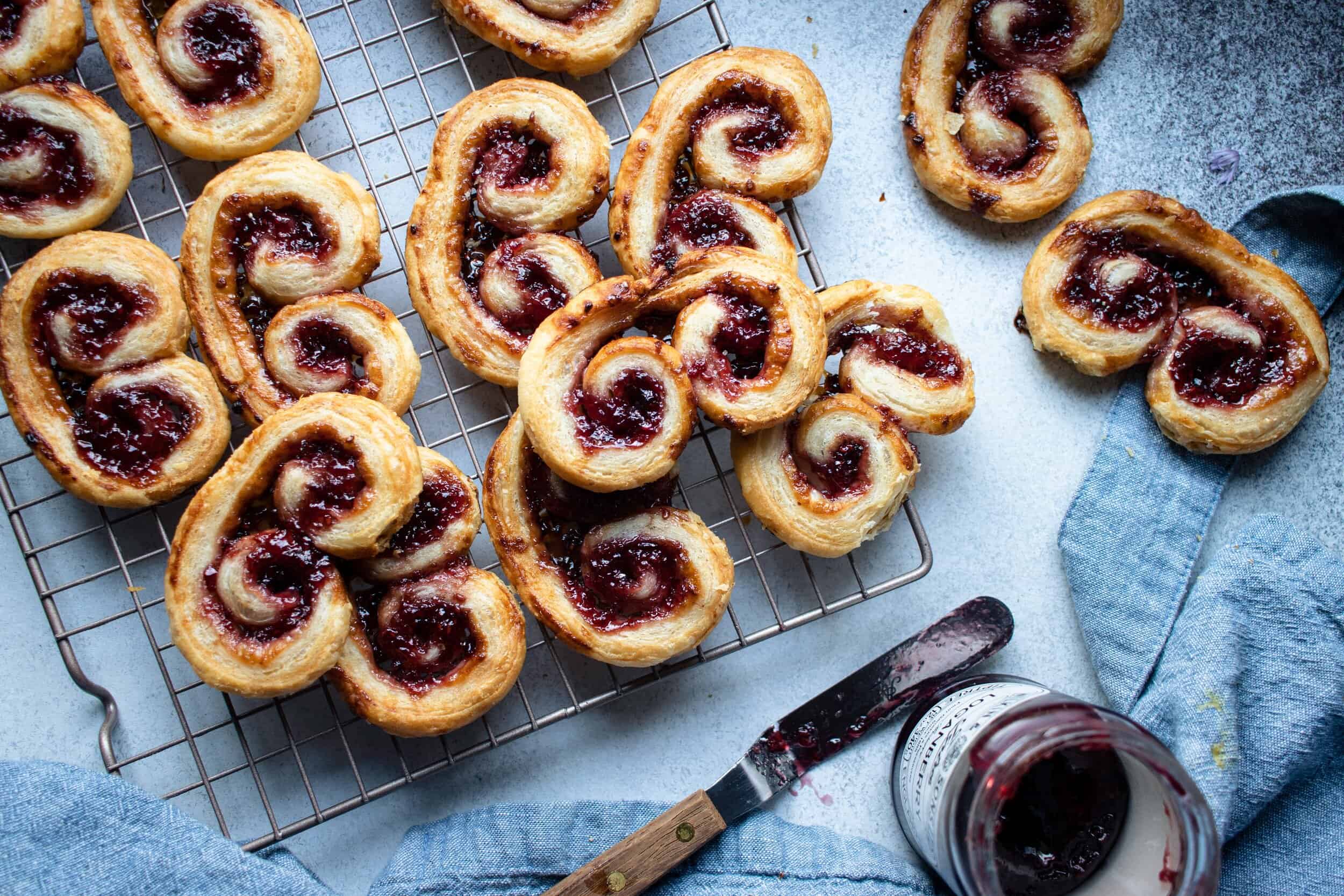 Cardamom & Berry Jam Palmiers
Difficulty Level: 2-3
1

14-oz

sheet puff pastry

,

(I recommend the Dufour brand)

4

ounces

jam of your choice (I loved anything with berries)

light sprinkle

cardamom

optional: dusting of turbinado sugar

sprinkle of flaky sea salt
Preheat oven to 400 degrees.

On a parchment paper, lightly roll out puff pastry so it is flat and just a bit larger than its original size. The key to puff pastry and handling it is keeping it cold! Place back in fridge for a few minutes if you find it sticking or hard too handle.

Spread jam onto puff pastry, starting from the center. The jam would be one thin layer. Leave about 1/2'' border on the outside with no jam.

From each width end, roll in the puff pastry three times into the center (see below). Then stack on top of each other so it's a roll. Cut the roll into 1'2'' slices and place face up onto the baking sheet. Give a good amount of space in between the pieces because they will expand.

Place in freezer for 15 minutes before baking. Right before putting them in the oven, sprinkle just a bit of flaky sea salt on each piece. Then place in oven for 8 minutes, until golden on one side. Flip and continue to bake until golden brown, another 8 minutes.

Serve immediately. Store in airtight container in fridge for a few days.