This combination of turmeric and ginger with grains is something I became obsessed with after reading Amy Chaplin's Whole Food Cooking Every Day. While you can try this with a variety of grains like quinoa, millet, or rice, I've found that steelcut oats really hits the spot on a cold windy day. Over the seasons, I've simplified this version and made some tweaks to get the perfect texture.
Feel free to make this savory or sweet- you'd be surprised how well this works with a bunch of roasted veggies. If you're able to get your hands on some baby ginger, use it! whenever turmeric and ginger are available at the market, I use them for this recipe.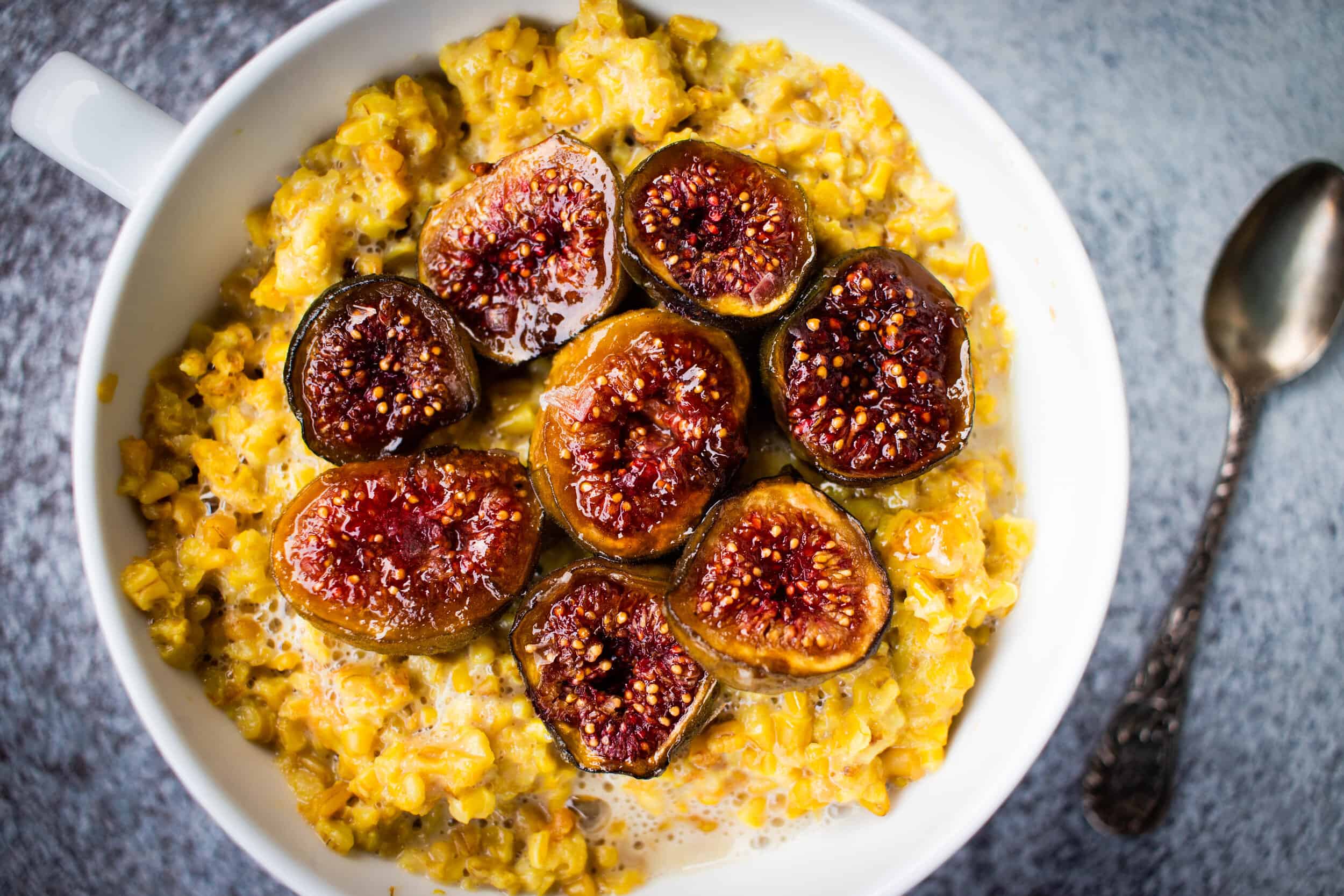 Easy Golden Steelcut Oats with Caramelized Figs
Golden Steelcut Oats:
1

cup

steel cut oats

1

tablespoon

(20g, about a 3'' root) fresh turmeric or 1/2 teaspoon turmeric powder

1

tablespoon

(20g, about a 3'' root) fresh ginger

2

dates or dried apricots

,

(optional to add a bit of sweetness)

1/2

teaspoon

salt

3 1/2

cups

unsweetened almond milk or other milk of your choice; using coconut milk will make this creamier and a bit more luxurious.
Optional spices to add in: (if you have them around; not worth buying if you don't have them though! The ginger and turmeric will be plenty)
Pinch

allspice

Pinch

nutmeg

Pinch

cinnamon
Caramelized Figs
1

cup

figs

,

sliced in half

1

teaspoon

coconut or brown sugar

1

teaspoon

olive oil or coconut oil

pinch of sea salt
Caramelized Figs:
Preheat oven to 375. Toss figs in sugar, oil, and a pinch of salt. Spread onto an oiled baking sheet.

Bake until figs are quite brown and caramelized, about 15-20 minutes.
Stovetop Directions:
Combine all ingredients in a medium saucepot and place over high heat until just almost at a boil; reduce to a simmer and simmer until most of the liquid has been absorbed by the oats, about 20-30 minutes, depending on how thick you want the texture to be.
Instant Pot Directions:
Combine all ingredients in the instant pot. Place on manual high pressure for 3 minutes. Allow to natural release for 20 minutes.
Storage:
Store in an airtight container for up to a week in the fridge. It will thicken up dramatically in the fridge- just add a touch more milk when reheating before eating.