I'm going to be honest… I've never really been a gratin person. But this recipe has me thinking otherwise. This slightly lightened and modified version uses milk instead of heavy cream and adds in a healthy dose of greens (which you can also omit if that's not your thing). A combination of cheddar and gruyere adds depth and the ultimate cheesy factor needed for a dish like this.
The biggest reason I love this: It's SUPER SIMPLE! Literally 4 easy steps in this recipe. The oven does all the work here. The ingredients are also versatile. If you're unsure about turnips, use a smaller portion of turnips and mostly potatoes. You can also just use potatoes. So far red and purple potatoes are my favorites to use.
Similarly, you can use 2% or whole milk if that's what you have on hand, a different type of green as long as it's a bit hearty (we used collards last time which I enjoyed even more than the kale!), and a different mix of cheeses.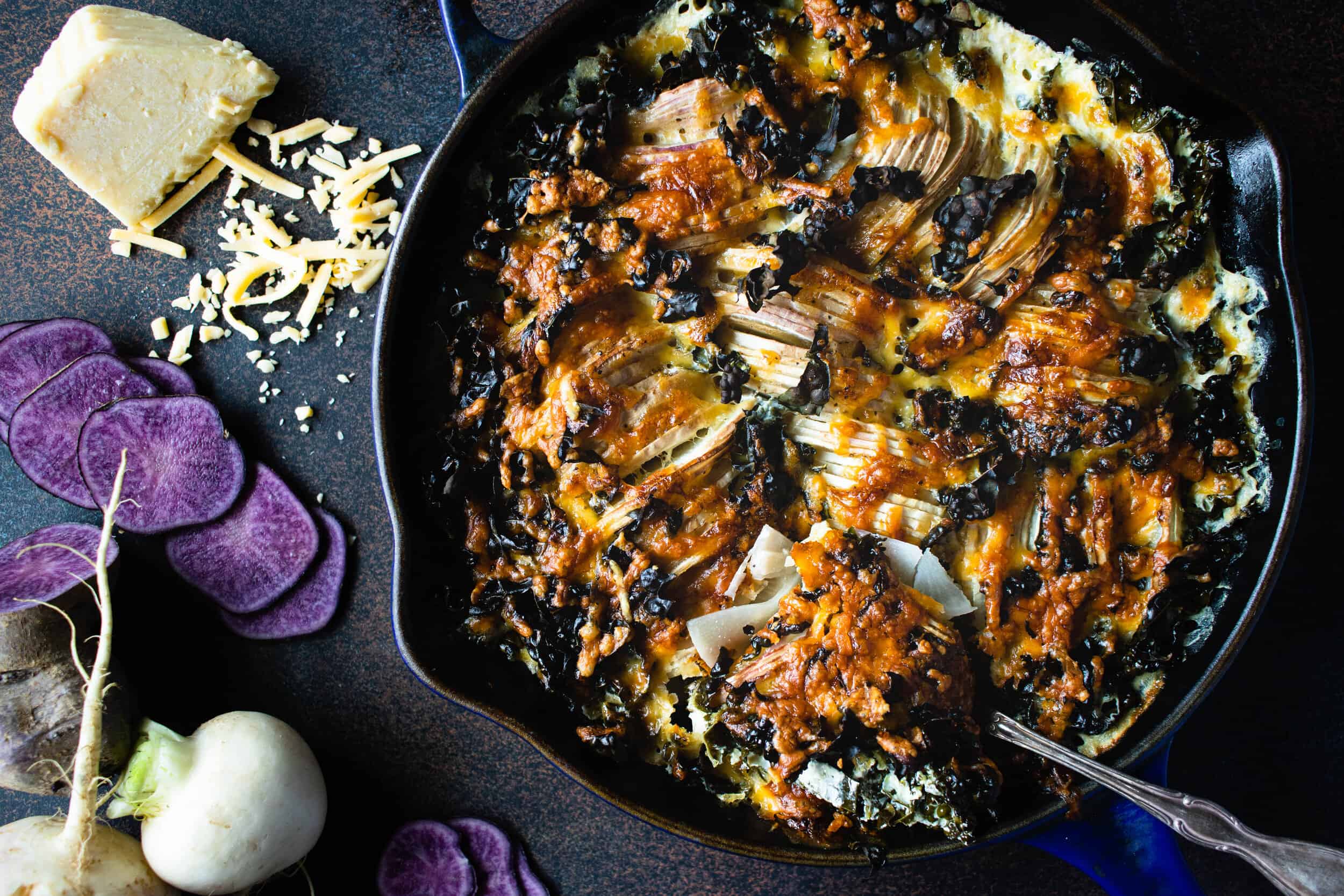 Turnip & Potato Gratin with Greens
Difficulty Level: 1
2

pounds

mix of turnips and potatoes

,

thinly sliced into rounds and then cut into half moons (I like doing 1/2 pound turnips and 1 1/2 pound potatoes. As far as potatoes, I've done both Yukon, red and purple potatoes. All worked well!

1/2

bunch lacinato kale or collard greens (2.5 ounces)

,

stems removed and sliced into ribbons

1

tablespoon

olive oil

1 1/3

cup

1% milk

Heaping 1/2 cup (2 ounces) sharp cheddar cheese

Heaping 1/2 cup 2 ounces gruyere

Salt

,

to taste

Pepper

,

to taste
Preheat oven to 425.

Arrange turnips and potatoes into a 9'' skillet by stacking them vertically (see picture). Then place kale around the turnips to fill the pan. The greens will greatly reduce in size, so stack a bit more than you think.

Combine milk and season with salt and pepper Pour over arranged turnips and kale.

Drizzle olive oil over potatoes and kale and season. Top with 3/4 of the cheeses, reserving 1/4 for later.

Cover with foil and bake for 30 minutes. Remove from oven, add the remaining cheese and place back in oven for 25-30 more minutes, until all the milk has evaporated and the top is brown. Serve.
Notes