Ever since I made my corn risotto this summer, I've been thinking about some fall/winter variations. This uses similar principles by creating a quick yet flavorful stock for the rice to soak up and by adding in a vegetable for both flavor and texture. I used Banza rice in place of typical Arborio and found it worked great, but you can use the more traditional white rice as well for this recipe.
This is almost a one pot meal, although you'll need a small saucepot for the stock. Have everything out and ready to go once you start cooking the risotto, because you need to be attentive and stirring constantly- it's not the time to realize you have to grate the parmesan while you're stirring (trust me, I've done it). Take a second to have the ingredients ready and nearby and put on some good music or show while you stir and slowly add the stock.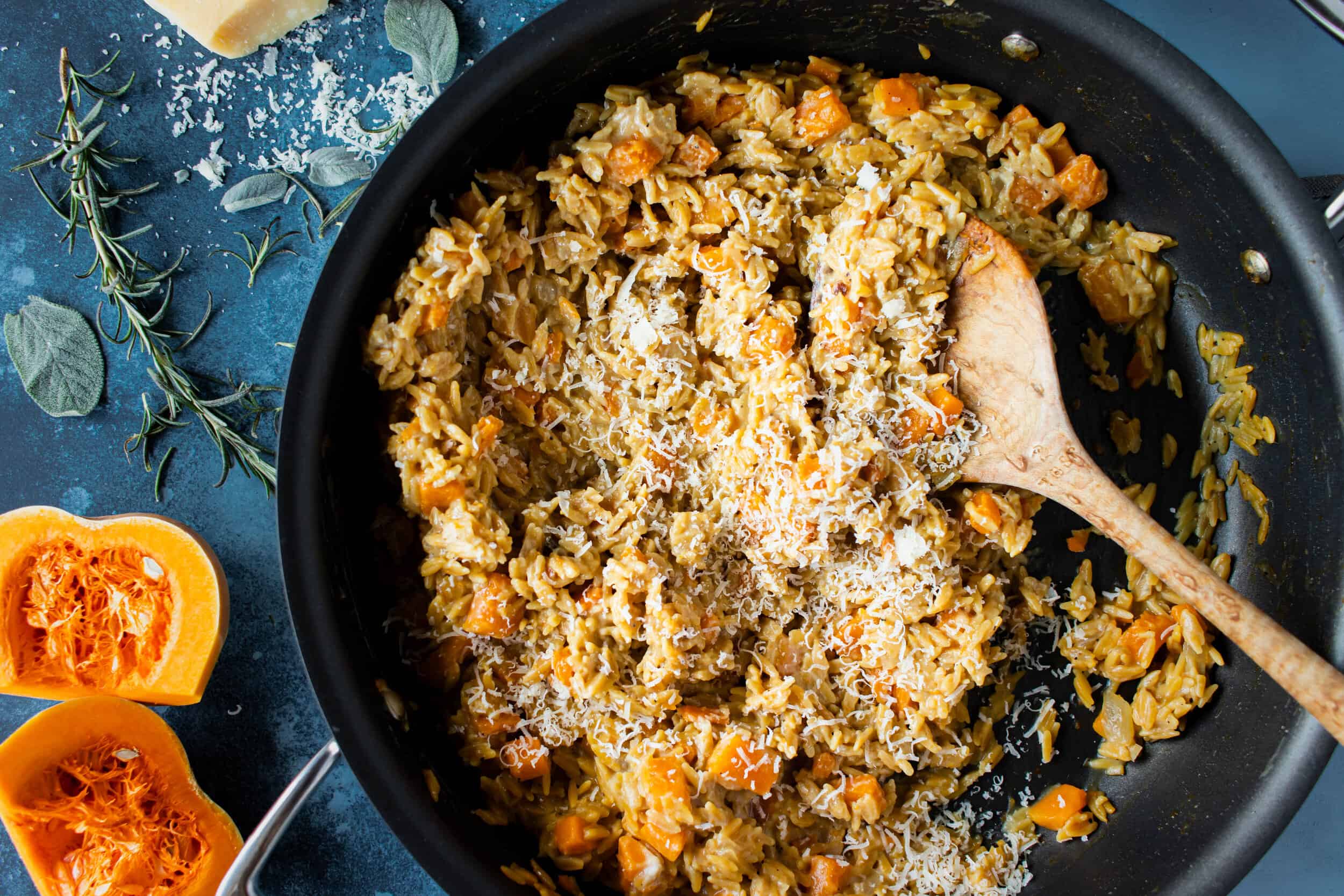 Weeknight Butternut Squash Risotto
Difficulty Level: 2-3
For the Risotto:
1/2

pound

butternut squash

,

(about 1 small squash or 1/2 large), diced into 1/4'' cubes

1/2

yellow onion

,

diced

2

tablespoons

butter or olive oil

1

package banza/1 cup rice rice

1/4

cup

white wine

3

tablespoons

heavy cream or coconut cream

,

(If I have it on hand, I'll use the sunchoke cream from Bryant Terry's Vegetable Kingdom Book here and love it!)

1/4

cup

grated parmesan or pecorino
For the Stock:
3

cups

vegetable or chicken stock

8

or so sage leaves

1

teaspoon

red miso

2

sprigs rosemary
Place all ingredients for the stock in a small saucepot. Bring to a boil, and then simmer while you prep the other ingredients (I usually simmer this for about 15 minutes before I'm adding it in; anytime between 15-30 is good!)

Place a large deep (1-2 inches deep) skillet over low to medium heat. Add in olive oil/butter, onions and butternut squash. Saute until brown, about 5 minutes. Season with salt and pepper.

Add in dry rice and stir to thoroughly coat the rice in oil/butter. If you notice it is dry, add in a touch more butter and oil.

Add in white wine and stir until fully evaporated, about 1-2 minutes. The wine should immediately bubble when you add it in.

Get your stock nearby! You can strain if you want, but I just use a ladle and avoid getting any of the sage or rosemary or pick it out if I happen to accidentally add it in. Add in stock, one to two ladles at a time, stirring constantly, until stock has been fully absorbed. Once the stock has been absorbed, add in another ladle. Continue to do this until all stock is used- this will take about 20 minutes. Note: Sometimes I'll throw in a couple of handfuls of spinach as this point for an extra boost of greens.

Stir in heavy cream and sprinkle on parmesan right before serving. Serve immediately, as this will quickly dry/solidify and not be quite as good! This is best day of, although you can have it for leftovers- just realize it won't be quite the same creamy texture.
Notes