The ultimate Meatless Monday meal: A one pot meal that comes together in about 30 minutes and can be enjoyed as leftovers the rest of the week. It strikes the perfect combination of simple, comforting, and flavorful.
While there are some veggies- carrots, onions, and tomatoes- in this dal, I like to serve this with some extra roasted or sautéed veggies and toss in some greens at the end. Adding a grain to soak up the dal is a must!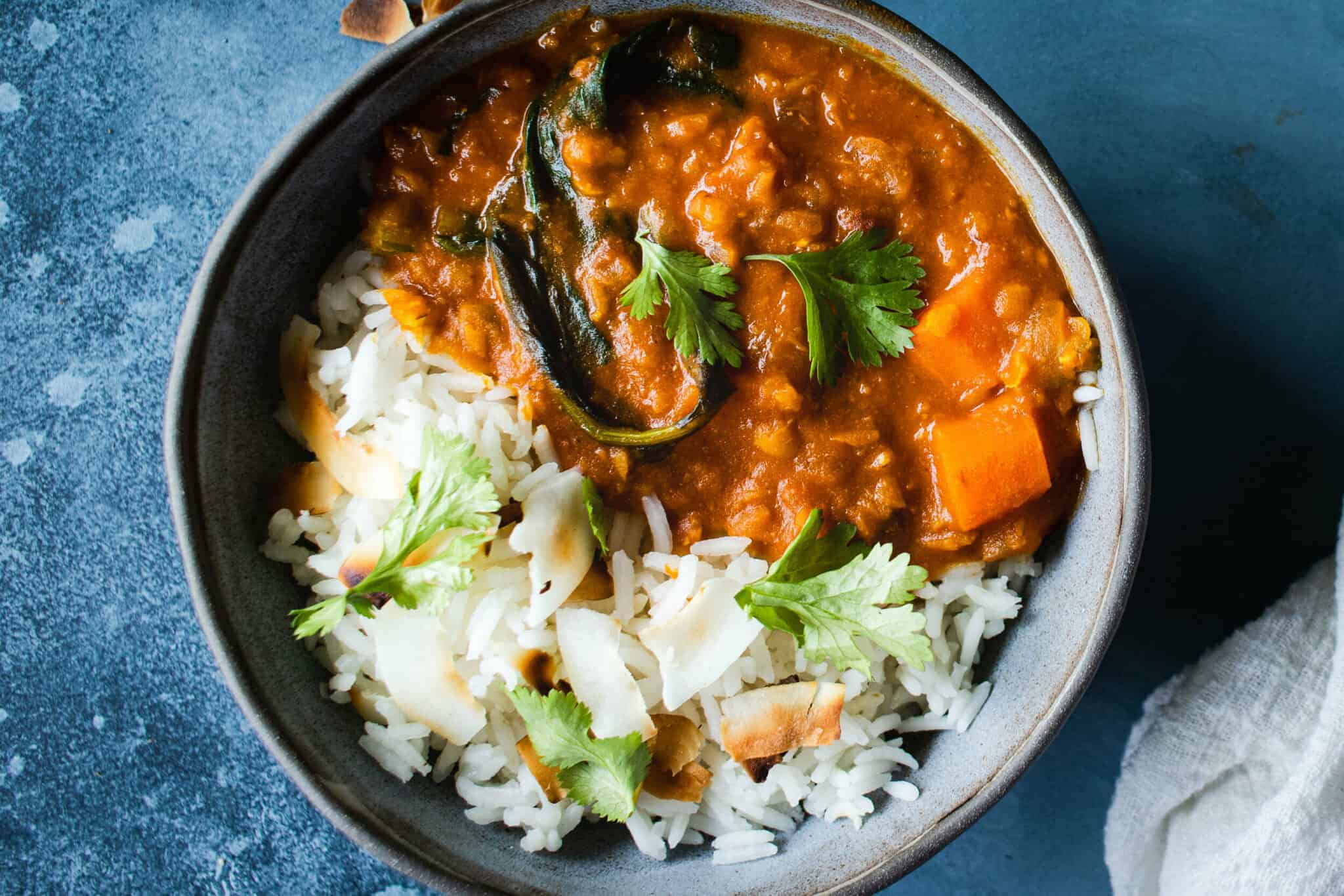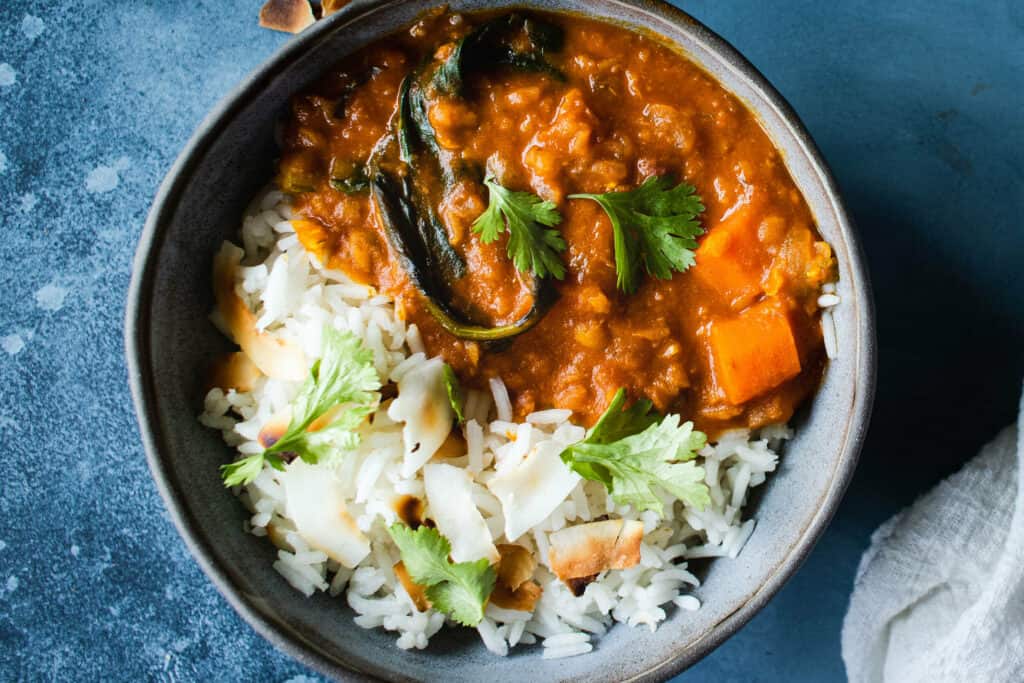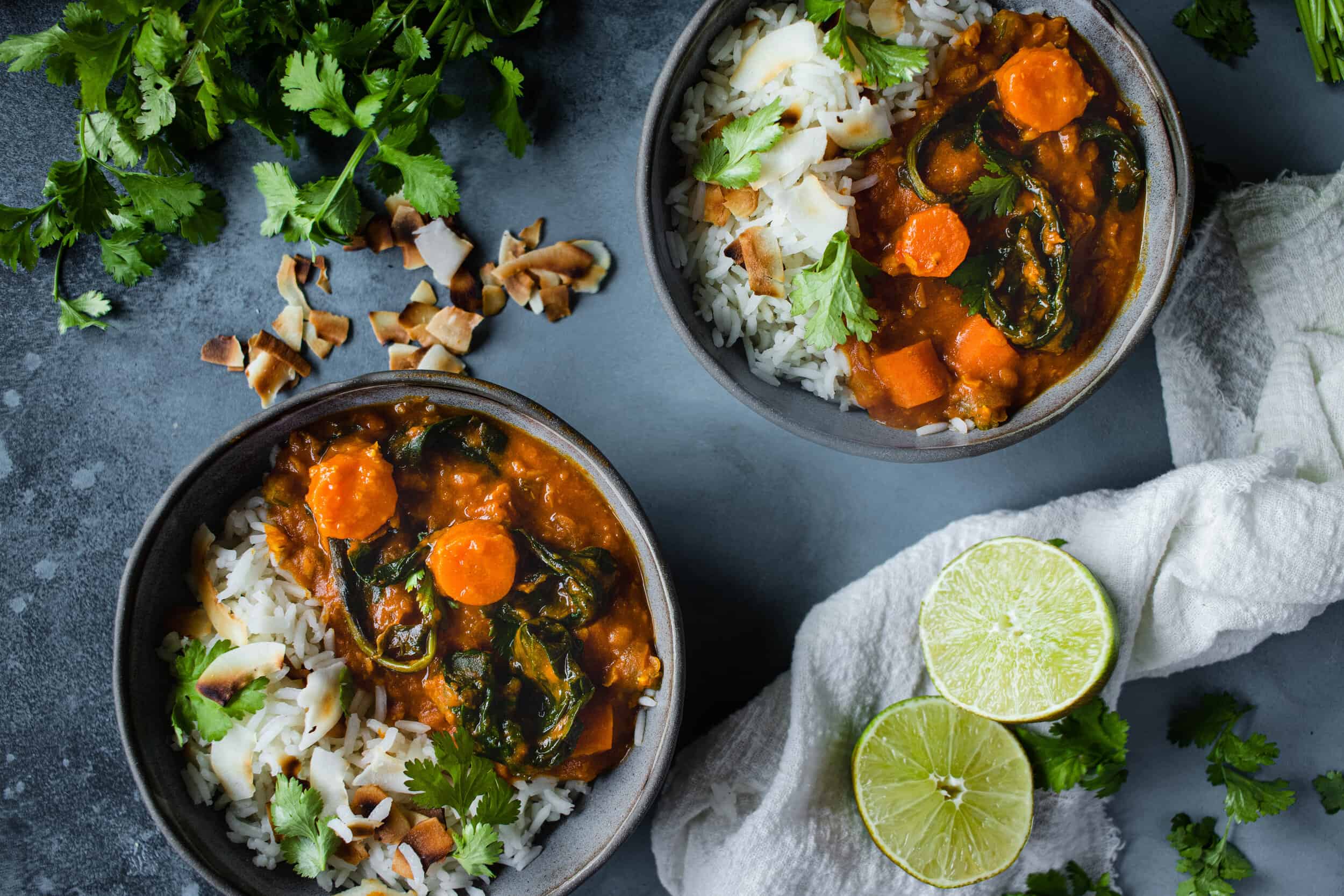 Weeknight Red Lentil & Coconut Dal
Difficulty Level: 2
1

tablespoon

coconut oil or extra virgin olive oil

1

small yellow onion

,

diced

4

carrots

,

sliced into coins

1

tablespoon

pureed or grated fresh ginger

1

teaspoon

cumin

1

teaspoon

coriander

1

teaspoon

turmeric

1

teaspoon

curry powder

1/2

teaspoon

salt

,

to taste

2

tablespoons

tomato paste

1 14.5-

ounce

can crushed tomatoes

1/2

cup

100g red lentils

1

can coconut milk

2 1/2

cups

water

Optional: cilantro

,

for garnish

Optional: 2 cups baby spinach
Serve with:
White or Brown Basmati Rice

Toasted Coconut

,

(Recipe Below)
Toasted Coconut
1

cup

unsweetened coconut flakes
Note: If cooking rice, start that now while the rest of this cooks! Also preheat oven to 425 if roasting veggies (I like to do green beans, as they take about 20 minutes in the oven).

Place a medium pot (4-6 quart) over medium heat on the stove top. Add in oil and onion. Saute until just light brown, about 5 minutes.

Add in all the spices- ginger, cumin, coriander, turmeric, curry powder, and tomato paste. Stir to incorporate all the spices and saute until tomato paste is a darker red, about 2 minutes. Season with salt.

Add in carrots, crushed tomatoes, red lentils, coconut milk and water. Bring to a boil, and then simmer, uncovered, for about 20 minutes, until red lentils are fully cooked and absorbed the water. Stir in spinach and let cook until wilted, about 2 minutes.

Serve with rice, roasted veggies, coconut, and some cilantro on top.
Toast the Coconut:
Preheat oven to 375. Place coconut directly on pan with no foil. Bake until golden brown, about 5 minutes.