This recipe is perfect during the winter and early spring- kale is abundant locally during these times and this is a great way to use a whole bunch! I'm not exaggerating when I say I've bought a bunch of kale every weekend at the farmer's market and made this pesto with it for the last month. It tastes delicious, is packed with kale, and goes with anything- I've paired it with pasta, salmon, roasted veggies, & grains.
This recipe is adapted from Bon Appetit– after five times doing this on my own, I've identified 1) weights of all the ingredients so you can just use a scale and no measuring cups 2) the perfect ratio of ingredients (small adjustments here and there) and 3) which shortcuts can be taken. The key to making this vibrant green and tasty is blanching the kale, which tenderizes it.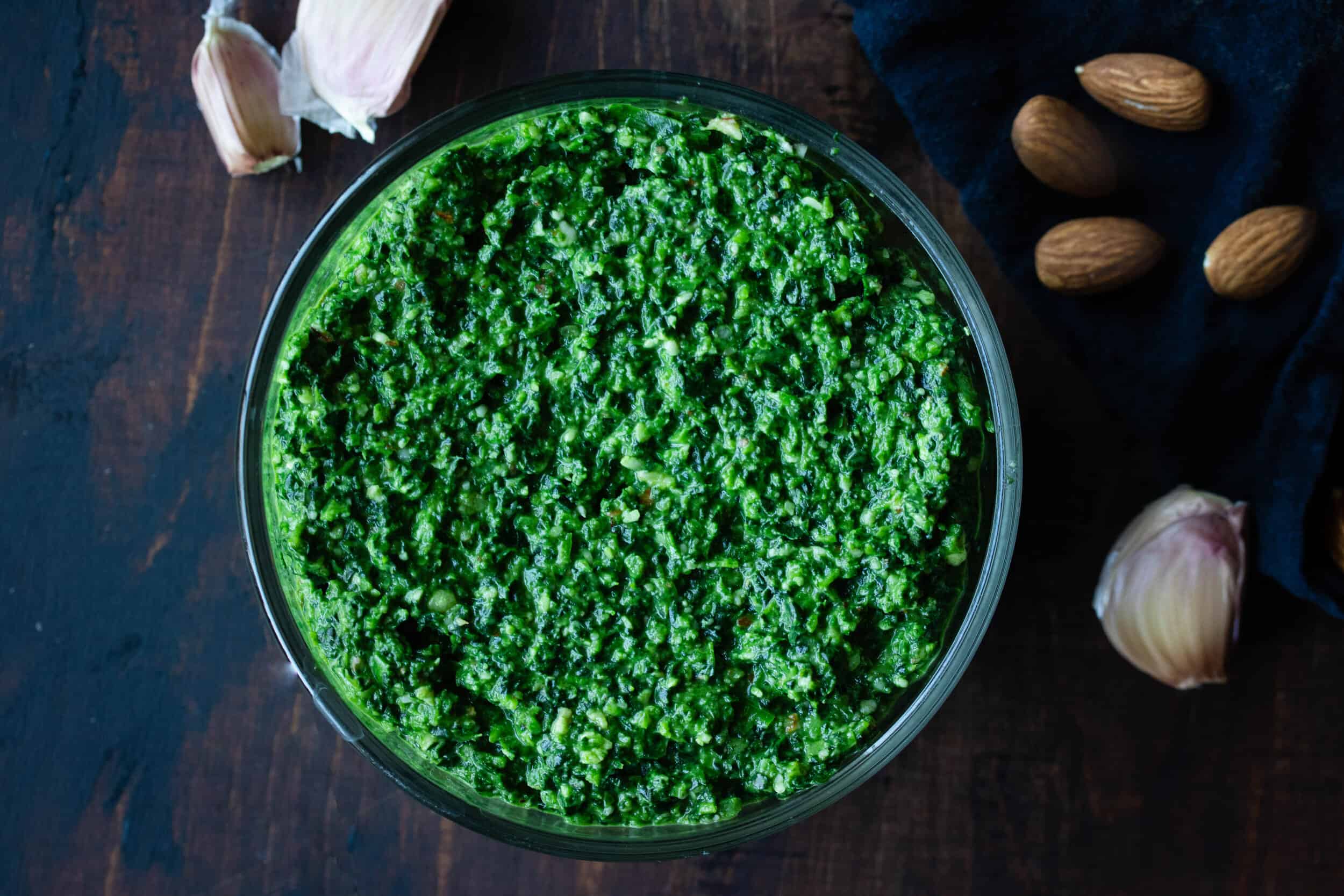 Kale Pesto
Adapted from Bon Appetit
1

bunch lacinto kale

,

8-12 ounces- sounds like a big variety, but I've weighed my bunch every time and it's varied between these weights and been fine **update: you can also use curly kale!

1/3

cup

(37g) almonds (or other nut of your choice- I've also done cashews and pistachios)

1/4

cup

(45g) extra virgin olive oil

1-2

garlic cloves

0.5

ounce

parmesan

,

(about 1/4 cup or so)

1/2

teaspoon

sea salt

,

to taste
Blanch kale. A slightly cumbersome step, but definitely needed for this recipe. To do this, bring a large pot of water to a boil. Add in kale until bright and vibrant green and just slightly soft, about 2 minutes. Remove kale and run under cold water to stop cooking immediately.

Remove stems from kale. You can do this before blanching, but I prefer after. When I initially did this recipe, I removed the entire stem by using my hands. As I've continued not do this recipe, I found that only the bottom, stalky parts of the kale needed to be chopped off and the thinner part of the stalk at the top was fine. This saved a lot of time and food waste.

Place nuts, oil, and garlic in food processor and process until nuts are finely ground.

Add in kale, parmesan, and salt and continue to process until the kale is finely chopped and it looks like the texture of pesto. Drizzle in more oil if you prefer to have a more oily texture.