The beauty in these skewers is the combination of flavors and textures. At the peak of their season, these cherry tomatoes and peaches don't need much to pop: Literally toss them in some oil and place on skewers, alternating them with some chopped up halloumi cheese. I've drizzled some of my basil vinaigrette on here for a quick sauce, although these skewers can hold their own too.
Serve these as an app, side dish, or remove off the skewers and put in a salad (which is what I did a few days ago for lunch).
P.S. If you haven't tried or seen halloumi… I've said it for the past year: it's going to be the new burrata. I'm just waiting. It still hasn't fully taken off yet, but I've seen it popping up more and more. This cheese is somewhat similar to mozzarella, but more firm and less watery, making it the perfect cheese to place directly on the grill or sear in a pan for a golden crispy coating.
It's not the easiest to find, but if you can get your hands on it, try it out!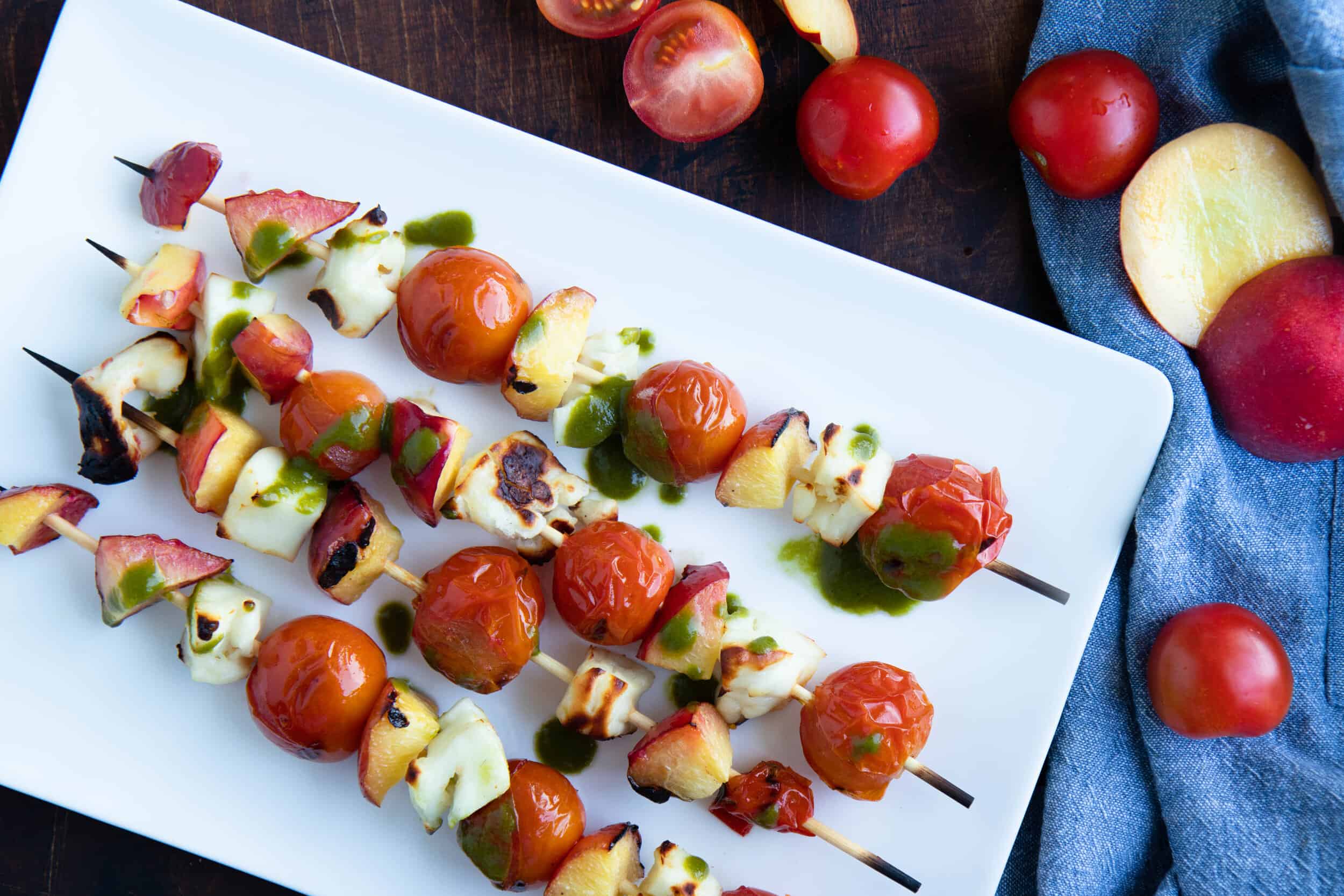 Tomato, Peach, & Halloumi Cheese Skewers
1

pint

cherry tomatoes or baby heirloom tomatoes

1

large peach or 2 small peaches

,

diced into large 1'' cubes

4

ounces

halloumi

,

diced into 1'' cubes

extra virgin olive

sea salt

pepper

optional: easy basil vinaigrette
Preheat grill to medium. If using wooden skewers, soak for at least 30 minutes.

Place tomatoes and diced peach in a medium bowl. Drizzle on olive oil and season with salt and pepper. Toss to lightly coat in oil.

Arrange tomatoes, peaches, and halloumi on skewers as desired.

Place on oiled grill until tomatoes are just charred, halloumi is lightly browned, and peaches are lightly browned, about 5-8 minutes. Drizzle on basil vinaigrette if desired and serve.