I've never been a big frosting person. Well maybe not always- as a kid I was all about that tub of chocolate frosting from Duncan Hines. But as an adult, I've found most frosting to be devoid of any flavor beyond sugar.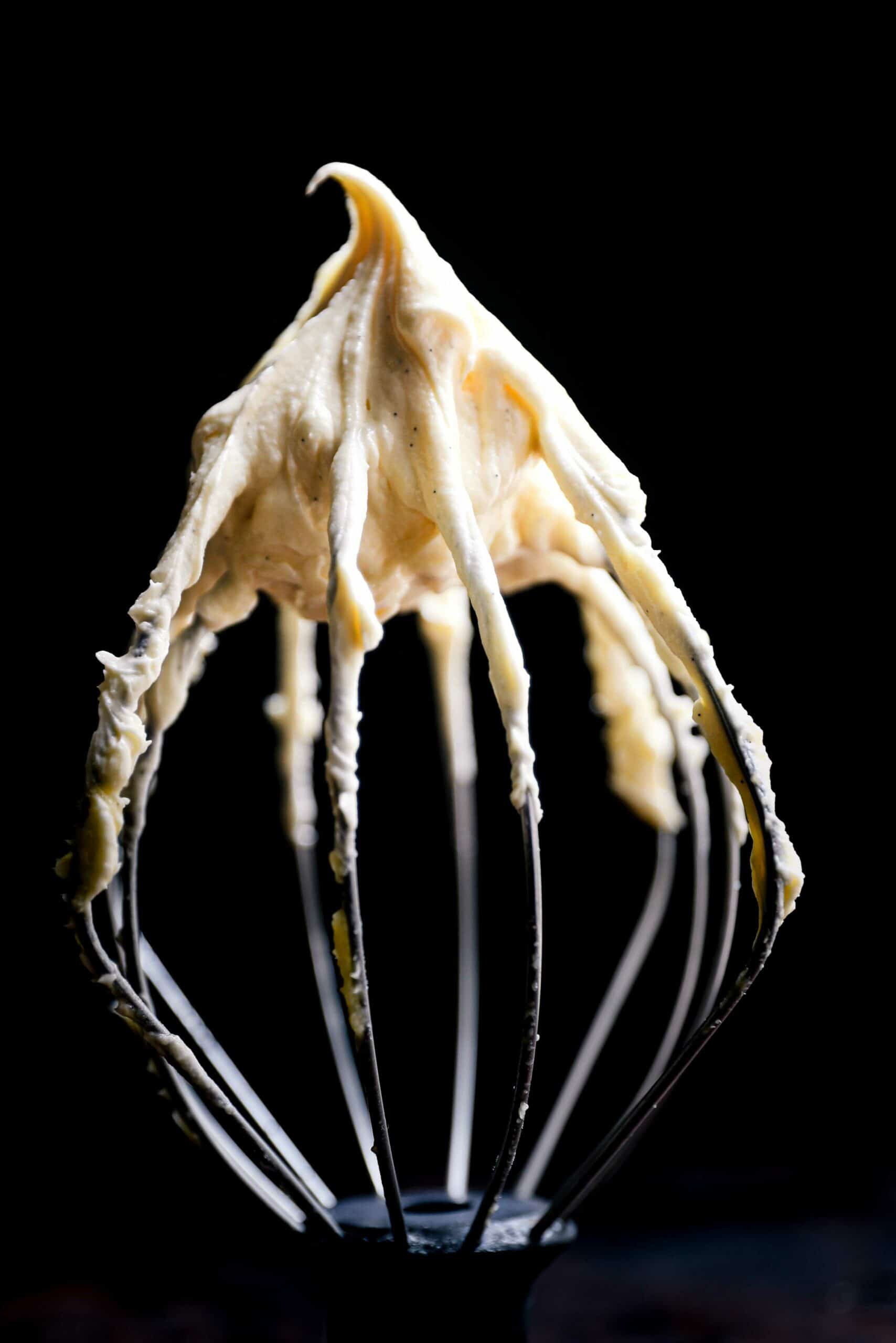 Then I made french buttercream. And my feelings on frosting completely changed. It's still sweet, but egg yolks and butter give it a rich depth of flavor and balance it out. It's so good that I'm completely willing to go through the work to boil sugar into a syrup, whip up the egg yolks, and slowly add in butter. There's something so luxurious and dreamy about it.
Ironically, the process of making French buttercream can often feel like the antithesis of luxurious. Almost every time I make it, despite knowing that eventually it will work out, I go through a period of doubt and frustration when the texture warps when I add the butter. Eventually, with just some time and patience, it all melds together into the perfect texture. Perhaps this is a greater analogy for life in general.
From here, add in any other flavors you want although I highly recommend trying out a fresh vanilla bean for a real pop.
This recipe is adapted from the Chocolate Buttercream Frosting in Claire Saffitz's Dessert Person. I was making a three tier chocolate cake for a family friend and followed her recipe methodically (multi-tier cakes usually aren't my thing). Despite loving Claire, I had low expectations for the chocolate frosting, purely because I 1) don't normally like frosting and 2) am not the biggest chocolate person, at least when it comes to things like ice cream and frosting.
And this is what I posted in instagram: This French buttercream is seriously just HEAVENLY. You'll never return to any other type, I promise (I say this through the first hand experience). After learning the fundamentals of a French buttercream from @csaffitz through her chocolate buttercream, I've been adapting this method to all sorts of different flavors. Fair warning: it's not the easiest recipe in the world. The first time might feel a bit chaotic because you have to do two things (whisk the egg yolks and heat the sugar) simultaneously. However, if you've made an Italian meringue (which is the only type of meringue I make for macarons- more on that tomorrow), it's actually a very similar method. You just whip egg yolks instead of egg whites and add a bunch of butter at the end. 
When troubleshooting this in future trials, I also found this article by Stella Parks in Serious Eats very helpful. She has specific temperatures to watch for, which was incredibly helpful when trying to get the perfect consistency in the end.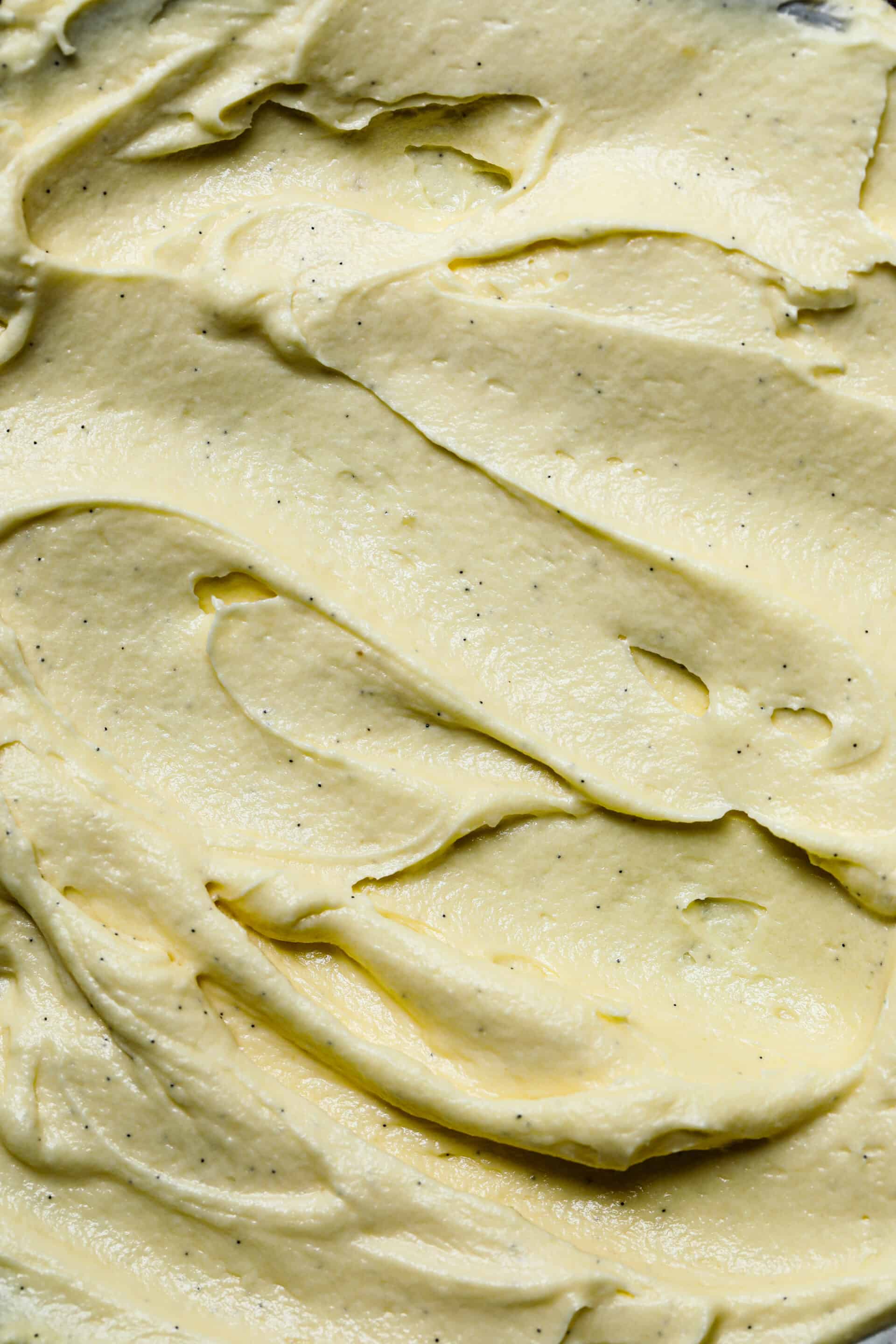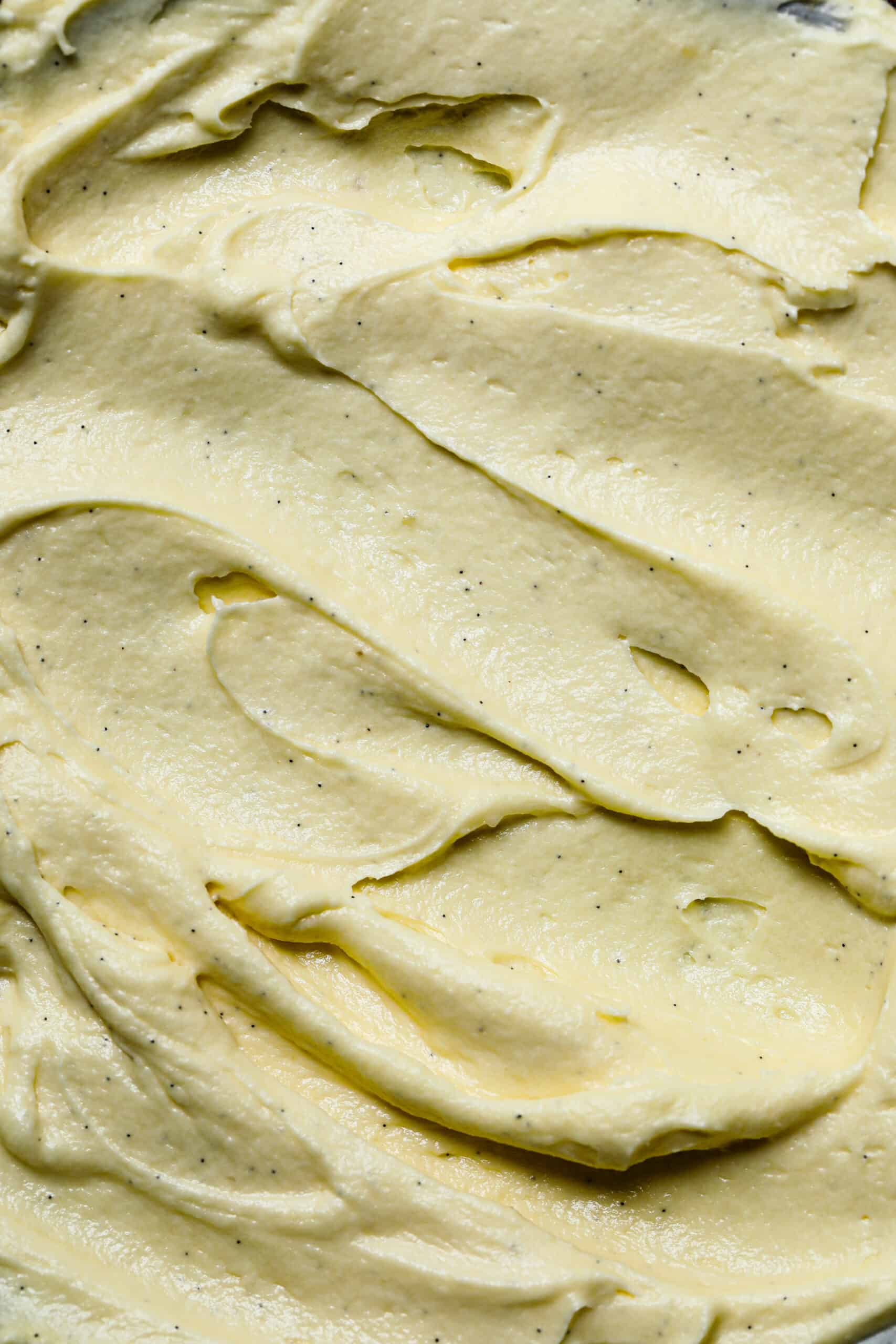 French Vanilla Buttercream
Equipment
thermometer- this is KEY!!
2

large

eggs

,

at room temperature

2

large

egg yolks

,

at room temperature

3/4

cup (150g)

white sugar

10

ounces (2.5 sticks)

unsalted butter

,

at room temperature, cut into chunks

2

vanilla beans

1

teaspoon

diamond kosher salt (if using any other salt, use half the amount)
In standing mixing bowl with whisk attachment, add in eggs and egg yolks. Beat on medium until the mixture is significantly lighter in color and creates a ribbon (see picture/video), about 5-6 minutes.

Meanwhile, in a small saucepan, add sugar and 3 tablespoons (45g) water. Heat over high heat and stir until sugar has fully dissolved. Once sugar has dissolved, it's important to not stir and instead occasionaly move the whole pan and swirl it around. Heat until 215-230F. Pour into the egg yolk mixture with the mixer running.

Continue to whisk egg yolk/sugar mixture on high speed until the side of the bowl is at room temperature (~70-75 degrees or so), about 10 minutes. Add in salt.

Check that butter is truly at room temperature- the closer it is to the temperature of the egg yolk mixture, the better and easier incorporating it will be. Slowly add in the butter a few chunks at a time. Be patient.

Now here's the key- almost every time I've done this there becomes a point where it looks like the buttercream has broken. Just realize this is less fragile than it seems and you can recover it- it's just all about temperature. The buttercream needs to be around 70 degrees to be at the right consistency. Sometimes this may require you to put the buttercream in the fridge for a bit if it's too hot- you'll notice the texture is a little liquidy and soupy. Other times you may have to create a double boiler- put the standing mixer bowl over a small pot of water- to warm it up if it's too cold. If it's too cold, you'll notice it has a curdled like texture. See above for more troubleshooting.

Slice open vanilla bean and scrape seeds directly into buttercream and whisk until incorporated.

This buttercream can be stored in the fridge for up to 2 weeks (or even the freezer for a couple of months; just defrost in fridge for a day or two before using). Generally, I have found that l need to whisk it in the standing mixer to get it back to its fluffy texture.