After a month of experimenting different cookie recipes and dissecting them, I was ready to make my own recipe of EXACTLY what I wanted: a thin & crispy base, but totally customizable. More specifically, these thin & crispy customizable cookies needed 1) the perfect ratio of a crispy outside and chewy inside (I like them on the thinner side) 2) a dimension of flavor beyond sugar.
I've made these more than any dessert in the last few months- about seven times. Which was surprisingly easily because the recipe itself is fairly simple (simple enough to make them with my 8th grade students in a live zoom) and delicious (Matt & Tess loved these cookies so much that we were going through almost 5 a day, justifying that I just HAD to make them again).
Here's a few reasons why I love this recipe:
1. You only need two bowls and if you have a scale, only a half teaspoon measuring spoon.
2. You can make the dough in about 20 minutes. Baking time is 10 minutes.
3. You can freeze the cookie dough balls before baking to reserve them for later (or eat them straight from the freezer… an impromptu decision that then became the norm…whoops).
4. You can add in exactly what you want.
Behind the Recipe: Thin & Crispy Customizable Cookies
What makes these thin and crispy? It's about the high butter:flour ratio. More butter, less flour. The amount of butter is what makes these spread out.
Oats and processed oats: I absolutely love the flavor and texture you get from the oats here. I'll usually get rolled oats. The cookie is still plenty familiar and doesn't feel like it's coming out of left field, but it adds a unique touch. I'll often make a double or triple batch of the processed oats to have on hand.
Room temperature ingredients: Having the butter & eggs at room temperature will give you a much smoother batter and better results.
Minimal mixing after the add-ins: Once you've added in whatever your add-ins are, try to mix in pulses- just enough to distribute the mix-ins. A lot of mixing here will deflate the cookies.
What to add in? THE POSSIBILITIES ARE ENDLESS. Chocolate chips, dried cranberries, white chocolate, crushed up toffee bars, or peanut M&Ms… just a few add-in's that we did. That's the beauty of making your own cookie: add in exactly what you want and how much you want of it.
If you like these, you should try these too…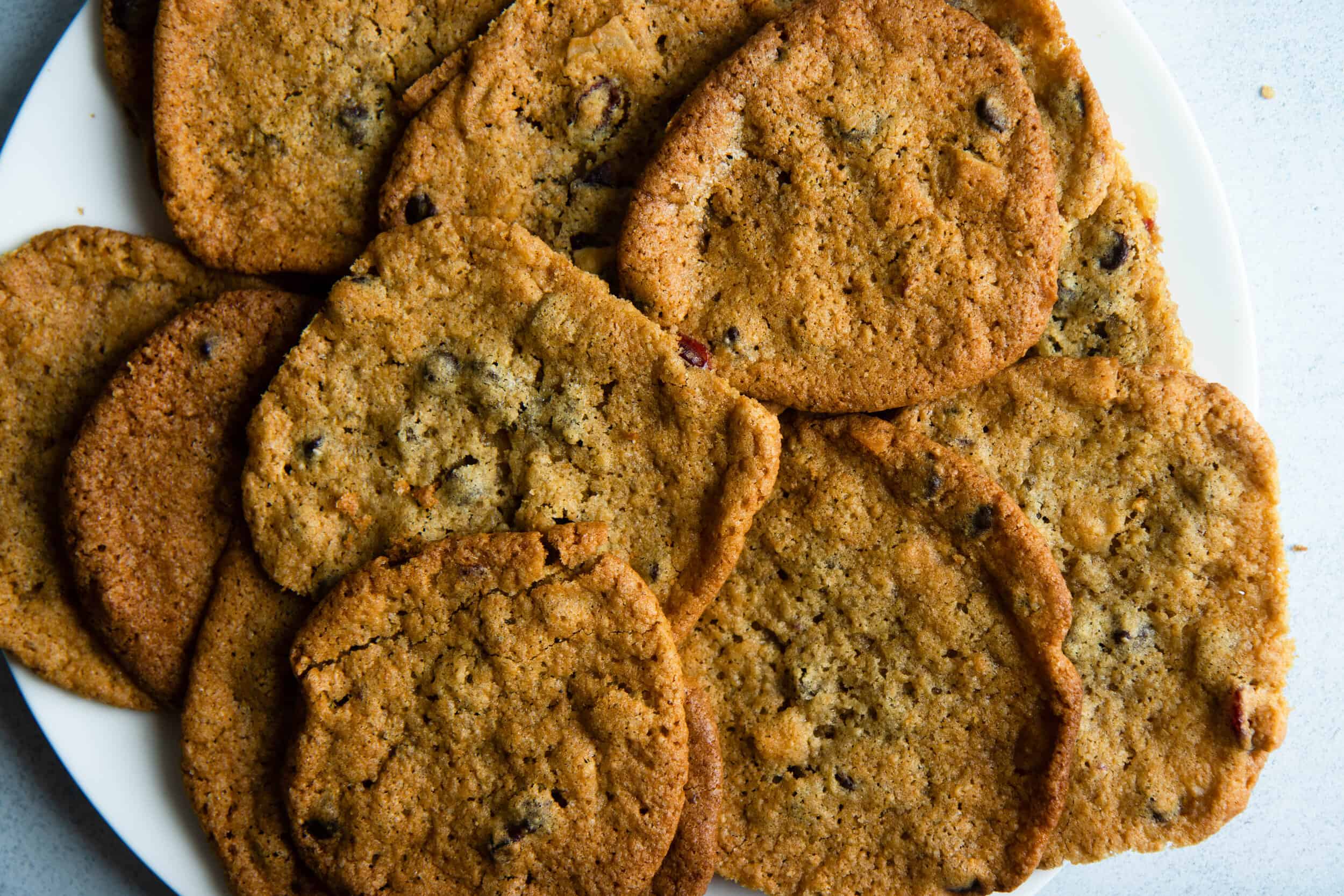 Thin & Crispy Customizable Cookies
Makes about 22 small cookies, 12 large cookies
1/2

cup

unsalted butter

,

(113g), at room temperature

1/2

cup

white sugar

,

(99g)

1/2

cup

brown sugar

,

(99g)

1

egg

,

at room temperature

1

teaspoon

vanilla extract

3/4

cup

AP flour

,

(96g)

1/2

teaspoon

cinnamon

1/2

teaspoon

baking soda

1/2

teaspoon

baking powder

3/4

teaspoon

kosher salt

1 1/2

cup

oats

,

(120g), divided- take 1 cup (80g) and grind it into a flour using a vitamix or food processor. Use the other 1/2 cup (40g) and keep whole.
**No food processor or vitamix to ground the oats? Here are some other options:
Use 80g (about 2/3 cup) oat flour

,

(buy at the store)

Use 80g (about 2/3 cup) additional all purpose flour instead of oat flour
MIX INS OF YOUR CHOICE- Generally about 1/2-3/4 cup of things is a good amount. Do what sounds best to you! That's the beauty of making your own cookies. Here are some of the add in's I've done:
Chocolate chips (milk or dark)

Crushed up dark chocolate toffee bar

Regular or Peanut butter M&Ms

Trail mix

Pecans

,

walnuts, or almonds

raisins or dried cranberries

,

(goes well with nuts)

Crushed up Cornflakes and pretzels
Preheat oven to 375.

Prepare dry ingredients: In a medium separate bowl, mix ground oat flour, all purpose flour, oats, cinnamon, baking soda, baking powder, and salt. ** If using a food processor or vitamix to blend the oats into oat flour, I blend the oats in the vitamix first and then add in the remaining oats, all purpose flour, cinnamon, baking soda, baking powder and salt right into the vitamix/food processor. Stir to combine.

Cream butter and sugar: Place butter and sugars in a bowl of a standing mixer or larger bowl. Using an electric mixer (handheld or standing mixer), cream butter and sugar until smooth and creamy, about 4-5 minutes (use paddle attachment if using a standing mixer). I like to beat the sugar and butter on a low to medium speed (speed 3 or so).

Add in egg and vanilla extract and beat on low to medium speed (speed 4) until smooth, another 2 minutes.

Add in flour mixture (in two batches) into the wet mixture and mix until flour is just incorporated. Try to minimize the mixing here.

Stir in mix in's of your choice.

On a baking sheet, scoop into little balls that are 2-tablespoons big. Make sure there is space between them because they will spread. Flatten lightly with your hand or a spatula if you want to them to be crispier/thinner.

Bake for 9-12 minutes- they will be lightly golden on top and still soft to touch. That's okay! They will crisp up and harden as they cool. Let cool for about 5 minutes on baking sheet and then transfer to a baking rack to fully cool.