You know those recipes where you don't quite get it the first few times, but just KNOW it has potential? That's this right here. Its presentation is deceiving- this really can be a weeknight meal.
About two months ago a recipe involving zucchini "roll ups" piqued my interest- the presentation was beautiful and I loved the idea. I tried it the next day and while we ate it, the sauce was way too watery and overall it needed a boost of flavor. Slowly I began to do trials, changing everything from the filling to the sauce, step by step.
About four trials later, and I think I've perfected this: it has the perfect balance of a few cheeses, tomato sauce, & zucchini. It's also truly flexitarian- simply add or omit crumbled chicken sausage in the sauce (I've done both). While I like to make my own tomato sauce (something that can be a day or two before and also used for other things), using a store-bought sauce streamlines this even more.
P.S. The time I took this picture I accidentally ran out of mozzarella and used Mexican cheese instead (which explains the color)- but it tasted just as good and I loved the pic!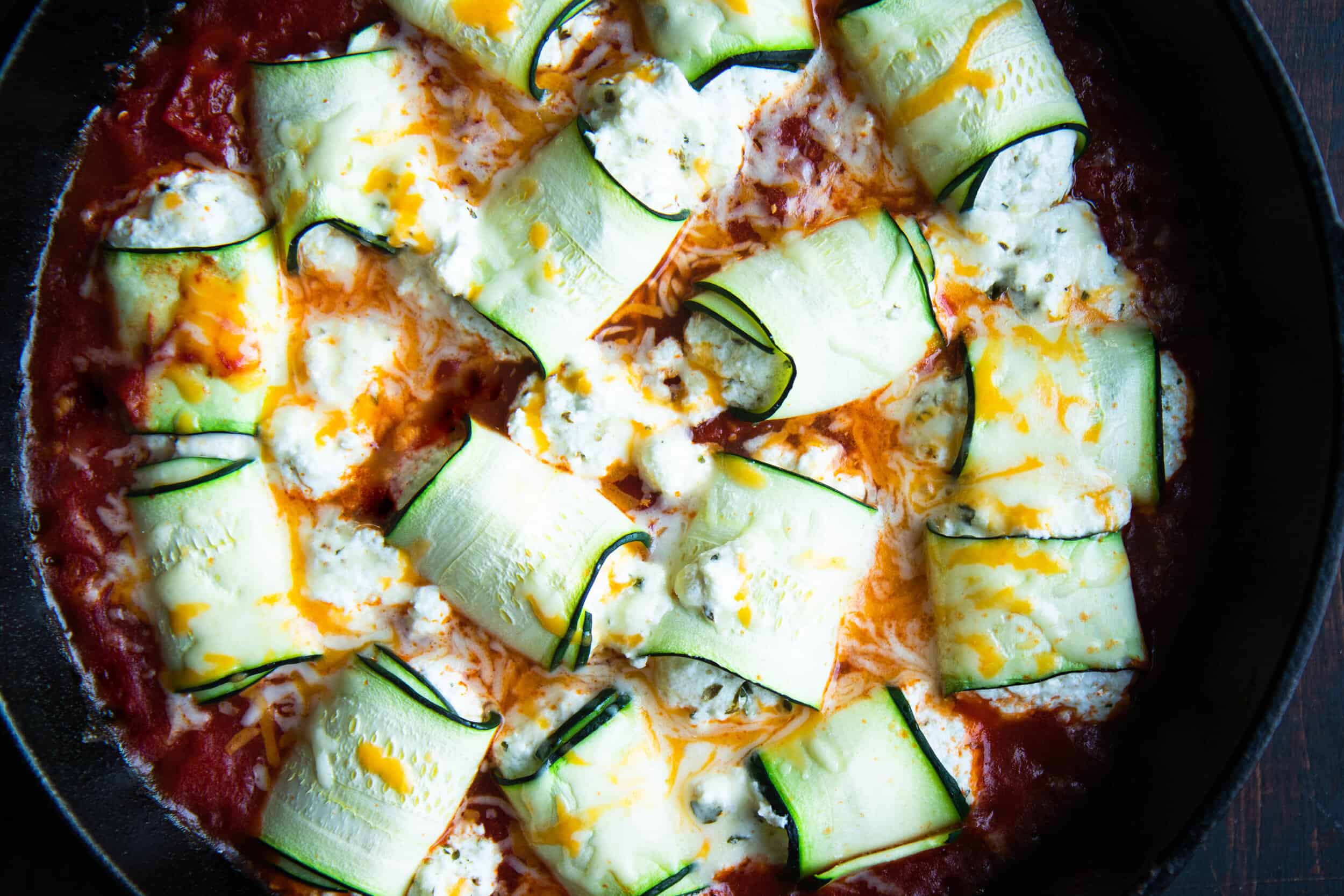 Cheesy Ricotta Zucchini Involtini
2 1/2

cups

tomato sauce

optional: 2-3

Italian chicken sausages

,

precooked, diced (depends on how much meat you want in the sauce; I prefer less, so usually do 2)

2

medium zucchini

1/2

cup

shredded mozzarella

,

divided

8

ounces

full fat ricotta

,

drained of any excess water/moisture

1/4

teaspoon

salt

pinch

black pepper

1

tablespoon

freshly chopped basil and/or oregano

,

use 1/2 teaspoon of dried in place of fresh
Easy Homemade Tomato SauceMakes roughly 2 1/2 cups
1-2

tablespoons

olive oil

1/2

onion

,

diced

2

garlic cloves

,

minced

1

tablespoon

tomato paste

1

14- ounce can

whole peeled tomatoes

1

14- ounce can

tomato puree
Make tomato sauce (see below). Pour tomato sauce in a 9'' cast iron skillet or oven-proof dish (about 2''-3'' deep). If using chicken sausage, add into sauce now.

Preheat oven to 375.

In a medium bowl, combine ricotta, 2 tablespoons shredded mozzarella (give or take- feel free to eyeball), 1/4 teaspoon salt, black pepper and fresh herbs.

Slice zucchini thinly with a vegetable peeler or mandolin. Place on paper towel and blot to remove any excess moisture.

Lay down two zucchini slices, slightly overlapping each other, flat on a cutting board. Add about a heaping tablespoon of ricotta mixture to one end (leaving a bit of space on the end). Roll up ricotta in zucchini. Place the wrap seam side down in sauce. Repeat for remaining zucchini slices.

If you have any leftover ricotta, place spoonfuls on top of the sauce.

Sprinkle top with remaining (almost 1/2 cup) mozzarella on top.

Place skillet in oven and bake until cheese has fully melted and zucchini is lightly tender, about 10- 15 minutes.

In a medium sauce pot, add in olive oil, onion and garlic. Saute until onion is translucent and just beginning to brown.

Stir in tomato paste and saute until dark in red color, about 2 minutes.

Add whole peeled tomatoes (as you add, crush them with your hands- be careful the juices will squirt out!), remaining juices, and the tomato puree. Season with salt and pepper.

Simmer for 20-30 minutes, until sauce has thickened.