I've been making Caramelized Lemon & Fresh Herb Roasted Chicken recipe or variations of it for the last few months. As its name suggests, it's incredibly simple. After about 15 minutes of prep work, you just need some patience and time for the oven to do its magic. This recipe is also great for leftovers.
Caramelized Lemon & Fresh Herb Roasted Chicken: Seasonal Adaptations
For this recipe, I've borrowed some similar techniques and methods from my other roasted chicken recipe: Foolproof Slow-Roasted Paprika Chicken. Basically I wanted another whole roasted chicken recipe to add my collection that embodied freshness. Lemons are one of my absolute favorite things to add for a punch of flavor and we usually have some sort of fresh herbs in our garden.
The exact ingredients for this recipe shifts and changes depending on availability and season. During the winter months, I took advantage of Meyer lemons being available in the store and oregano, thyme, and rosemary were the herbs thriving in our garden. Now as we approach spring in Texas (almost like summer for most areas in the U.S.), I've been using regular lemons and tossing in other herbs like cilantro. Bottom line: This recipe is incredibly adaptable. Add in herbs that are in season and looking good.
Behind the Recipe: Caramelized Lemon & Fresh Herb Roasted Chicken
I always think about ways to minimize cleaning and prep time for recipes. If a step isn't 100% necessary, I'm not including it. With that in mind, I'm only taking out a food processor if I think it's really helping the recipe.
Here, the food processor not only improves flavor, but streamlines making the marinade. It means I don't need to get out a cutting board and knife to chop up the herbs and garlic. Just toss everything into the food processor, and it will mince it all up. I use my mini food processor here (which can go right into the dishwasher for easy cleaning!). Using a food processor makes the marinade a bit more homogenous than I ever could do if doing this by hand. But if you don't have a food processor, no worries- you can finely mince all of the herbs and garlic, add in the lemon zest, salt, and oil and then mix it in a bowl.
Why the different oven temperatures? First off, you don't have to start at 400 and then drop down to 350. Sometimes, depending on my schedule, I'll just set the oven at 350- just keep in mind it will take a bit longer, closer to 1.5-2 hours. The reason for starting at 400 is twofold: to try to get the skin a bit crispier and to shorten the cooking time. The reason for dropping down to 350 is to make sure the chicken cooks evenly and doesn't dry out.
Roasting Chicken Tips
If you consider yourself a bit of a newbie when it comes to roasting a whole chicken, here are some tips and tricks to help you out, as well as the reasons behind the recipe. Simple Lemon & Fresh Herb Whole Roasted Chicken
To wash or not wash the chicken? Generally speaking, it is recommended you not wash your chicken, as you risk getting bacteria in places you didn't intend (like parts of your sink or counter). I do not wash the chicken and instead, pat dry with a couple of paper towels. This helps make the chicken skin get crispy when roasting.
Get everything out beforehand. There's nothing worse than starting to add the marainde to your chicken and then realizing you need to open up a drawer to get twine. Take a moment to have everything set out before you get your hands messy. Sometimes I'll wear disposable gloves for this part.
Getting under the skin of the chicken. This is a trick I learned from Serena Wolf and have been using ever since. It helps maximize flavor into all parts of the chicken, not just the skin. The first time you do it it feels a bit odd, but then you'll quickly get the hang of it.
What to Serve This With
I generally serve this with some roasted asparagus or green beans that I pop in the oven while the chicken cools. I actually prefer to use the broiler just because it's the quickest method and takes under 15 minutes. Just place on a foiled-lined baking sheet, drizzle generously with olive oil and salt (you can also set aside some of the marinade from the chicken and add that), and broil for about 5-8 minutes, until just slightly charred. For extra flavor, add in some sliced garlic or lemon zest before broiling.
Another option is an easy arugula salad. I'll add in some freshly shaved parmesan, baby tomatoes, and make a quick lemon dressing like this one.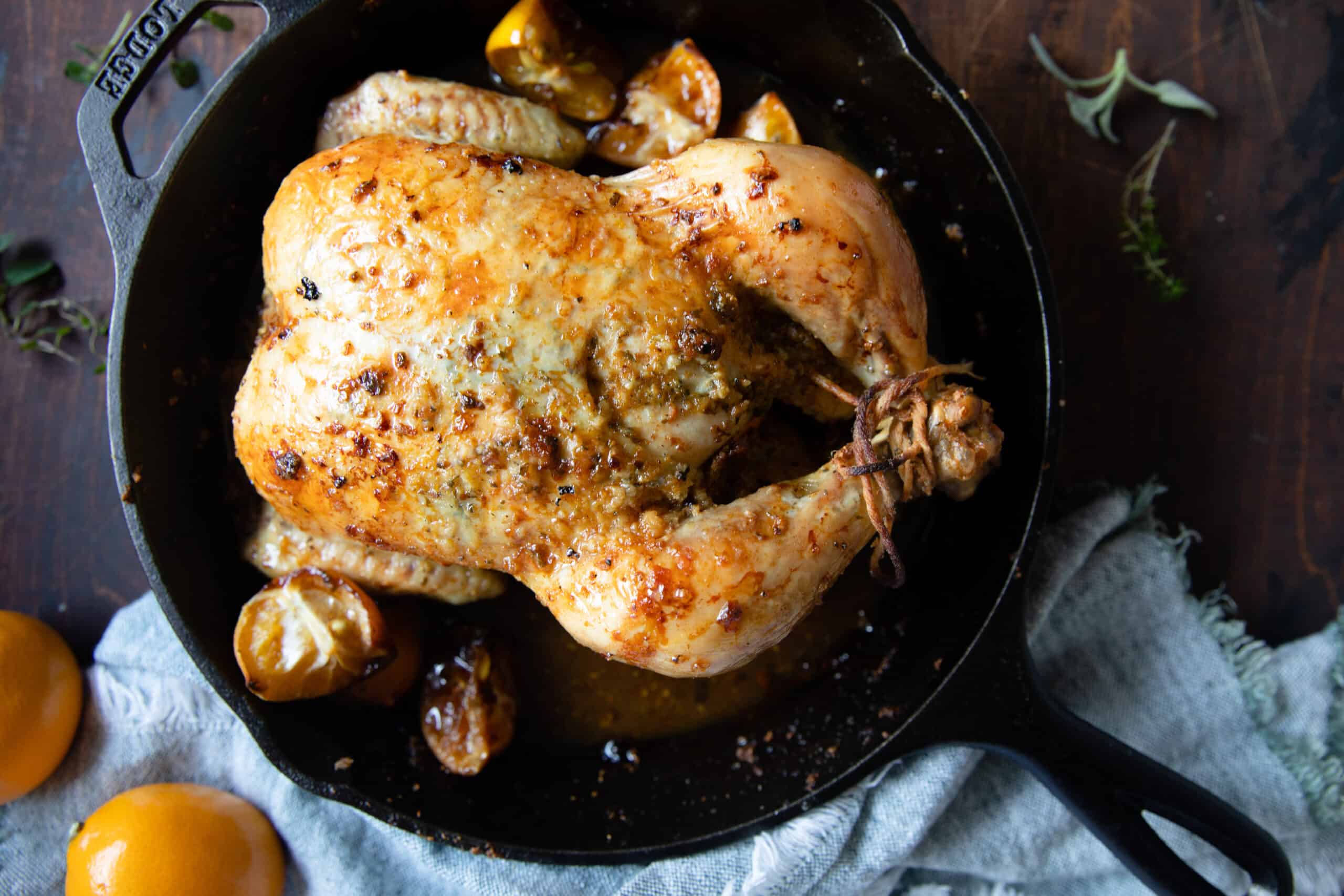 Caramelized Lemon & Fresh Herb Roasted Chicken
2

tablespoons

(Small handful) fresh thyme

,

see notes above about susbsitutions

2

tablespoons

(Small handful) fresh oregano

2

lemons

,

(meyer if possible)

4

garlic cloves

,

peeled

1/4

cup

extra virgin olive oil

1 1/2

tablespoons

diamond kosher salt (if using any other salt, use half the amount)

1

whole chicken
Prepare the Marinade
Prepare marinade: Zest both lemons and add to a small food processor, along with garlic, herbs, salt and olive oil. Process until completely blended.

Cut the zested lemons into quarters.
Prepare Chicken
Get everything you need out first (twine, marinade, lemons and 9'' cast iron skillet) so you don't have to worry about contamination.

Pat chicken dry with paper towel and remove innards. Place in 9'' cast iron skillet. Generously apply and rub in about half of the marinade to the outside of the chicken.

Gently, using the tips of your fingers, get under the skin of the chicken (see video). Add in the other half of the marinade here. This really helps seep in that flavor beyond the skin of the chicken.

Place a few of the quartered lemons inside chicken and the rest around the outside of the chicken. Drizzle a bit of olive oil on the lemons that are on the outside. You can also add in any extra sprigs of herbs or garlic cloves inside the chicken if you have any leftover.
Roast the Chicken
Roast chicken until the internal tempeature registers 165 degrees, about 60 minutes at 400. Note: This will greatly depend on the size of your chicken. I always use a thermometer to determine when the chicken is done.

Let chicken rest for at least 15-20 minutes before cutting and serving.