I love a cake that has flavors and texture beyond sweet. This Spiced Apple Pecan Snacking Cake is full of unique ones due to pecans, oats, apples, and warming spices. Making your own pecan flour sounds laborious, but if you have a food processor, it's quite simple and totally worth it.
A combination of whole-wheat pastry flour, oats, grapeseed oil, and skyr make this a more substantial slightly sweet treat in the morning. For more of a dessert feeling, sub grapeseed oil for brown butter and add just a touch more sugar.
This recipe has been a long time in the making. I first got my inspiration for it last year with an Upside Down Walnut cake by Claire Saffitz. After about 10 different trials, I've changed it up a lot. I found that keeping the apples in large halves was a bit clumsy for actual eating purposes, so slices was key. From here, there was no reason to keep it an upside down cake because the slices got too mushy and lost their texture in this method. I personally love the flavor of pecans over walnuts, so went that route. Then I added in rolled oats because I already had my food processor out and liked the addition texture it brought (you can also easily sub in another 1/3 cup of flour instead).
Behind the Recipe: Spiced Apple Pecan Snacking Cake
Pecans: Toasting and grinding pecans add an incredible amount of flavor to this cake. It gives it warm, wintery vibes. You can do this up to a week in advance. Pro Tip: Toast an additional cup- toasted pecans are great to have on hand to toss on top of salads, yogurts, or even just as a snack.
Grapeseed Oil vs. Butter: You can use either in this cake, it's up to you. Grapeseed oil doesn't have as much flavor, but is important to the overall texture of the cake, keeping it moist and tender. Butter will add a bit more of a flavor and since you need melted butter, you might as well brown it for an extra note of nutty flavor to compliment the pecan.
Sugar: A combination of white sugar and light brown sugar keep this cake from getting too dense, but also offering another layer of caramel undertones.
9×9 Pan: I've done this in a variety of pans. I've found the 9×9 square pan is best because you can then cut it in a way so that a pack of slices is in each bite and you don't have to worry about cutting into the slices, because that can get a little messy. Using metal is also importunate because a glass pan will change the cooking time (you can try, bu I haven't tried it. It will definitely increase baking time).
Apples: Use a firm and crisp apple. I generally use local apples of different varieties, but if getting them at the grocery store, I go for something like a Gala.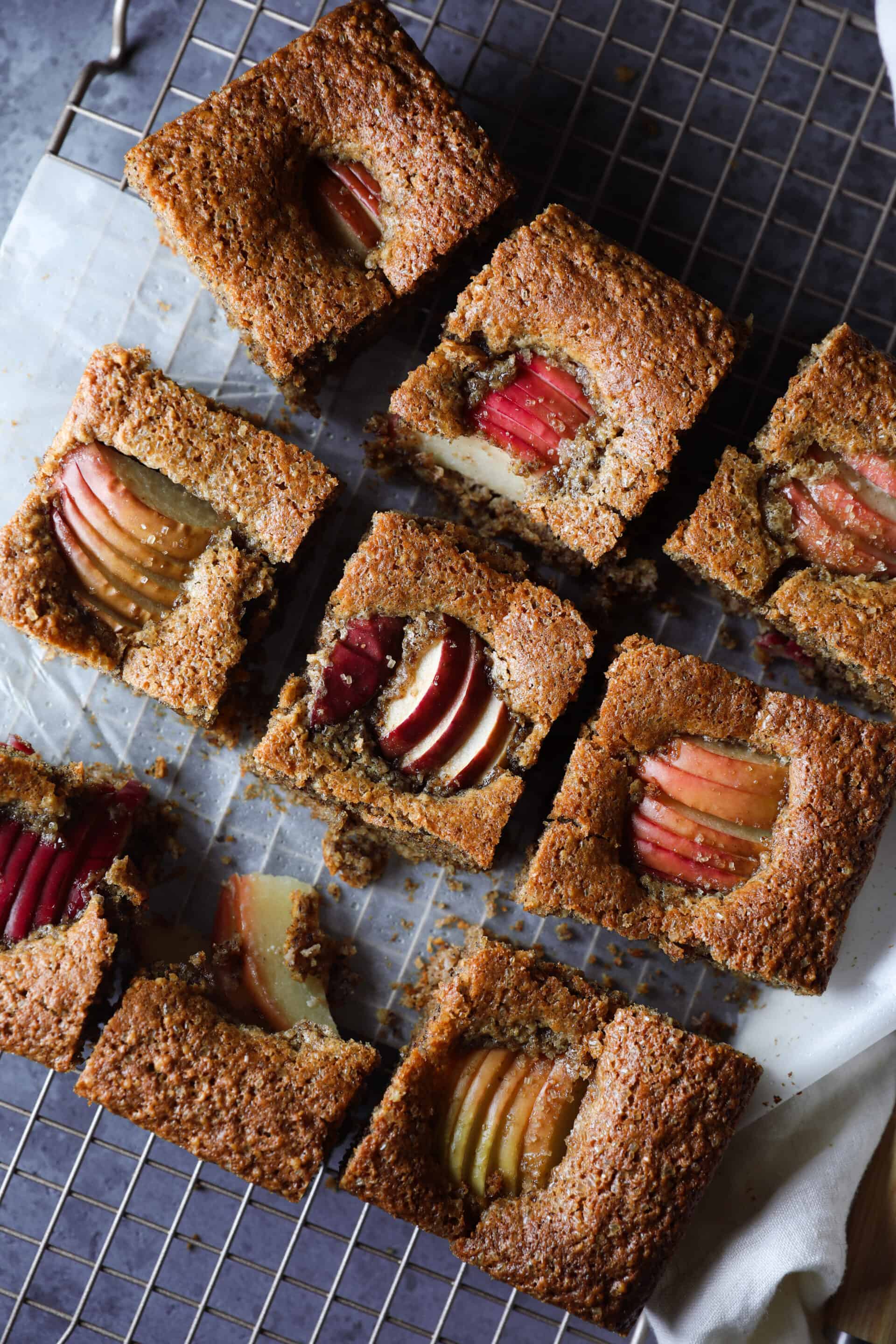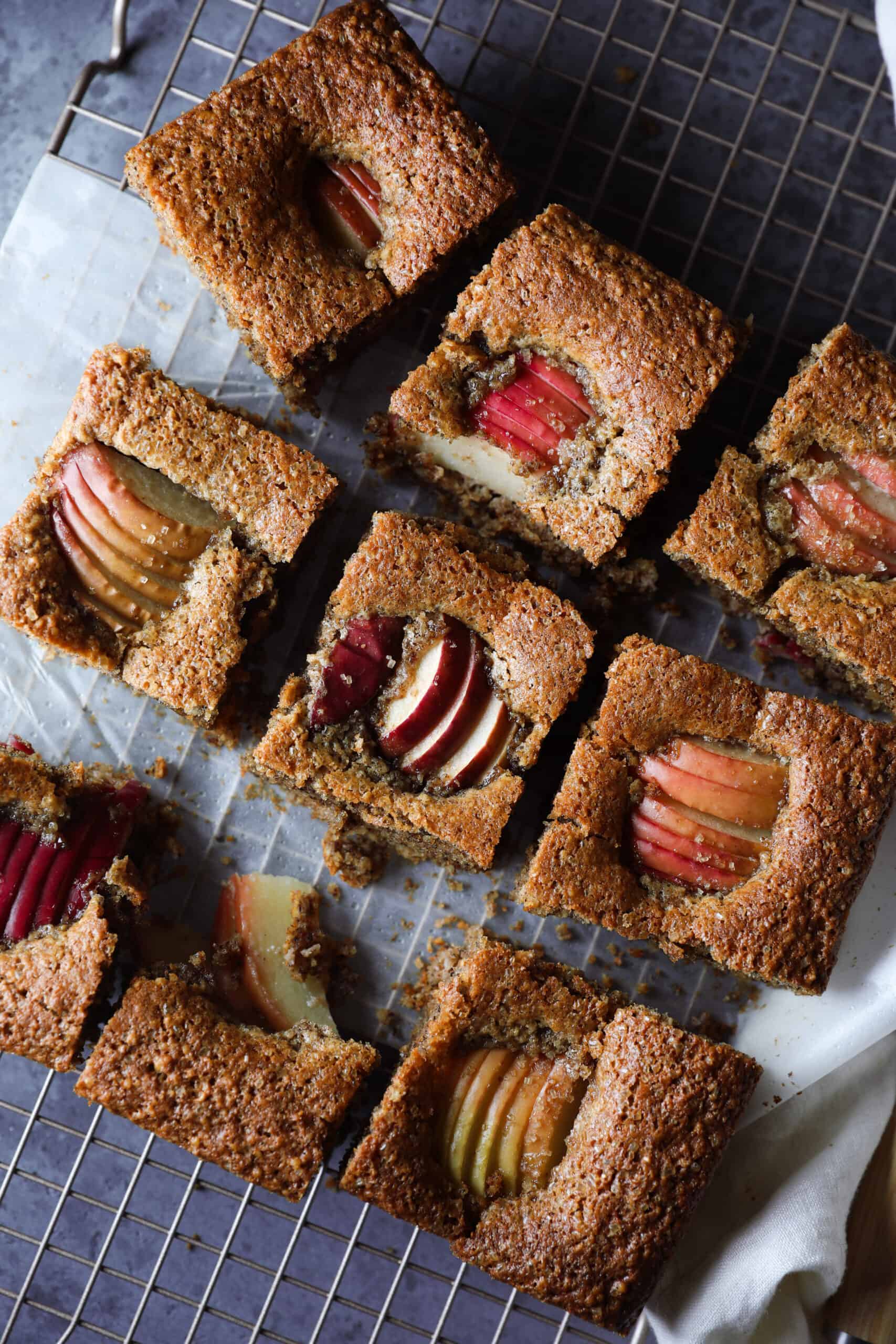 Spiced Apple Pecan Snacking Cake
3

medium

apples

1

cup (112g)

pecan halves

,

(you can also use a mix of walnut and pecans)

1 /2

cup

rolled oats

1/2

cup (56g)

whole wheat pastry flour or all purpose flour

3/4

teaspoon

kosher salt

1/4

teaspoon

ginger

1/2

teaspoon

cardamom

1/2

teaspoon

pumpkin pie spice or cinnamon

1

tsp.

baking soda

½

tsp.

baking powder

1/2

cup (90g)

grapeseed oil

,

or unsalted butter, melted (or browned!)

1/4

cup (50g)

light brown sugar

1/4

cup (50g)

white sugar

2

large eggs

,

, room temperature

1

tsp.

vanilla extract

½

cup

plain whole-milk Greek yogurt

,

, room temperature

1-2

tablespoons

turbinado sugar

,

(or more white sugar), for topping
Toast the Pecans:
This can be done up to a week in advance.

Preheat oven to 375. Place pecans on a baking sheet. Bake until light brown and fragrant, about 6-7 minutes. Set aside to let cool.
Make the Cake
Preheat oven to 350 and prepare a 9×9 or 8×8 metal pan by spraying it with oil and lining with parchment paper.

Cut the apples into very thin slices (see example above).

Place pecans and oats in a food processor. Grind until as fine as possible, but not turning into pecan butter. If using a large food processor, add in remaining dry ingredients (flour, salt, ginger, cardamom, cinnamon/pumpkin pie spice, baking powder, and baking soda) and pulse to combine. If using a small food processor, do this in a large bowl instead.

In a large mixing bowl, add melted butter* or grapeseed oil, white sugar, light brown sugar, eggs, and vanilla extract. Using a whisk, vigorously whisk until lighter in color and the batter has some air bubbles, about 1 minute.

In increments, add and stir in pecan mixture to the bowl. Stir until combined.

Add in yogurt and stir until fully integrated into the batter. Pour batter into prepared pan.

Gently add apple slices on top- see my notes above for tips and tricks. Sprinkle with turbinado sugar.

Bake until the center is set and the edges of the cake are coming away from the pan, about 35-40 minutes. From my experience, the edges will come away more quickly then the center, so be sure to look at the center too!