Baking cheese and serving it with fruit is nothing new. But using feta as the cheese is. It's a bit untraditional. Compared to other cheeses, it has both a different texture and is a bit more salty/savory. But that's why it works so well in this well. Its saltiness contrasts the sweetness of the fruit, making it a perfect snack. Think of this Roasted Feta with Figs, Apples & Grapes as your elevated version of cheese and crackers.
I'll be honest: I had big plans for figs this fall. I had all the recipes (including this Roasted Feta with Figs, Apples & Grapes) planned to build on my current repertoire of fig recipes. And sadly I've had bad luck with finding figs. I haven't spotted any local ones and the ones I've gotten at the store weren't even close to ripe (and despite my best efforts, I couldn't seem to coax them into that perfectly ripe stage at home).
Like for many fruits, roasting is the answer to not-so-perfect figs. While I always prefer to start with a great product, it doesn't always happen. Luckily, roasting does magic. Here's how: 1) It brings out the natural sugars to make it sweeter. 2) It further caramelizes these sugars through heat (aka the Maillard reaction) 3) It softens the fruit into a jammy texture.
I've been wanting to post this recipe for a while now but didn't have enough trials under my belt. And the scarcity of figs didn't help me. Good thing that this recipe is quite adaptable to a variety of fruits, so the last time I made this with grapes and apples! They're equally festive fall fruits. While the grapes don't caramelize quite as much due to their high water content, roasting still effectively concentrates their flavors.
Behind the Recipe: Roasted Feta with Figs, Apples & Grapes
Feta: I've used a variety of different feta cheeses and have found the best luck with full-fat and fairly firm feta that is not stored in water. This one is my favorite.
Honey: You can also use maple syrup or white sugar here. The amount is really just a suggestion and I HIGHLY reccommend eyeballing.
Fruit: Feel free to keep to one or combine them all!

Apples: Make sure to use a firm, baking apple. I generally always go for local varieties, so I don't have specific suggestions here yet (usually I just read the descriptions as farmers will often write down what apples are best for baking).
Grapes: Keeping them whole is easy and best, since they'll shrink in size a bit.
Figs: Half or quarter them and that's all that's needed. Made sure they are coated in a bit of oil and honey so they don't dry out.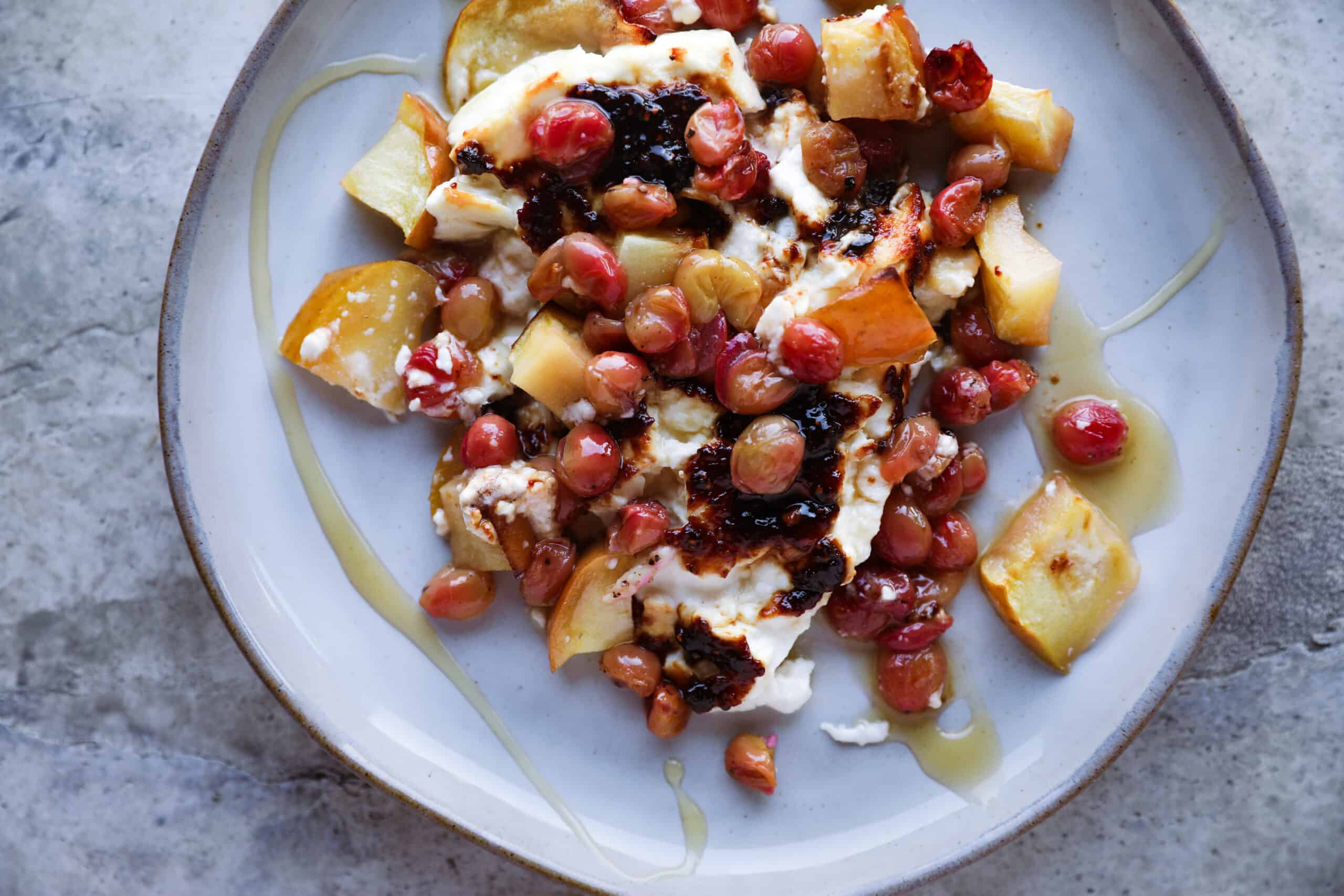 Roasted Feta with Figs, Apples & Grapes
5

ounce block

feta

,

full fat

1/2

tablespoon

extra virgin olive oil

1

tablespoon

honey

1

cup

figs (halved or quartered if large), grapes (keep whole), or apples (chopped in 1'' pieces or so)

flakey sea salt,

,

to taste

optional: 1

tablespoon

jam or fruit spread of choice

,

(I like using a fig-based one!)
Place feta in middle of small baking sheet lined with parchment paper. Add fruit around the feta. Drizzle with olive oil and honey and season with salt. Toss gently to coat fruit in oil and honey and gently rub honey/oil around feta.

If using jam, spread a thick layer of jam on top of feta.

Bake until feta is just beginning to break down and become warm, about 10-15 minutes. Check after 10 minutes. Generally I've found that the feta breaks down a bit at minute 12 (it will still be delicious, just lose it's structure). Serve while warm.