Don't judge me, but my love for lasagna is pretty new. I never enjoyed it too much as a kid and the few times I made it as an adult, it took a lot of time and needed more depth in flavor given the amount of time and effort it took. I originally made this 3-Cheese Eggplant Lasagna because I was making copious amounts of homemade pasta and got excited about the idea of making and using pasta sheets. After a long day of pasta making and photography, I made this lasagna incredibly haphazardly and essentially eyeballed ingredients and used up all the cheese we had in our fridge. Having never really been a lasagna person, I put it in the oven with low expectations. In fact, I made a second dinner just in case. But it was an immediate hit in our household. Everything melded together in the perfect way where each component is just distinct enough to identify it. I knew I had to make a more formalized recipe for it.
Developing this recipe was mostly about documenting measurements. Given I had just used what leftover cheeses and sauce I had left in my fridge when I first made it, I had completely eyeballed it. So most of my work was making sure I actually measured quantities to have a more formalized recipe. However, I actually highly recommend doing eyeballing here. This lasagna is quite forgiving. As long as you layer in the "right" order (pasta-sauce-eggplant-cheese-repeat) and evenly disperse each layer, it's hard to mess it up. Just make sure to end with a generous amount of cheese on top.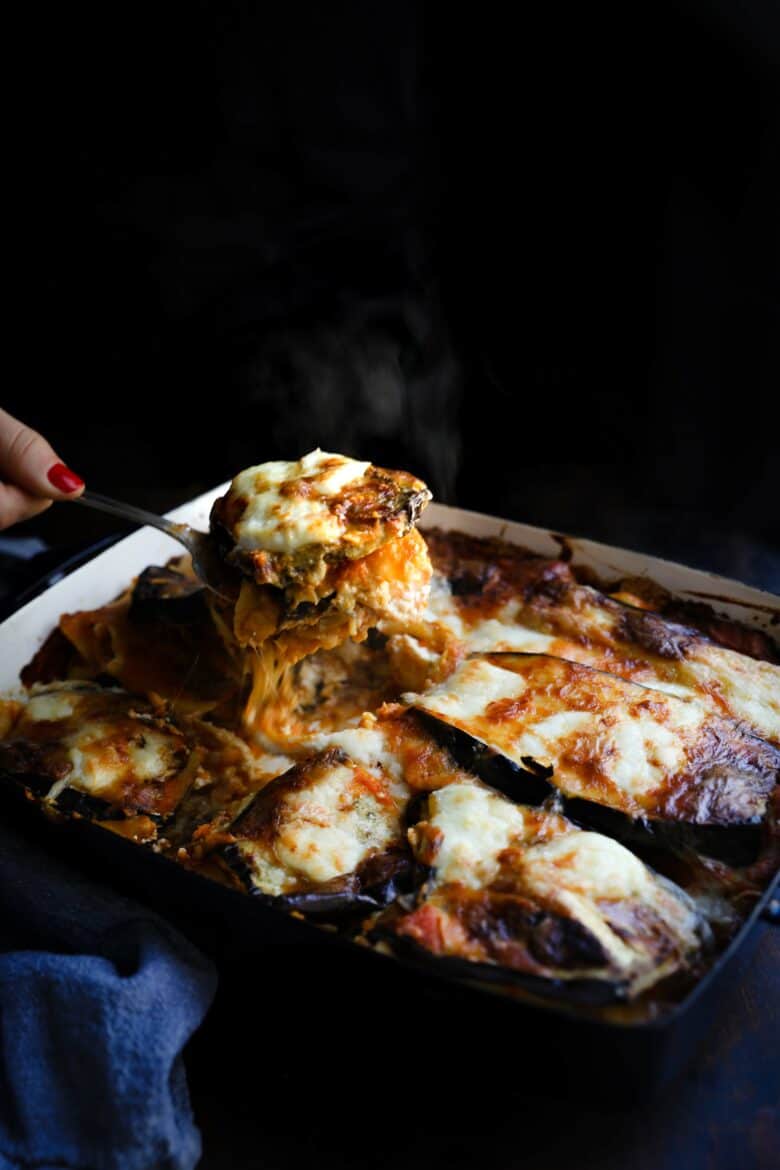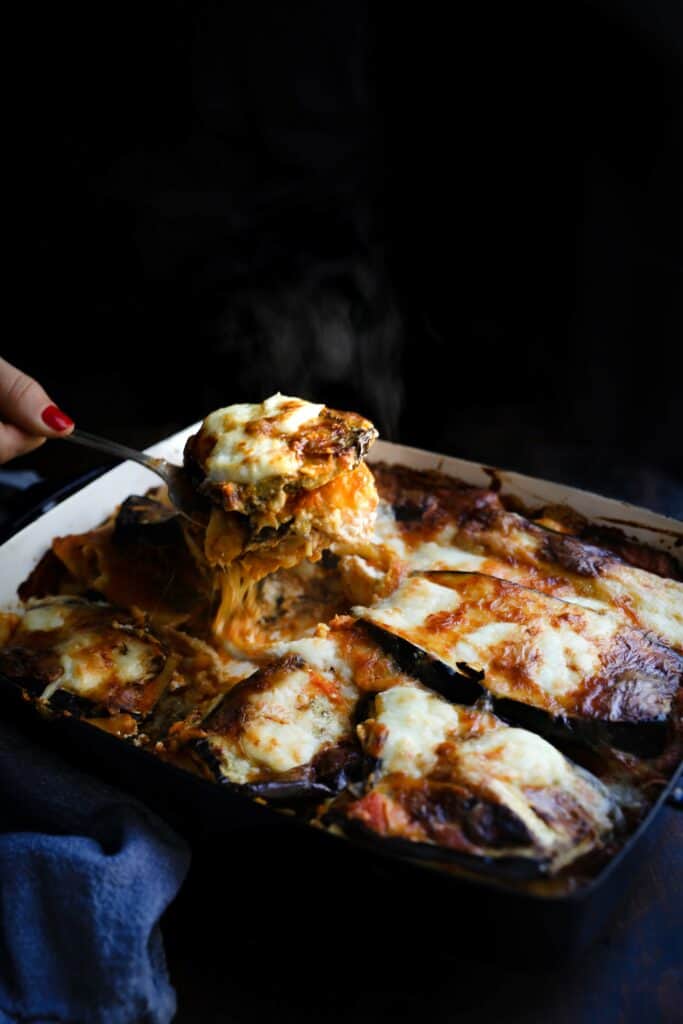 Behind the Recipe: 3-Cheese Eggplant Lasagna
Roasted Tomato Sauce: I've made this 3-Cheese Eggplant Lasagna with my homemade roasted tomato sauce as well as a store-bought one.

Homemade: While I'm biased, I'm pretty obsessed with my homemade sauce. Generally speaking, a homemade sauce almost always adds more complexity and depth of flavor. This recipe is particularly simple and easy and can be made ahead of time. Making your own sauce increases the time needed to make this recipe, but it's all hands-off- which is why I highly recommend making this on Sunday afternoon and then enjoying the leftovers throughout the week.
Store-Bought: I haven't dabbled in a whole lot of store-bought sauces, I usually get Rao's. I think the flavor and quality is great (although it's not the cheapest- another reason I like homemade because it's a fraction of the cost and not too much extra time).

Roasted Eggplant: I cook a lot of eggplant and generally speaking, broiling is my favorite method because it browns the eggplant really well. I've found that a 1/2" slice is best so it still has some texture/body to it but becomes silky soft. When you first start cutting and prepping the eggplant, it's going to look like a LOT. But trust me on it. It shrinks in size a bit and in order to get three layers of eggplant, you actually need quite a bit.
What Cheeses to Use
Using three cheeses isn't just about making this sound fancy. It REALLY gives this lasagna more complexity in flavor. I tried to shortcut this once by primarily using mozzarella and was quickly disappointed.

Ricotta: I highly recommend using full-fat for a creamier, stronger flavor. Part-skim ricotta is a bit more watery.
Whole Foods Pizza Blend Shredded Cheese: I've been a longtime fan of Whole Food's Italian Cheese blend and recently discovered this when making lots of pizza. I can't say enough about it. SO GOOD. It's a blend of mozzarella, provolone, and asiago. If you can't find this, I recommend getting mozzarella and then either provolone or asiago to mix it with (or you can go all out and do all 3).
Fresh Balled Mozzarella: We eat with our eyes first, which is why I'm all about adding some fresh mozzarella to the top.
What Noodles to Buy
Lasagna Noodles: My main requirement for the noodles: they had to be ready-to-use and did not need boiling.

Homemade Noodles: The first few times I made this lasagna, I actually used homemade lasagna noodles that I made from scratch. I love the texture and bite they had but….
Gluten Free Noodles: Let's be real. Making homemade noodles from scratch takes some time and just isn't going to always happen. Which is why I made it a priority to try store-bought lasagna sheets and make sure they work too. I used these gluten-free ones from Whole Foods and everyone enjoyed them. Unlike some gluten-free pastas, this had an almost identical taste/texture to normal pastas (the fact that it's mixed with a bunch of other ingredients probably also helps). You could also use a more traditional pasta sheet, just make sure it is no-boil.
What Pan/Cooking Dish to Use
I dabbled in a couple of different pans for this recipe. A 9×13 dish is a traditional size often used for lasagna, but makes a large quantity. Having said this, I originally thought it would be way too much. Then I realized how great this is for leftovers. I have yet to freeze and reheat it, but I think that would work well too. Another great thing about this size is that the eggplant and lasagna sheets fit nicely in it- while I liked the aesthetics of using a 9" cast iron pan, I quickly ran into that problem when making my layers- none of them were too even.
You could use a 9×9 pan here, but you'll have to do some math and do 2/3 of the recipe. Even if you have a mall household, I'd recommend doing a 9×13 and just planning on using it for leftovers.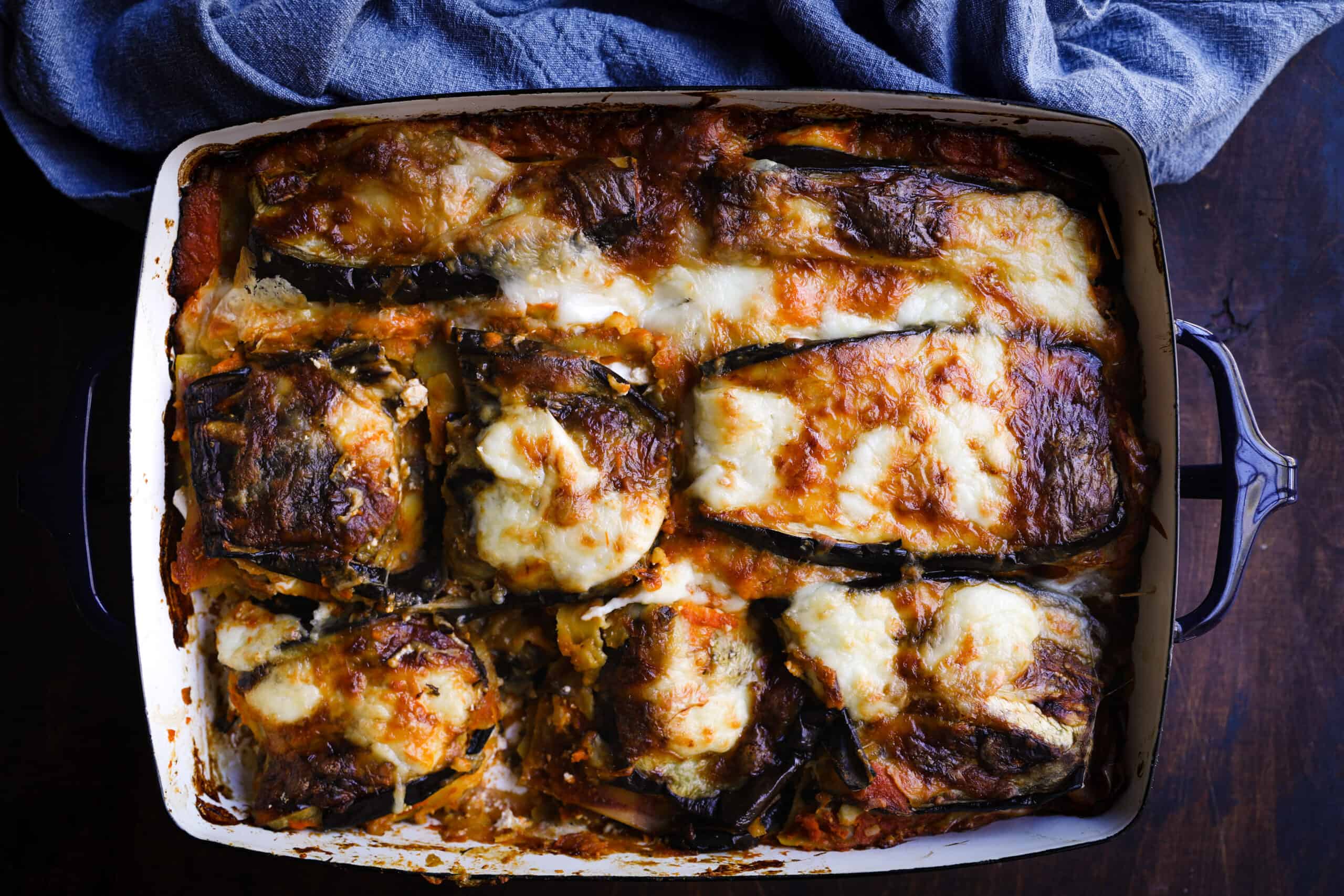 3-Cheese Eggplant Lasagna (Gluten-Free Option)
3

pounds

Italian eggplant

,

(about 2 large or 3 medium)

8

oz

lasagna sheets

,

(see above for recommendations, but be sure to get no-boil sheet)

8

oz

full-fat ricotta

8

oz

Whole Foods pizza blend cheese

,

(a blend of mozzarella, provolone, and asiago- feel free to make your own blend and see above for tips)

8

oz

fresh mozzarella balls

,

sliced or torn by hand

3

cups

roasted tomato sauce

,

see recipe below or use storebought
Broil the Eggplant:
Preheat oven to broiler setting.

Cut ends off of eggplant. Slice into 1/2'' thick large planks (about a finger's width).

Prepare a baking sheet by lining with foil and then spraying with oil. Add eggplant (you'll most likely have to do in 2-3 batches). Lightly spray with oil and light season with salt (see above for why I recommend using oil spray).

Place baking sheet on top rack, about 6'' from top. Broil eggplant until browned, about 5-6 minutes/side. Repeat with other eggplant slices and set aside to cool slightly.
Assemble and Bake Lasagna:
Use a 9×12 or 9×13 rectangular baking dish* Spoon a tiny bit of tomato sauce to the bottom of the pan. Then add a layer of pasta sheets, followed by a layer of tomato sauce, roasted eggplant, and ricotta (just dollop in a somewhat evenly dispersed way) and shredded pizza blend cheese. For each layer use about 1/3 of the total mixture (you'll end up doing three layers). Repeat two more times.

*See above for other dishes you can use for smaller batches or if you don't have this size.

Top with fresh sliced mozzarella. Cover with foil.

Place in oven in middle rack. Add a baking sheet below on bottom rack as a safety measure in case the sauce bubbles over (it's much easier to clean). Bake 25 minutes covered, followed by another 30 minutes uncovered. The cheese should be browned and sauce just lightly bubbling to the top, but quick thick.

Let sit 10 minutes before serving or cutting into. This is also great for leftovers.