This all started when Matt and I got a baguette at the farmer's market. It looked too good to pass up. But I always forget how difficult it is to eat a whole baguette with only two people. Every time we get one, it goes a bit stale before were able to finish it. This salad is perfect for that slightly stale bread! Although you definitely need a sharp knife to cut the bread into cubes, sauteing the bread revitalizes it- I actually preferred it to the fresh baguette we got on the first day.
I didn't change too much from the original recipe by Ina Garten except for a few changes in the vinaigrette and modifications to the ingredients. It's easy, delicious, and is a great way to highlight all the vegetables available during the summer.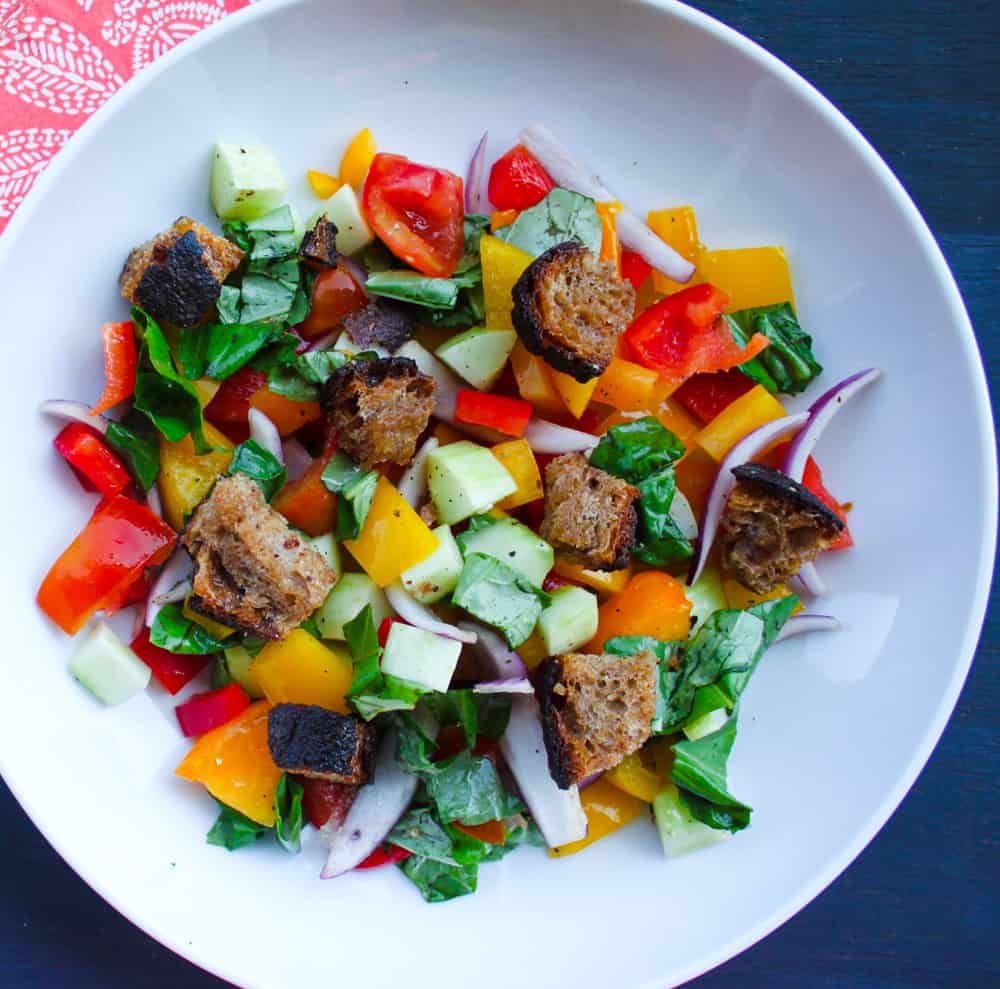 Summer Tomato & Bell Pepper Panzanella Salad
Adapted from Ina Garten
1/2

baguette or whole wheat bread of choice

,

should be quite hearty and have a crunchy crust!, cut into 1'' cubes

1/4

cup

champagne vinegar

,

I've also done rice vinegar when I didn't have champagne on hand and it worked well; you just need to add a bit more olive oil as the rice vinegar is a bit stronger in acidity than champagne vinegar

1/4

cup

to 1/2 cup extra virgin olive oil

,

high quality if possible **see note below on ratios!

1

teaspoon

minced garlic

1/2

teaspoon

dijon mustard

1/2

teaspoon

sea salt

big pinch black pepper

2-3

small heirloom tomatoes of any color

,

the more color the better, diced into 1'' cubes (remove seeds to not become too watery)

1

large cucumber

,

diced into 1'' cubes

2-3

bell peppers of different colors

,

preferably red, yellow, or orange, diced into 1'' cubes

1/2

red onion

,

sliced thinly

large handful of basil leaves

,

chopped lightly
Place a large pan over medium heat and coat bottom of pan with olive oil (about 1 tablespoon). When hot, add in bread cubes and saute until lightly toasted and browned. I think you could try grilling this as well, but I haven't tried that out (yet!).

Meanwhile, make the vinaigrette. Mix champagne vinegar, extra virgin olive oil, garlic, mustard, sea salt, and pepper in a blender until thoroughly mixed. Set aside.

Place all the vegetables and toasted bread in a large bowl. Drizzle with vinaigrette and toss throughly and serve. I found it best to serve immediately so the bread stays nice and crispy.
Notes
**I personally like my dressings on the more acidic/vinegary side of the spectrum (a 1:1 ratio). When making this for guests, I often will add more olive oil than I do more myself (a 2:1 ratio). I recommend dipping a piece of bread or a veggie in the dressing to taste test before dressing the whole salad.