I'm gonna be honest: I've been wanting to post a lemon curd recipe for about 9 months now. It's easily one of my favorite things and when I made it for the first time last May for a pavlova, I was hooked. This is a longer post, just because I have to express all the work, trials, and intention that went behind this one! Feel free to do a tldr; and skip to the recipe if you're not in the mood to hear my saga.
Despite my immediate infatuation with it, I felt like the lemon curd took a while to feel the same way- it was so fussy! I tried countless recipes and techniques in hopes of finding the one with the perfect creamy consistency, a balance of sour and sweet, and a simple process that didn't take too long.
Turns out, this search took MUCH longer than expected… The number of curds I made that were either too thin, too sweet, or simply just took FOREVER because I was using a double boiler were far too many. Sure, none of them were too bad (let's be honest- I ate all of them). But I wanted a recipe that was truly consistent and simple.
I tried so many techniques- from using a a saucepot (too risky and easy to cook the eggs by accident) vs. using a double boiler (takes FOREVER), using a thermometer vs visual cues, adding ingredients (mainly butter) at different times.
Then I stumbled upon a method I'd never seen before in Ottolenghi's Sweet cookbook. It seemed genius! The first few two times I made it, it was perfect. But in my third and fourth trials, I found that there was too much egg white- which can cook more easily and then mess up the creamy luxurious consistency. Adding more egg yolk solves this problem, while also making it creamier. I've also tinkered a lot with the ratio of juice:egg:sugar:butter- this one hits the spot!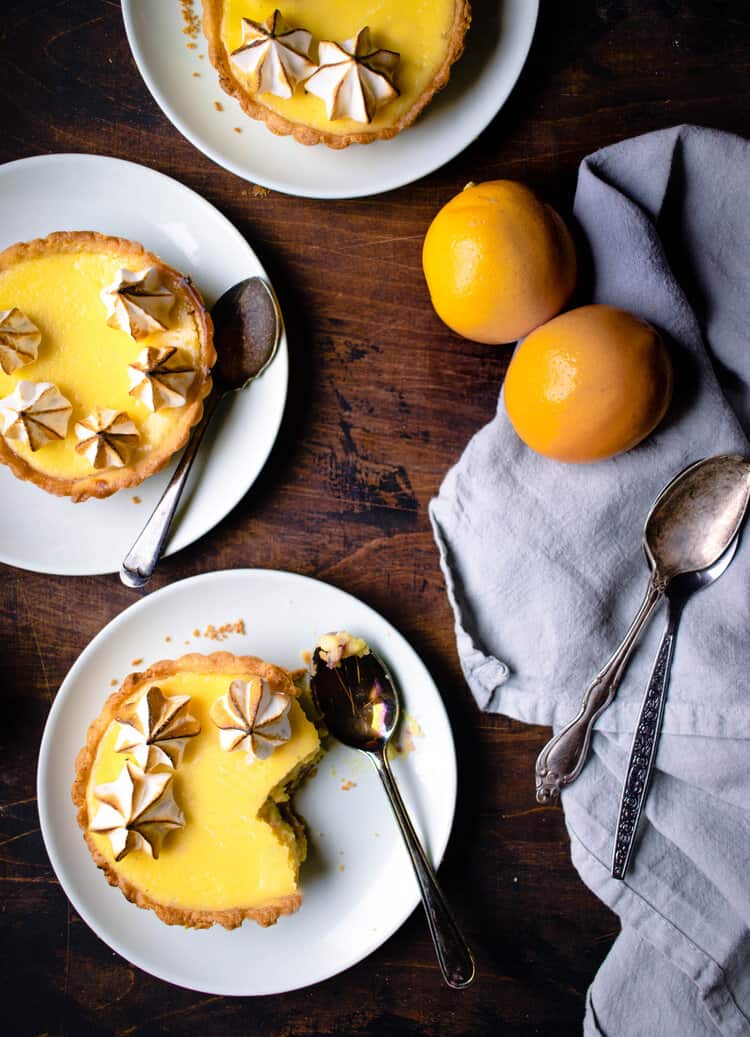 Foolproof Lemon Curd
6

tablespoons

lemon juice (76g-84g) (juice of about 1 1/2 to 2 lemons)

3

egg yolks

1

egg

1/2 cup + 1 tablespoon sugar (110g)

, I have used half monkfruit sugar and half regular sugar and it's worked well!

1

stick

unsalted butter

,

diced into cubes and at room temp
In a medium bowl, place eggs and egg yolks. Whisk to combine. Set aside.

Place lemon juice and sugar in a small sauce pot. Heat over low to medium heat, stirring frequently with a whisk, until it boils. Right after it boils, immediately remove from heat and pour into bowl with eggs, whisking the eggs while you pour- the key is to incorporate this hot mixture into the eggs off heat and whisking continuously so the eggs don't cook, but start to get warm. A quick shock of heat is not good for the eggs- a more gradual increase of heat will result in a better consistency.

Pour this egg mixture back into the saucepan and put over a very low heat. Whisk the ENTIRE time until the mixture thickens, about 3-8 minutes and the temperature registers around 160ish. Some notes here if you want the perfect curd and minimize error:

1. DON'T LEAVE THE POT and whisk the whole time. Seriously. I'm the biggest multitasker ever when it comes to cooking and I don't leave this pot. The likelihood of accidentally cooking the egg is too high)

2. Technically the end temperature should be higher but after doing this about 10 times, I found that 160 works best. I've also found a huge discrepancy in how long this takes- sometimes it happens immediately, sometimes it takes longer.

3. Pay attention to whisk the corners and sides of the pot, as it's easy for egg to get stuck here and then cook. At end, change to a wooden spoon or spatula so you can get a better sense for how thick the mixture is. The texture/consistency you want is that it sticks to the spatula and when you run your finger through the back of the spatula, it doesn't run.

Remove from heat and add butter, a few cubes at a time, stirring until fully incorporated. Chill and use within a month.
What to do with this amazing curd? Here are a few ideas…
My favorite: Add to yogurt and berries for a dessert or snack (or breakfast).