This Weeknight Gochujang Glazed Salmon comes together in about 15-20 minutes, requires no cutting board or bowls, and packs a punch of flavor. So how did this recipe come about? Well I've been on the hunt for a recipe that's an easy and delicious as my miso glazed salmon recipe that I created in 2020. It's one of our go-to's because the glaze comes together in minutes and the salmon takes about 15 minutes total to bake. But I'm always wary of overusing a recipe too much, so I needed to find a twist with a different flavor. And Gochujang does just that. This recipe borrows the same cooking and preparation technique as the Miso Glazed Salmon, but with a completely different flavor profile.
What is gochujang?
Gochujang is a fermented chile paste used in Korean cooking. It uses ground gochugaru chile, a chile also used in kimchi, as well as other ingredients like glutinous rice flour. I learned about it from research and interviewing Hyunjoo Albrechet, the founder of Sinto Gourmet, when designing my "The Science Behind Kimchi" lesson and video. You can often find various degrees of spiciness depending on personal preference. I haven't been able to find Sinto Gourmet's gochujang as easily in the grocery store as their kimchi. The other brand I really like is Mother In Laws.
While you can certainly add other flavors to it, I love gochujang because it packs a punch of flavor really quickly without needing additional seasonings. No additional bowl, cutting board, or measuring spoons needed- just scoop it straight from the jar. Hence why I called this "Weeknight Gochujang Glazed Salmon."
What type of salmon should I use?
I generally go for farm raised Atlantic salmon filet at Whole Foods when cooking salmon. I personally have found it to be the best flavor for the pricepoint (usually about $10-12/pound). From here, you can do two options:
Individual 5 Oz Portions: If cooking for just myself or two people, I will often get the pre-portioned 5 oz filets at Whole Foods. I find that they are quite uniform in thickness, so they are easy to cook, and one filet is a great portion for one person. It's a great option if you aren't cooking for a lot of people.
Whole Filet: If cooking for more than 3 people, I go for a larger filet of salmon. This looks really nice for presentation as well. My rule of thumb is about 4-5 oz. a person, depending on who I'm cooking for- so 1 pound for 4 people that includes a person or two who generally eats smaller portions and maybe 1.5 pounds for hungry people 🙂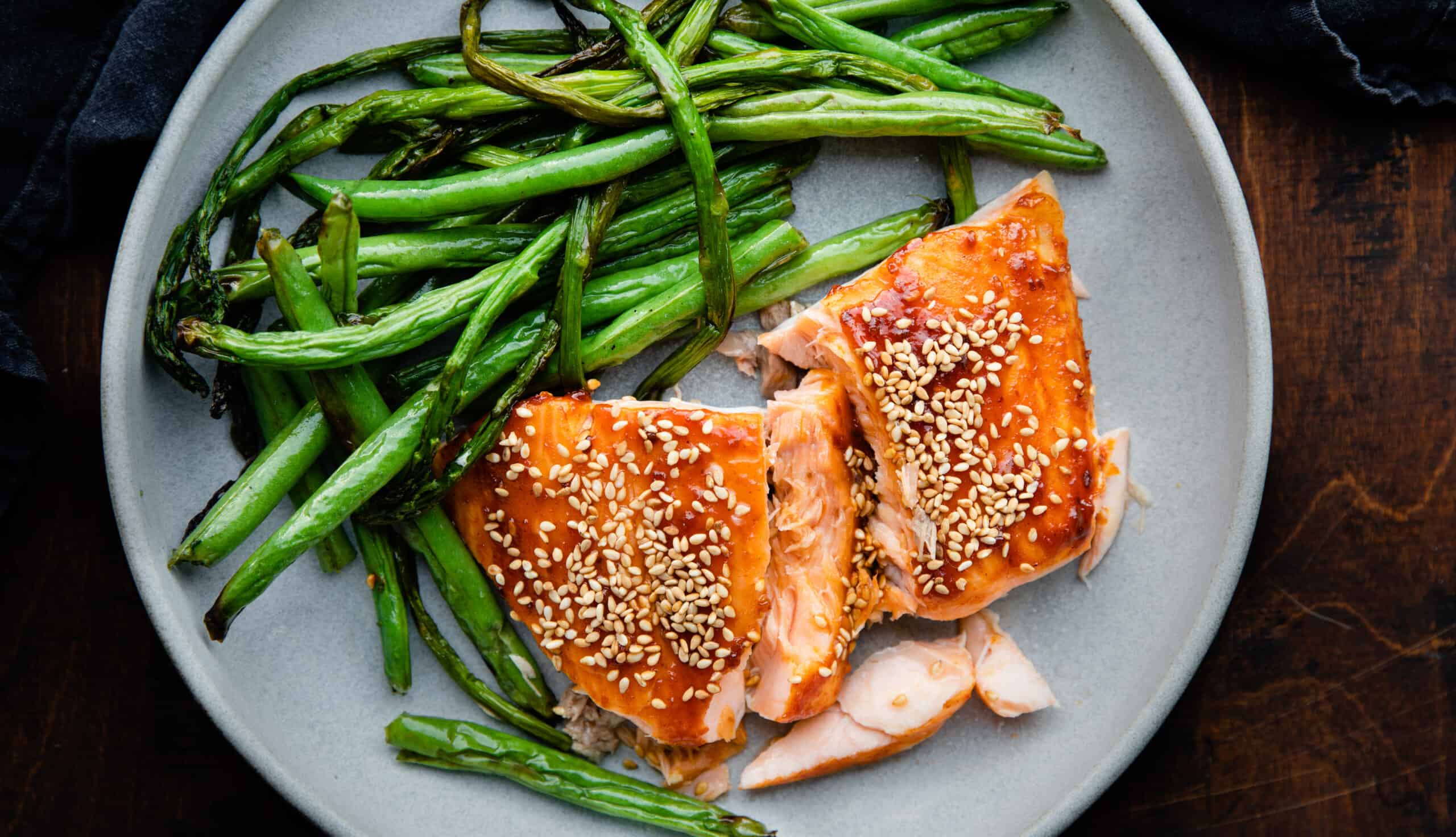 2 Ingredient Gochujang Glazed Salmon
8

ounces

salmon

1

tablespoon

gochujang paste

salt

,

for seasoning

sesame seeds

,

for topping

optional:

chili oil
Preheat oven to 400 degrees. Line a baking sheet with parchment paper.

Pat salmon dry with a paper towel. Season with sea salt and brush on gochujang paste on the top of salmon.

Bake salmon until in oven until it the inside registers 115-20 degrees, about 11-12 minutes.

Top with sesame seeds and if desired, chili oil. Serve.