Anybody that knows me well knows I can eat fruit (more particularly berries) by the pound. But the winter generally means higher prices for berries… well fresh berries! This is the time to use frozen berries and this jam/compote is the perfect way to pull out their flavor. You can also in another flavor or two (like here- orange zest and cardamom!) to make it feel like your own customizable jam.
Ingredients and directions are simple- you can make this jam in about 15 minutes! Serve with toast, yogurt, or chia pudding (as pictured here).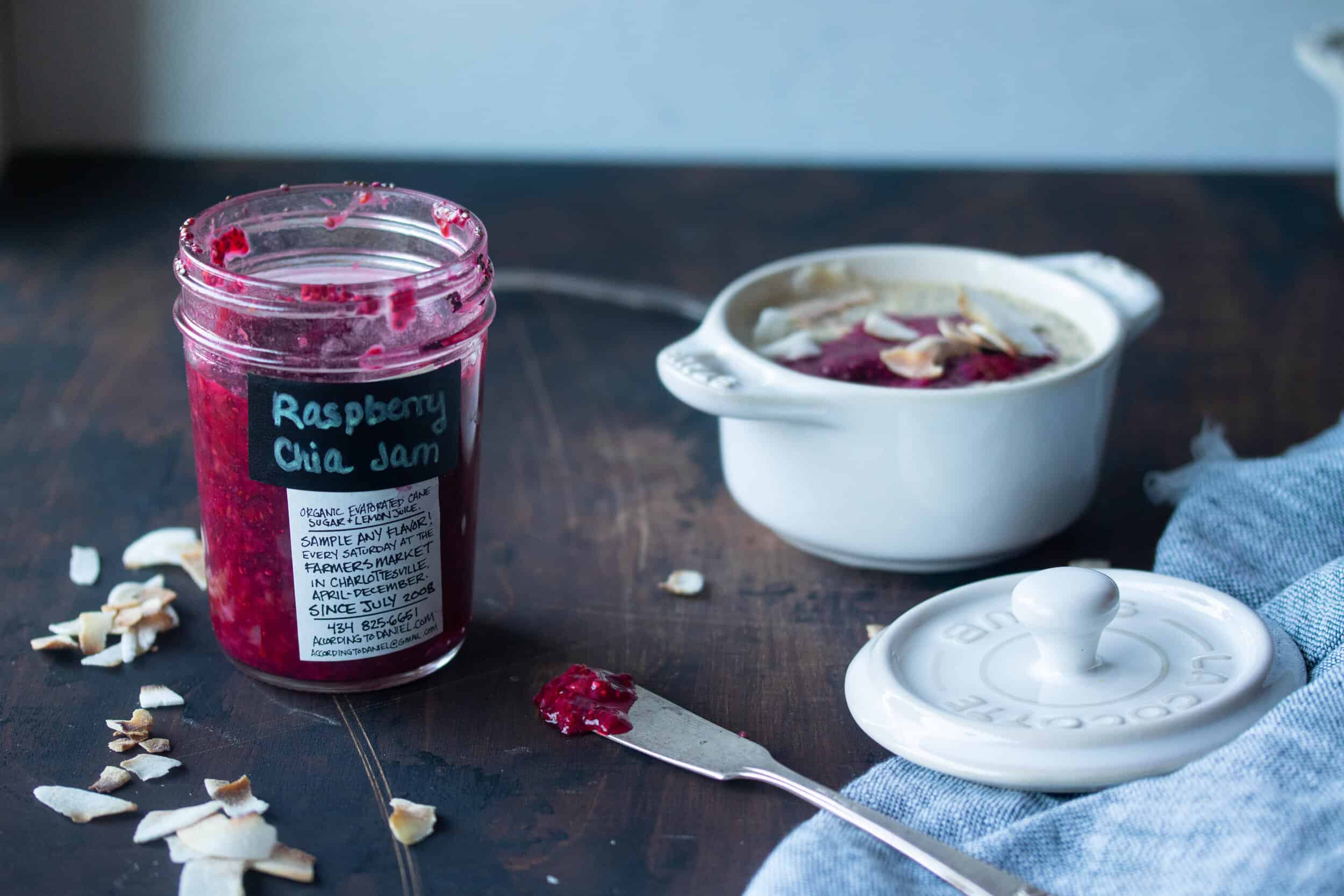 Raspberry Chia Jam with Citrus & Cardamom (No Refined Sugar!)
Makes two jars worth of jam (~ 3 cups)
3

cups (~22 ounces)

frozen raspberries

Juice and zest of 1 large

orange

,

(about ~4 ounces of juice)

1/4

teaspoon

cardamom

1/4

teaspoon

sea salt

1/4

cup (40g)

chia seeds

optional: 1

tablespoon

sweetener of your choice (or to taste if you want it sweeter!

,

You could use honey, stevia, monkfruit sweetener, or regular sugar. I used monkfruit sweetener and though it worked really well here.
Place all ingredients except chia seeds in a small sauce pot. Put pot over medium heat and let cook until mixture is bubbling (not at a full boil, but close). Reduce to a simmer and simmer, uncovered, for 10-15 minutes. If you want more of the texture of a jam, simmer for 15 minutes. If you want more of a compote texture (with the berries still whole), simmer for 10 minutes.

Let mixture cool slightly. Stir in chia seeds and sweetener (if using). The chia seeds will take some time to thicken the mixture, at least an hour, so don't worry if it doesn't look thick and jammy yet!

Place jam in an airtight container and store in fridge for up to a week or so (I haven't fully tested how long this lasts! I will keep you posted!)