This Roasted Japanese Sweet Potatoes with Basil Pesto post was originally written in January 2020. I most recently updated this in November 2022 to update my basil pesto recipe.
Ever had that moment when you remember your freezer contains something amazing you made a while back? Last week I rediscovered the pesto I made in September and have been adding it to EVERYTHING. Initially, I was worried the quality of the defrosted pesto wouldn't be up to par, but it's been perfect. Just let it sit in the fridge for a day and it'll be ready to use. My favorite way to use it? Pairing it with roasted veggies.
Pesto Variations
This section was recently updated in November 2022.
There are so many ways to change up this pesto. I often adapt it based on what I have in my pantry and fridge (although right now we have a gigantic basil plant in our backyard, so it's been almost exclusively basil recently). I've tried this with walnuts, pecans, and pumpkin seeds- all have a slightly woodier taste, so just keep that in mind. I think pine nuts are the most "pure" and "clean" tasting, although they are usually more expensive compared to other nuts.
If you don't have basil or prefer to use a green that's longer lasting, check out my arugula pesto recipe or if you're feeling adventurous, try a different green like swiss chard.
Roasted Japanese Sweet Potatoes with Basil Pesto: Quick Tips for Success
This success to this super simple Roasted Japanese Sweet Potatoes with Basil Pesto is all in the details:
Japanese Sweet Potatoes are one of my favorite varieties of potatoes. They are slightly sweet but have a more neutral flavor compared to normal sweet potatoes. Baby red potatoes also work great here.
Browning! To caramelize and get perfectly brown and crispy sides, you need high heat. Place your baking sheet on the bottom rack and flip halfway through. Also make sure you add enough oil.
Even dicing. This ensures that every piece can get perfectly brown and tender at the same time.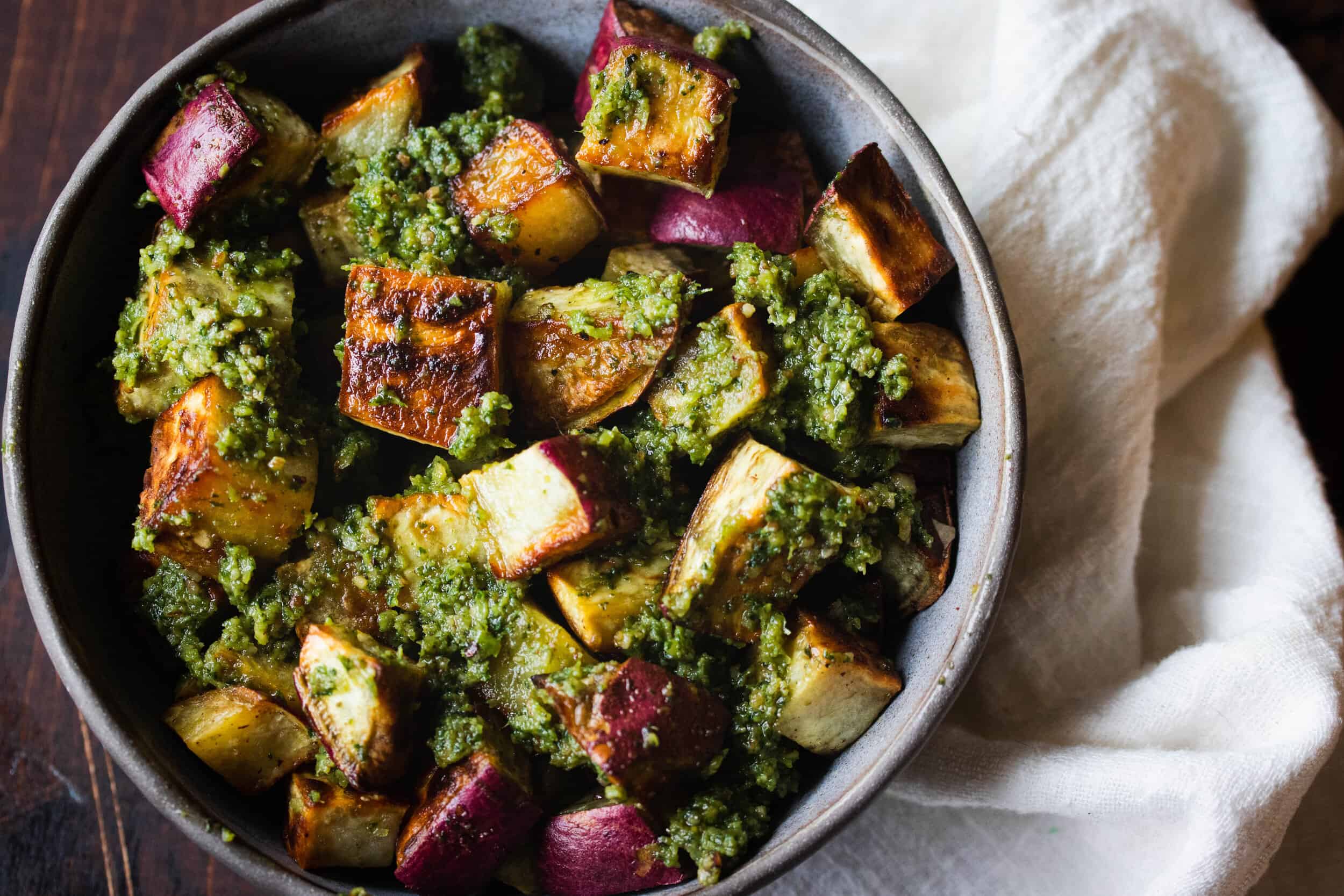 Roasted Japanese Sweet Potatoes with Basil Pesto
1

pound

Japanese sweet potatoes

1

tablespoon

extra virgin olive oil

sea salt or diamond kosher salt

,

to taste

1/4

cup

basil pesto

,

see below
Preheat oven to 425 degrees.

In a large bowl, toss sweet potatoes in olive oil, sea salt, and pepper. There should be enough oil that the potatoes are glistening, but not dripping in oil (and there shouldn't be any excess in the bowl).

Spread potatoes onto a baking sheet pan lined with parchment paper.

Place baking sheet on bottom rack and roast until brown, about 30-40 minutes total. Check after 20. Once brown on one side, shake the whole pan (lazy but works method) or flip the potatoes with a spatula (more precise, but slightly time consuming method) and roast for an additional 10-15 minutes, until tender and brown on the other side.

Let cool slightly and then toss in basil pesto.