One of my goals for the spring was to create a falafel recipe I seriously LOVED and would make time and time again for lunches. I've always loved falafels and have made several versions of them, but struggled to find that right balance of texture, flavor, and healthy ingredients. A key step/ingredient in this recipe are the homemade breadcrumbs- they add some moisture and flavor that store bought breadcrumbs miss. Don't be intimidated- yes, it is an extra step to make them, but it's actually quite easy and you can use them for other things too.
Alright a few other reasons why this recipe is great:
It's a filling vegetarian meal full of different veggies.
Most of the ingredients are kitchen/pantry staples. I actually made this recipe on a whim- I easily had all of the ingredients on hand and didn't need to go get anything else. Perfect for right now!
It's great for leftovers the next few days.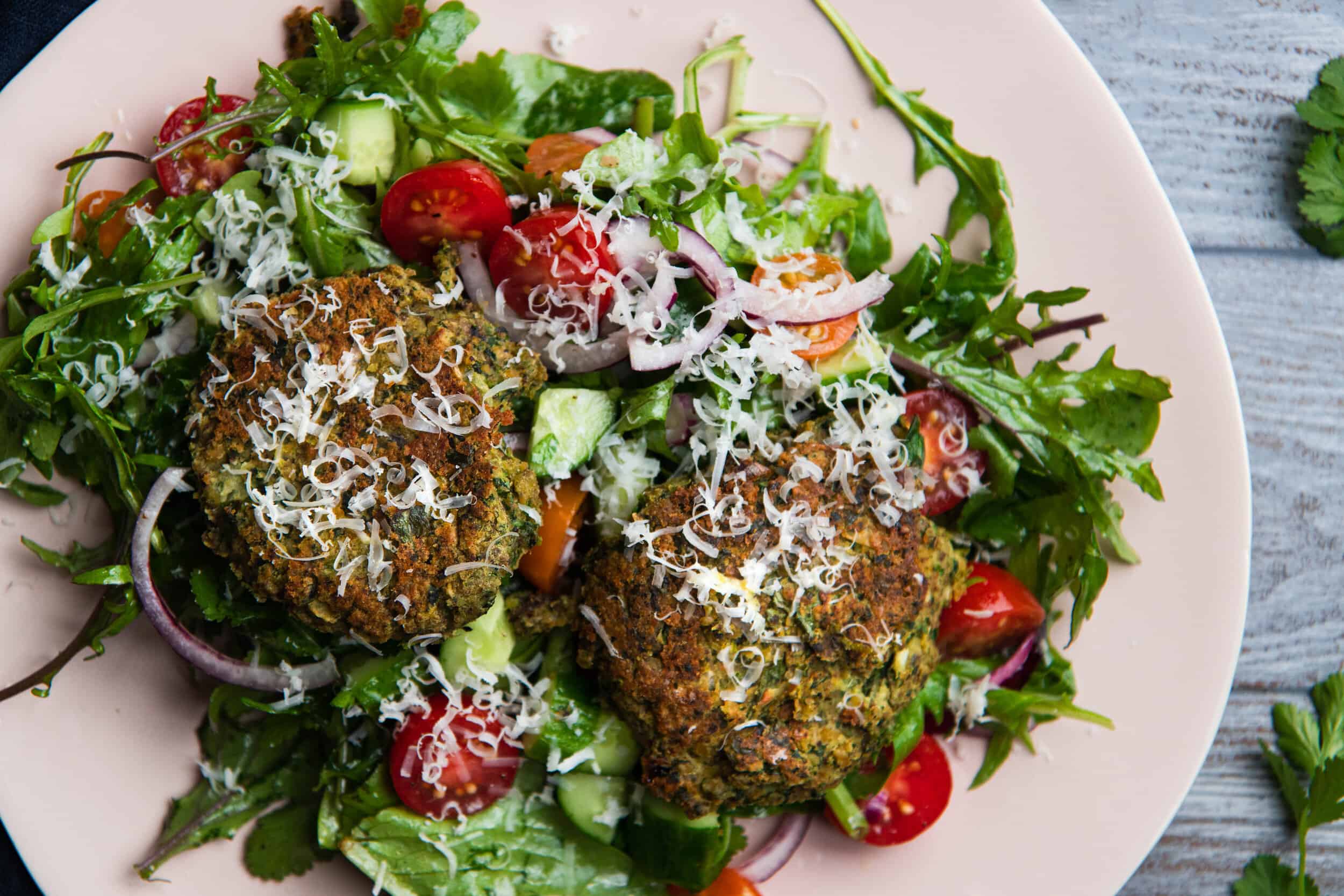 Crispy Green Falafels
Serves 4 (Makes about 8 1/4 cup patties; 2 patites/person)
2-3

ounces

spinach or other similar green of your choice

1/2

cup

(1.25 ounces) breadcrumbs or panko

2

tablespoons

(1 ounces) finely grated parmesan

1-2

garlic cloves

1/2

teaspoon

baking powder

1/2

teaspoon

kosher salt

zest of 1/2 lemon

1

can chickpeas

,

unsalted, rinsed and drained

1

eggs

1/4

cup

assorted fresh herbs

,

(cilantro, basil, parsley, chives- I do a variety of what I have on hand)

2

tablespoons

diced red onion

,

(about 1/4 of a small red onion)

3

tablespoons

or so of high heat oil like grapeseed oil

,

canola oil or coconut oil
Place greens in food processor and process until finely chopped. Add in breadcrumbs, parmesan, garlic, baking powder, sea salt, & lemon zest. Process until everything is combined and finely chopped.

Add in chickpeas and pulse- it's a bit up to you how in tact you want the chickpeas to be. I generally like most to be broken down, but not fully. Add in eggs and pulse again until the mixture is beginning to bind together.

Add in fresh herbs and diced onions. Lightly pulse a few times just to incorporate, but not fully break down the herbs or onion.

Preheat oven to 375.

Place a large oven-proof skillet over medium heat. Add in enough grapeseed oil to generously coat the bottom of the pan (probably about 3 tablespoons).

Scoop falafels into 1/4 cup balls. Place balls onto pan- it should sizzle immediately. Use a spatula to flatten the falafel a bit so it looks like a patty. Cook until the bottom side is brown, about 2-3 minutes.

Flip the falafels and then place in the oven until fully baked inside, about 10 minutes. Serve!